Hi folks,
since this whole pandemic issue is going on, I am mostly at home tinkering around. I thought about creating a coil for portable use. Something like the buddistick coil but for a 6m pole and a wire antenna.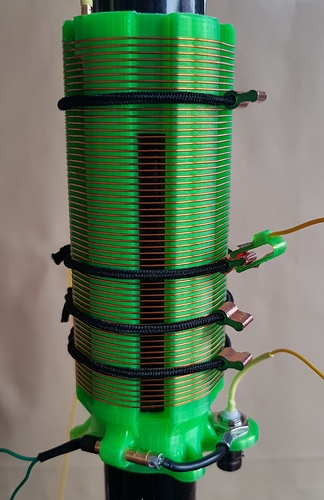 The problem was how to tap the coil since the coil is pretty small so the distance between each winding is. The coil is 5cm in diameter, around 10cm tall and has around 58 windings, which should be around 59microH. Apparently enough for a wire resonant on 20m to reach 80m with the coil. I have not tested the coil yet. But since that is not the first one I made, I assume it works. Only the tuning should take some amount of time (counterpoise + radiator).
The tapping points are printed and taped with copper tape, the clip that goes on the tapping points is also 3dprinted with taped coper around it.
The radiator banana plug is 3mm, the counterpoise banana is 5mm. You also need some rubber band or bungee cord and copper tape of course.
You can download the thing here: 80 40 30 20 vertical antenna SOTA by Koppo - Thingiverse
I'm open to ideas on how to improve it. Especially the tapping of the coil could need some improvements. After initial tuning, you should mark the position on the coil somehow, since the rubberband will slip after time.
73!
9A5ALX