I am normally operating (when allowed - and my commiserations to frustrated colleagues in GW/GM/GI and esewhere) on mostly smaller hills on 2m fm and 70cm fm with my trusty VX-7R. When the SOTA Challenge for 2020 was announced I thought I would have a go with my mighty 5w power but discovered that 2m had been ignored and even the rather obscure 70cm had only been allocated for one month (July - watch this space) rather than 2 slots for most other bands. MT please rectify this next time!! Peering more closely at the list I saw that 6m was down for both June and December (I think I shall be concentrating on the winter bonus then - especially with the weather in Feb/March…) and I knew that my handy could also offer that band - altho' my previous attempts had been completely unrewarded.
Hence much consultation with M0JLA (and repeated attempts to practice hillwalking on a nearby slope during lockdown for fitness) we celebrated the first stage of lockdown lifting by activating lonely Shobdon Hill G/WB-017 (13 May) and then it was time to grab the fishing pole, 2 VX-7s, 6m whip aerial and vertical J pole and stagger up Bredon Hill (G/CE-003) which was more popular but we knew we could 'self-isolate' on the scarp side of the stone wall. This was true but did mean we got a high number of queries from those strolling past - at a safe distance. After two quick S2S with G4TQE (WB-007) and M6NSV (WB-006) on 2m (and TQE on 70cm - many thanks) which were a surprise bonus, I had to cut the 2m queue short at 12 contacts, get my 4 on 70cm and then start the much advertised attempt at 6m fm by calling on 51.51 and QSYing to 51.53. I had checked with most of my contacts to see if they would be able to listen out and, to my surprise (I have no experience of this band) the vast majority said they would come and look for me.
I then confidently screwed on the long whip aerial to the VX-7 on the 6m band and started calling and calling and… No reply of any sort. I then realised that, by hiding behind the wall I wasn't at the top of the hill so picked up the 2 radios, pencil and log and walked up to the toposcope where I sat and had another go. Thanks to 2E0MDJ Matt in Cheltenham, who I was talking to on 70 cm, I eventually heard him on 6m but he couldn't hear me! The lazy way wasn't working and I would have to go back to behind the wall and erect a fishing pole in the blustery wind.
Eventually the 5m fishing pole was up with the J pole attached but it wasn't exactly happy as it looked as if I'd caught a big fish!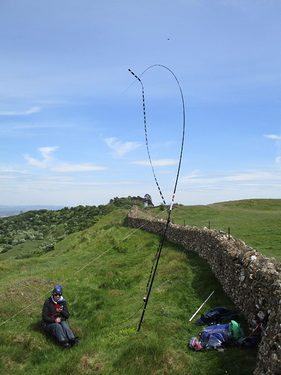 With fingers crossed that the pole wouldn't break under the strain I then tried calling on 51.51 - but this was 40 mins after I had left 70cm so most of my potential chasers had disappeared but I was delighted to have a contact with G0LGS Stewart on 51.53 and with 7 other people (including G6WRW Carolyn in Kidderminster and M7APJ Will in Stratford who had only had his call sign for 2 weeks but had already talked to Russia!) This was then obviously a great success by my standards (and more than doubled the no of 6m contacts from this hill, I later discovered) and I had learnt that I needed a mast and J-pole and the fishing pole wasn't heavy enough!
Meanwhile the end of May was getting closer and the weather was getting hotter (and more people were getting out and about) but we decided we could sensibly have one more try on a largeish summit so went to Garway Hill G/WB-013 (21 May) and found a different parking place and lonely ascent to the brick building on the top and the model aircraft flyers. While M0JLA disappeared back down the slope with his HF kit I realised that I needed to be more prominent as I was hoping to qualify on 2m and 70cm before embarking on 6m again. Having learnt from last time I used the 'tactical mini' mast (only 5.9m but it seemed a lot higher as the top section was thicker and didn't bend) for the first time and erected both it and my usual dipole before starting to call which took me quite a long time.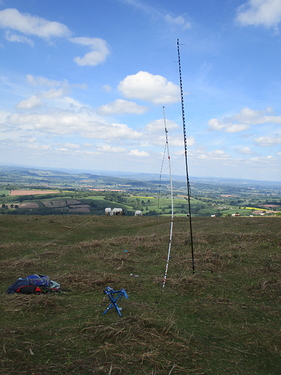 By 1050 I was calling on 2m and 35 mins later I had 6 on each of 2m and 70cm and had advertised my 6m attempts. Thanks to this my 6m activation harvested 5 contacts in 8 minutes - all but one who had spoken to me already - and then the band went quiet and no more could I raise. However the hill had been qualified on all 3 bands (and the no of recorded 6m contacts increased from 2 to 7!) so after a quick chat with M7TPE who had gained his call sign 3 days earlier, via on-line teaching, and wanted to try it out on both 2m and 70cm I closed down and started the packing up.
Now the time is coming to try the Challenge so we are alerted on Monday 1 June on the very small local Seager Hill G/WB-022 at 0830 (1 x 6m contact so far) and Hegdon Hill G/WB-023 (10 x 6m contacts! Gosh, probably because it is a roadside summit) at 1715 with the hopes that we miss the hottest part of the day and have time to rectify what went wrong in the morning! M0JLA will be operating on 12m and (possibly) 10m with 60m as well. He has plans to activate further summits every day this week (weather permitting - we are supposed to be getting - desparately needed - rain on Wednesday but time will tell) and I shall certainly hope to accompany him when possible but I have a feeling I shall find it difficult to find any contacts on 6m fm on these small hills - some of which are wooded. They are often not easily qualified even on 2m so I will need luck - and a lot of help from chasers. Hope to talk to you soon!
Viki M6BWA