We had a very rainy evening yesterday and the forecast was for rain the whole weekend.
However, the sky was mainly blue and a very nice sunshine was reaching our QTH this morning when I got up at about 8h30 (local), so I decided that I would venture to hike Mt. San Cristóbal and put its summit on the air again for you.
As you may have seen in a thread I posted on this morning before leaving home, I had problems to raise an alert for this activation. I tried with my smartphone twice and with my laptop twice more, without success. I guess it's due to some of the lately seen database problems and I'm sure our database keepers will sort it out soon.
I started the hike by 10h06 utc and reached the summit at 10h41 after the usual 35 minutes ascent. At the parking spot before starting the hike, the temperature was 6 or 7 degrees, but it felt colder and windy at the summit, so I put warm cothing and a windstopper on before starting to set up.
I selfspotted from my smartphone by the SPOTmySOTA app, but I found upon my return home that it apparently never got through, as I never got a spot from myself.
After a couple or three CQ calls on 14.062, I first got Manuel EA2DT, who kindly apotted me and quickly brought to the frequency a good number of chasers. Thank you very much, Manuel.
Conditions didn't seem to be very good with some severe QSB, but, little by little, many of you found the way to my log. As for DX, I was called by 4 different stations from the Canary Island. All of them seem to be Central Europeans on holidays at the warm and sunny Canary Islands. I'm so jealous…

This is the full log of today's activation with 17 QSOs in 20 minutes.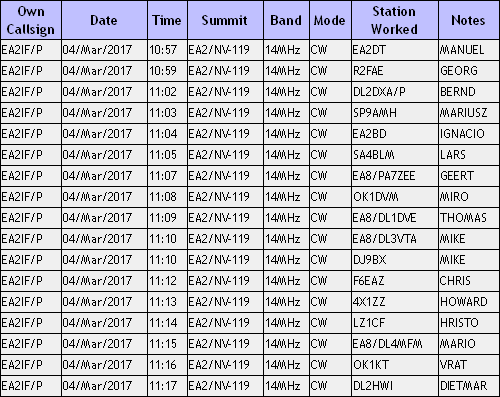 When I was announcing my QRT on the frequency, I started to get some graupel from the clouds above me.
Descent was done running as fast as I could because I felt I was going to be a bit late to pick up my son at the rock climbing training place. It only took me 20 minutes to get to the car and my son had just finished his activity and was there waiting for me while drinking a glass of water when I arrived.
I enjoyed very much the exercise and the time on the air. Unfortunately I had no time to take any pictures and it's a real shame, because the heavy rain we had yesterday evening seems to have been snow in the higher mountains up North of here and the views of them covered in snow from the top of this mountain were very beautiful.
Thanks very much for your calls, spot (Manuel) and QSOs.
I'll be looking forward to hearing you all soon again from another summit on the air.
Have a nice weekend.
73,
Guru