Back in stock at Hobbyking if anyone is waiting for one.
Has anyone designed a 3d printable case for these. If not, I will share my design when/if I ever get round to doing it. Just asking to save a bit of time if one already exists.
On a vaguely related note does anyone keep these batteries in the fire resistant bags HobbyKing sell?

I use an old ammunition box for long term storage (in the garage). I have a 4200mAh LiPo too, hence the extra caution.
The ammo box would obviously not be practical out on the hill, so I just take the chance.
I put mine in the bag during charging. During air travel, I put the bag in my carry-on separate from the battery whilst they x-ray inspect.
Elliott, K6EL
Sheet of bubble wrap and two large elastic bands.
No. I keep all my lithium batteries in a plastic bucket that originally contained bird seed (22x18x18cm), 24x 18650 LiIons, 2x 4AHr LiPo 2x 4.2Ahr LiFePo.
I have used the fire proof bags when flying in the past (and what a long time it's been since I flew anywhere) but now put 18650 cells into USB power packs and put them in my carry on luggage. Security guys see a billion power packs a day and don't care unlike a LiPo drone battery.
Anyone would think we were moving a sack of Nitroglycerine and a few gallons of petrol in an open container in the dark with only a candle for light.
I've often wondered how useful they are. Are they supposed to exclude oxygen? (I don't think the batteries need a source of that to burn) Do they contain the intense heat? they look very thin - what if they were on a wooden surface / in a car / in a rucksack…?
I tried to buy one with the last battery, to see what they were like - but they were out of stock. I always stay in the same room during charging, and keep it in a safe-ish location when not in use.
(Sorry for thread hijack - good to hear that the batteries are in stock again)
Those bags are like a fire blanket. Resist the temperature and avoid the spread to other objects around.
To a certain degree also restrict oxygen access but that is not the main function.
Yes, I've always used one for Lipo's in the past.
Says shipped from Hong Kong when I checked out. Can anyone find them a bit closer to home?
That'd be a bit like soup in a basket…
I've just ordered the Miady LiFoPO4 one from Amazon which is a SLA style battery. There were some good reviews for it so I'll see how it goes, might be a bit big/heavy for SOTA.
I was going to go for the Hobbyking one but coming from HK it was + £17 postage or something.


My 4200mAH LiFePO4s are stored in plastic boxes and are actually wrapped in bubble wrap (do I hear screams of disbelief?

). The chemistry is far more stable than in LiPOs and I often leave the room while they are on charge. Having said that I only charge them at 1.5A and I have a temperature monitor connected to the charger. Of course all my batteries are protected by fuses close to the battery.
I had seen those Pete, good value for the money but looking for something a little smaller to go with my KX1.
I originally got one of those charging bags and took them to summits in it for about 8 years but it finally wore holes in the corners of the bag. Now I use one of Richards bags from an antenna to cart my batteries inside my back pack. A small rubber band around the power and charging wire than around the battery as well keeps the leads tidy when not in use. I have 2 of these batteries for about 9 years still going strong at this stage.
regards
Ian vk5cz …
Or using pickaxes and dynamite to shift Ammonium Nitrate:
hei you can also wrap the battery in a (piece) fire blanket . it takes up little space and weighs nothing
Good Day,
Have you thought about the Deben tracer batteries I have been using the 7Ah battery for my kid activations for around 5yrs, it's a good balance between ultra light and heavy, bit pricey but worth it.
This battery has been used with different transceivers from KX3, Ft817, FT818nd, QCX and with a diode inline an MTR5b.
I reckon the Deben Tracer batteries is one of the safest batteries on the market, mine has had a few tumbles/drops on activations, comes with a charger, easy to charge and most of all I feel safe when it is being charged.
If I am out for an easy 1 pointer I have a Golf cart battery that seems rather robust also comes with a charger.
72
Graeme
M0OAT
Thanks for the heads-up on the HobbyKing batteries. In the meantime I went for one of the "UltraMax" batteries available in the UK (either from the sellers website or via their eBay/Amazon stores). Around £55 including charger if you catch one of their discounts.
Mine weighs in at 760g, so the HK batteries would be a bit lighter and smaller this but will do for now.
I don't like the small exposed part of the contacts you are left with once spade connectors are fitted, so I hot glued on the fused PowerPole lead I made up and replaced the charger croc clips with PowerPole, so it feels reasonably safe: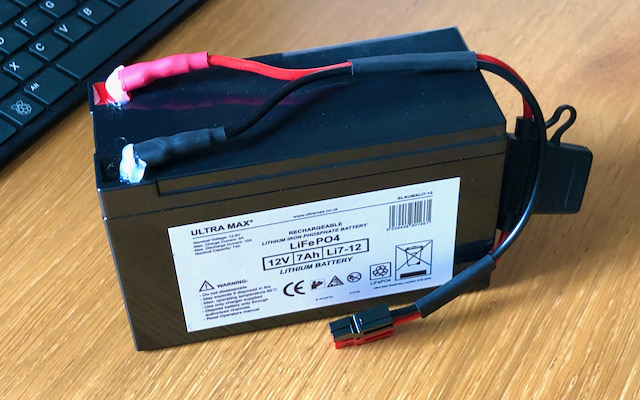 73, Jonathan