I've activated Mt. San Cristobal today for the 35th time since I started doing it on December 2013.
In the begining I used to activate on 2m FM only with a Yaesu HH because I had too little time available to deploy the HF gear in the way I had it at that time, so I was doing HF on Sunday activations only.
As the time passed I had the chance to see what other activators were doing and I started to think about a way to prepare my HF gear for a fast deploy.
Since I prepared a wooden box with the FT-817ND, the MFJ antenna tunner and all cables preconnected inside, plus the mobile whip antennas I bought second hand from a good friend of mine, which I quickly set up on top of a not too long PVC tube with a single wire radial sloping down, I'm now able to activate on HF in my short stays on this summit.
The regular ascents I do on Saturday mornings keep me fit and well trained for other activations.
Today, I'm going to show you the route I follow in case some of you feel like trying it one day.
So far, just Juan Carlos EA2EEB and Teresa EA2EHK have got the courage to come and do the hike with me.
This is the way I usually drive in the morning from my QTH to the village of Berriozar, at the mountain base:

Here you can see a Satellite view of the mountain. The start point is where you can read "CASCO ANTIGUO" which is the older part of the village Berriozar, in Basque language Berrio-Zahar.
.
The red circle in the following picture shows the area where I have always been able to park my car so far and the red arrows show the route I follow to hike the mountain:

The hike is quite demanding, as it's long and steep starting at about 450m a.s.l. and ending at almost 900m in a continuous steep track.

This is a closer look to the final part of the hike until I reach the operating position, which is always the same because I fix my PVC tube to a wooden pole and the extension cord I use to keep the wire radial straight in position towards the NorthEast tied to a metal plaque with information of the mountain and the not anymore in service military construction you can partly see in this picture.

I started the hike at 10h01 utc and got to the operating position at 10h34, so it took me again 33 minutes, as it did last Saturday. I quickly set up and started CQing on 14.062 at 10h42, just 3 minutes before my alert announced start time, so the RBN didn't pick up my CQ calls, neither the chasers seemed to. So I sent a self spot through SMS and I quickly got the first chasers.
However, the pile up wasn't too big, neither the log got many QSOs today, which makes me think that the forecasted CME impact might have indeed impacted us and conditions were not too good.
They were not too bad at all anyway and I enjoyed QSOs with 11 chasers, 2 of which were S2S, one with Marcial EA2WX/P at EA1/BU-082 and the other one, which was my very last QSO of today's activation because I run out of time, with OE/DK7MG/P at OE/TL-025.
Hans HB9CKV called me at 10h58 and I gave him signal report, but it looks like QSB didn't play well for us, as he never came back to me. So unfortunately NIL (Not In Log)
This is the full log of today's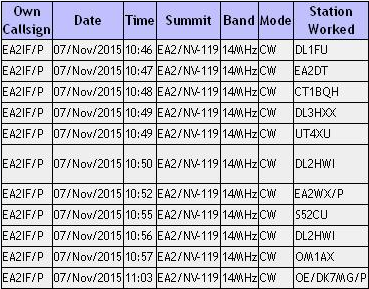 Note that DL2HWI is on the log at 10h50 and also at 10h56.
CW is just a peeping sound and there are no voices to recognice the operator but, after many years working CW, I can easily distiguish CW operation from one hand to another, from one station to another, due to signal strength, CW tone, rithm, speed… particularly if one them use to make several times the same mistake of sending 5 dots for an H instead of 4.
This is not the first time this happens and I write this to warn the one using DL2HWI callsign to chase activators when he is not indeed him. I know who is him.
Thanks again dear chaser for your calls and for making so fun and encouraging for me to hike up this mountain every Saturday morning.
I'll be looking forward to QSO with you again soon from this or any other summit.
Best 73 de Guru