I have an all-day activity tomorrow Friday so won't be able to take part should others be doing 2m SSB/CW - a pity as the wx forecast for tomorrow here shows a gap in the rain mid-late morning.
Since I am back at work, Fridays are no go for me, however i have negotiated a pass for Saturday.
Weather permitting i will be using 2m ssb as well as anything else i can cobble together.
Probably an easy 1 pointer in southern pennine as a target. Will alert friday evening when i have a better idea of the forecast.
Ian
The weatherman has promised me a 3-hr gap in the rain mid to late morning tomorrow (Friday) in Cumbria. Anyone else likely to be QRV then on 2m SSB and/or CW?
EDIT UPDATE: My VHF gear is packed ready to go but it's raining continuously.
Gap in rain now shifted to lunchtime hence two-hour postponement.


I try to chase you on a GMA summit.
73 Chris
I'll join in but running slightly late.
I can't hear Tom on 144.060 0957-1000z either horizontal or vertical
G4OBK
Update 10:03 hear a station in CW vertical polarisation on 144.060 it's G4DEE "Near Manchester" working M1EYP/P no copy on Tom on either polarisation…
Sorry Tom went into garden so I wasn't listening after 10:10. I don't have much "chaser listening to VHF white noise patience" these days. Good luck with your session…
Beaming your way now Phil, H-pol (of course).
Blue skies looking west towards G/LD-050 so leaving shortly. Hope to be QRV about 11:30utc.
FB Tom many thanks for the QSO on 144.050 - most noticable QSB on signals from The Cloud, now copying you R5 when in QSO R4, but as I type this your signal is dipping and rising! Good luck. Not much chance of me hearing @G8CPZ Andy on Gummers Howe from here, some very big G/LD mountains in the way plus the Pennines and Sutton Bank A170 - a summit in its own right!
73 Phil
Phil, I thought we managed it once before or maybe we tried and failed. Anyway walking up now, dry for the moment.
Yes, we did have a QSO on 2m CW before, you are right, Gummers Howe to Pickering. My log shows this was on 24/07/21. I gave you 529 then, but today you were 559 most of the time. That's 2m for you, sigs up and down minute by minute over that sort of distance. Glad to also get a point for the 2023 WOTA Chasers Tables! The direct path to my QTH goes straight through Great Knoutberry G/NP-015, the highest peak on the line. Radio waves refract around corners on VHF/UHF as well as bounce off the troposphere. This QSO 141 Kms
73 Phil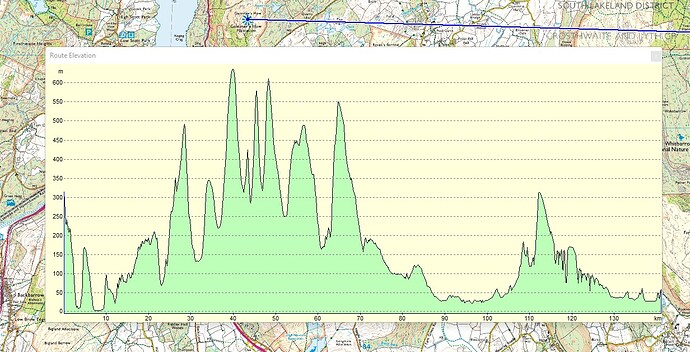 My guess would be diffraction over the summit of Great Knoutberry.
Spent a fruitless hour trying to get my beam to turn. Everything OK at the controller end so I guess that after 20 years service the rotator unit has reached the end of its life. I'm not sure that the current level of 2m SSB activity around here justifies buying a replacement!
They aren't cheap, so probably not worth it Brian unless you are into contesting or datamode a la FT8 flavour. It might also mean you have to climb, if you still do, or pay someone to climb and fit the new rotator.
73 Phil
Oh ye of little faith, so twice now at those same locations. I think it's always worth a try: the VHF signal often finds a path due to reflection from, and diffraction around, intervening big hills. Indeed, there was some multi-path distortion on your signal but not enough to affect readability. That unpredictability is part of the challenge and fun of VHF/UHF radio.
BTW I activated Great Knoutberry a few weeks ago, a boggy swamp or swampy bog on most of the walk. I won't hurry back.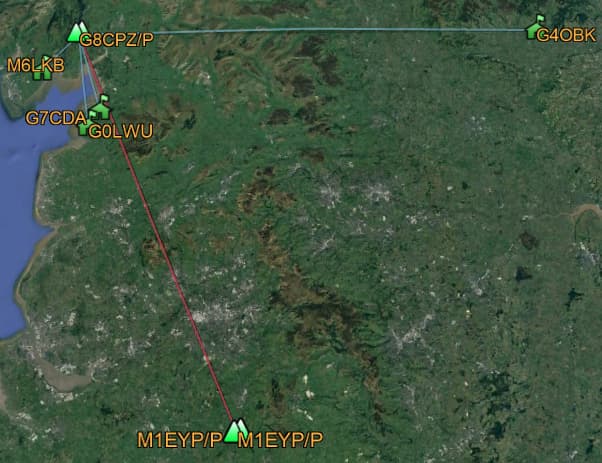 At the risk of repeating myself I'm always amazed and pleased at how well 2m QRP CW can do with simple Yagis. Once Tom @M1EYP flipped his antenna back to horizontal he was 589 with me. I reckon I could have worked other QRP CW stations much farther away had they been QRV today. Pity I had to use 2m FM to qualify the activation (not that I get points anyway).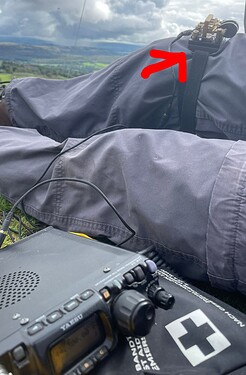 As a bonus I was glad to sit operating at the summit in warm sunshine (using my first-ever twin paddles handmade by G4ZYP, now SK) as there were very heavy rain showers earlier and on the drive home.
Ah, that hit home, Phil! The days of driving out to Stanage or the Roaches and ticking off a couple of dozen routes are far in the past. I had hyped myself up for the job of getting the array down but was glad when it started to rain and I could put it off!

My decision to take part was a near-last-minute one. I was keen to check out the repaired feeder cable for the beam. Sadly, although the connection was restored and the system worked, the sheath over one of the clips was too far down and the result was the clip slipped off the driven element a few times. (I did the necessary adjustment when I got home so hopefully next time out should be less mithery).
Results - The Cloud G/SP-015 - 21 QSOs
2m SSB: 6 QSOs
2m CW: 4 QSOs
2m FM: 11 QSOs
S2S - G8CPZ/P on Gummers How G/LD-050
I didn't bother with datamodes or digital voice as I had limited time available.
That's two of my three recent antenna repairs/refurbs/setups tested and working. I hope to try out the third tomorrow before the football.