A SOTA activation is always a little adventure as you'll never know what's gonna happen. I walked through dark forests with thousands of glowworms and startled boars after first-Tuesday-of-a-month-contests or bumped into hunters and crazy conspirace theorists who wanted to discuss stuff like HAARP and chemical trails. But I've never seen anything like this.
Everything started schmoove. I built my shack on the foundation of an ex-viewtower what gave my vertical additional 5 m above ground. There is no rail and you better don't fall down the large holes in the concrete. 20 m was full of stations so I tuned to 17 m SSB and after a self-spot I worked Don G0RQL (as always a big signal) followed by W0ZAP and N4EX with good signals. Then no takers anymore for some minutes and I returned to 20 m. After tuning the antenna I noticed this guy entering the scene: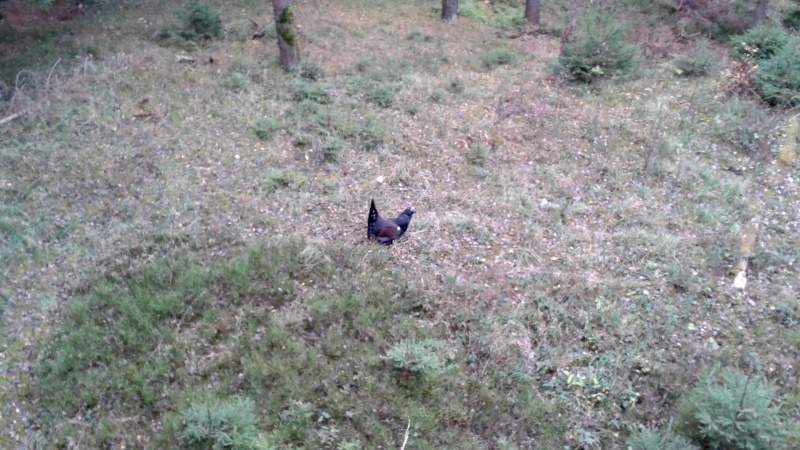 A proper capercaillie on display! They're really rare in the Schiefergebirge (as in the complete DM association) and so I wanted to take a better picture of him - stepped down my shack and kept a reasonable distance.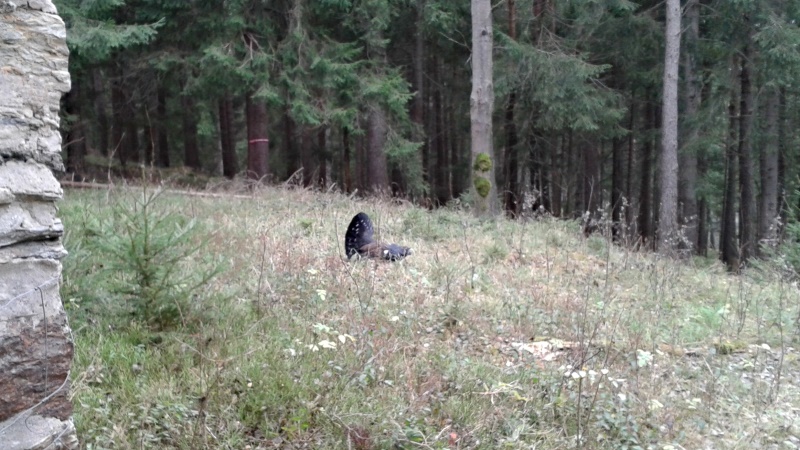 After I took the picture the capercaillie started runnig towards me. Time to leave him a few meters and so I moved 20 m down the slope. He still followed me and when he started running to take-off, I started running, too. Air attack! He hit my head from behind! I ran for another 50 m to the next crossing of the forrest track and walked that track down a bit. He stayed where he crashed into me, obviously looking for me. Good I know an expert to give advice in such a situation and so I called my YL Ilse as she's a vet: "Don't kill it, they're protected by law!" Wow, this was the kind of advice I really didn't need. I didn't want to kill it. I just wanted to get rid of this bloody cock!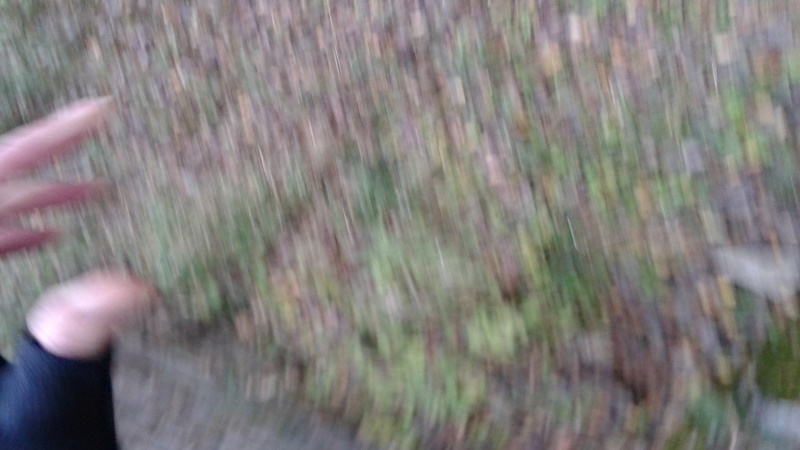 My station was still deployed and I wouldn't have left without her. So I made my way in a large circle through the woods, hoping to reach my shack without drawing the capercaillie's attention towards me. No way, he noticed me and instantly started another attack. "I'm not interested in your hens, I just want to get my radio back!" Again, he attacked from the air. It was obviously no good to run away again and leave my radio for an undefined time. But what should I do without doing harm to this capercaillie flying straight towards me?
Doing what?! I was quite impressed by this huge bird attacking me and almost forgot to raise my fist when he was only a metre from me. Strike, I hit his chest and the impact made him stumble to the port and crash down into the woods some 5 m away from me. That's it, I thought. Now he's learnt his lesson and I can go and pack my things.
Not particularly! He got back on his feet, came over and started another attack! He was really begging for it and I didn't know what to do, so just slapped him in the face with my right hand. He didn't stop. Another slap in his face , this time from the left. He stopped attacking me, looked a bit surprised and stumled away into the woods. Phew! But will he return?
Back in the shack I remembered that I'd made only three contacts, so one more qso to go! But what if the capercaillie returned and attacked me again? Not the best place to defend against a mad bird, 5 metres above ground with no rails and holes in the ground. Doesn't matter, make one qso! And luckily, I instantly found two stations wishing well and just gave my callsign. OH9ENA/m came back and was #4. Ha! After completing the qso I packed my things as fast as I could and left. The mad cock didn't return. But with my head still full of adrenalin I twitched with every noise out of the woods while descending. However, the most dangerous animal I saw on my way back was a black squirrel.
Activators, beware of a mad capercaillie on Quittelsberg DM/TH-844 during the next weeks and in April/May 2018 when he'll probably return for the mating season!
Ahoi
Pom