During our (M6BWA and M0JLA) recent visit to the Lake District last week we spent some time walking and activating in pouring rain (Pike O' Blisco LD-024), intermittent rain and such thick mist that I couldn't see M0JLA at all from my 'cosy' spot in the stone shelter by the trig point - and was it a fight to get the pegs in for the dipole guys (Red Screes LD-017), some late sunshine and fabulous views (Lingmoor LD-040) before there was finally a forecast dry day and a chance for an attempt at something higher.
Hence on Wednesday 19/10 we started from Thirlmere at about 11am hoping that the heavy cloud would lift as we walked up towards Brown Crag and skirted the side of White Side before reaching Lower Man and then Helvellyn. A rather long and slow route but designed to protect knees on both the ascent and descent and give a route up to the summit ridge that wouldn't involve scrambling or set off my vertigo. The cloud rose more quickly than expected so we enjoyed a sunny lunchbreak by the gill before ascending to the ridge and feeling the bitter NE wind which was soon going to hit us. The ridge was popular and, although the trig point was clear, it was quite difficult to reach the actual top. We soon dropped slightly down on the SW side, put in the pegs with less difficulty than I had expected and settled down for a joint activation (M0JLA had decided to leave his heavier radio behind for once and help carry my gear) with the VX-7 and dipole.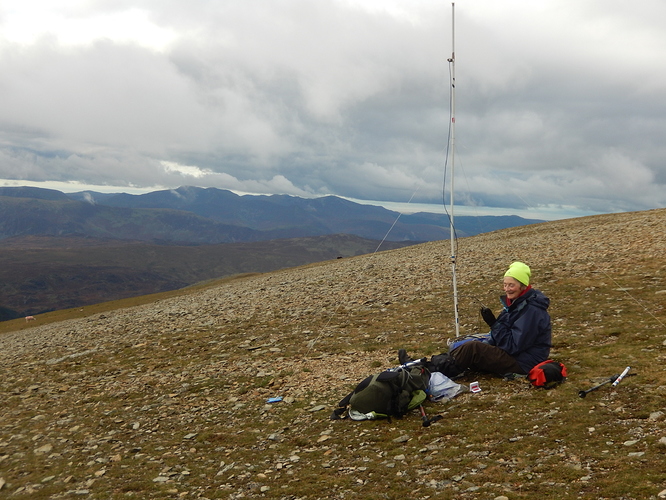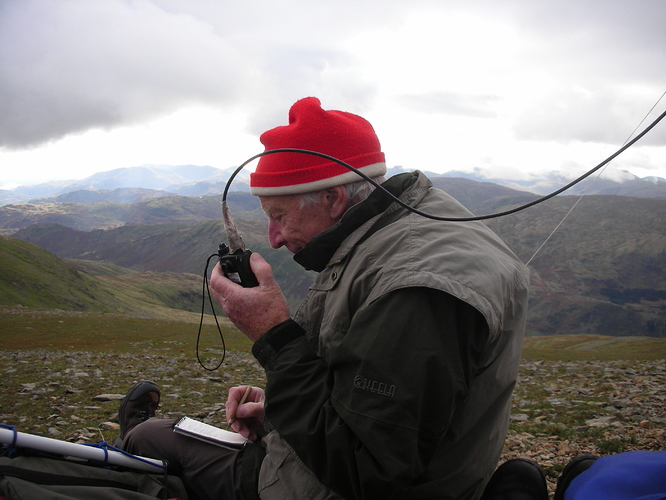 My calls on 145.500 were swiftly answered by many callsigns (sorry we couldn't work them all but it was desperately cold and time was passing) so we soon had G4WHA, GW4ZPL, G7CDA/M, M3RDZ (thank you Roy for being the 4th), M0CQE, 2E0MIX and G0HRT in the log. A swift QSY to 70cm and there they nearly all were again - with the addition of GW0TQM (Carl, Mold) and M0XRS (Chris, Leyland). After 35 minutes with 7 2m and 8 70cm contacts the dipole came down, we regained the ridge (nearly deserted by now) took a last look round and started the long descent. This time we went almost to the top of White Side before descending which was a lot quicker than our route up but we still only had 10 mins to spare when we reached Elterwater and Rodney's booked meal! It was lucky we hadn't stopped for an ice cream by the car but the van wasn't there!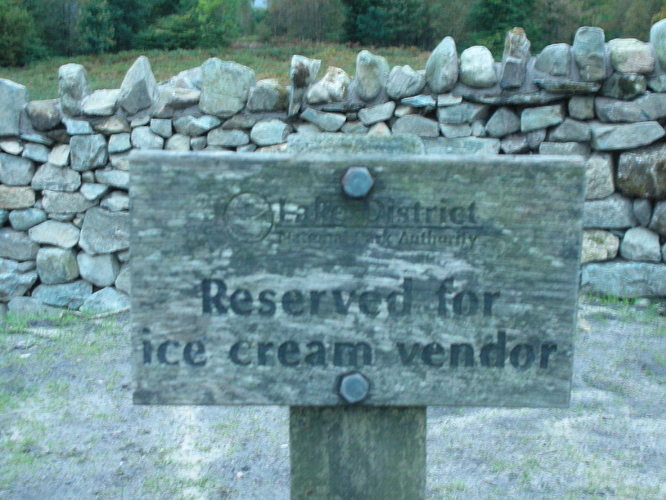 I regret we couldn't take more calls on that summit or virtually any of the hills we did that trip but the weather dictated that we had to hurry on each occasion - except the last hill (High Raise LD-019) on the next day when we knew we had the long drive home and wanted to do some of it in daylight.
Thanks to all the chasers and fellow activators for s2s. The original 2000 points was achieved on 28 July (GW/SW-021) and it has been hard work to get the extra 57 points or so to ensure that I had not included any 40m or 70cm contacts in the final total. I just hope I've got it right now!
Viki M6BWA