It was probably about this time a year ago that I happened to wonder if I could remember any morse code from my youth. It was over 40 years since I had last used it and for most of that time I had also been away from amateur radio. Towards the end of April last year I got back on the air, playing around with FT8 a bit but the novelty soon wore off. By July I had discovered that SOTA existed and having sneaked an activation in on a family holiday I was hooked. But it soon became obvious that I really did need to try and relearn CW. I did have a completely failed attempt on G/NP-015 in September, partly due to my lack of experience and also the dash paddle stuck on my 3D printed key. That failed first contact was with Guru EA2IF who I spoke to on SSB a few minutes later and who went out of his way to encourage me to continue.
I've spent the interveaning months mainly on 30m chasing and most recently been using Morse Runner which I've found really helpful (and more fun to use than an app just sending random letters). There's still a lot more work needed, but when the opportunity came for a trip to West Sussex yesterday I jumped at the chance to have another go.
It meant an early start if I wasn't going to get stuck on the M25, so I left the house at 5am and thankfully the drive was good, arriving at Leith Hill around 7.30.
G/SE-002 Leith Hill
Leith Hill sits in Surrey, SW of London, at 294m which for someone from East Anglia counts as a hill

Its a pretty spot owned by the National Trust, topped by Leith Hill Tower which I assume gets very busy at times. I parked in the Starveall Corner car park at TQ 13054 43271 from where its a lesurely 15min walk to the summit.
Although there was nobody around I opted to setup just away from the tower over here:
It was around 1.5C and I only had a short time for this one, so used the MPAS Lite and took advantage of a soggy picnic table:
Although the MPAS is a few dB down on 30m, thats compensated by its very quick deployment, low footprint and no problem to use in poor weather. At this point the nerves were starting to twitch and I wasn't sure how easy it would be to key in the cold. I'd had problems trying this at home, but thankfully remembered to pack some fingerless gloves.
I managed 14 contacts, had the 'wall of noise' a couple of times but just waited until I could hear a couple of letters and then was able to narrow it down. Thanks for all the chasers patience

It went quiet after 25minutes, which fitted in nicely with my schedule for the day, so I stopped there.
This had been a bitter sweet experience for me - on the one hand I was elated at getting that first CW activation under my belt but also very sad that the person who had really pushed me to do it wasn't able to be part of it. I sat in the silence for a few minutes reflection and ended my activation with:
QRT DE G4IVV/P ES TU GURU SK
G/SE-009 Chanctonbury RIng
By lunchtime I had another window to activate Chanctonbury Ring, a nice 238m hill above Worthing on the South Downs way. I parked in the car park at TQ 12033 11979 from where its a half hour walk up to the summit. The trig point isn't at the highest point (the well known clump of trees) by a few metres, but I preferred to stay near it with the open aspect and plenty of space to setup a HF wire antenna.
I used my build of Stephan @HB9EAJ 7 band EFHW, which is essentially a 40m EFHW with a bypassable loading coil that gives you 60/30/17 with just the one link to change.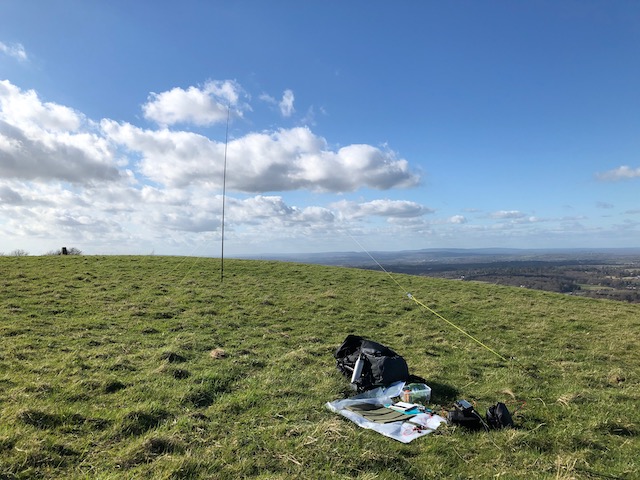 The weather was wonderful by now and so I settled down first on 30m for another CW session, adding 13 contacts before the queue dried up.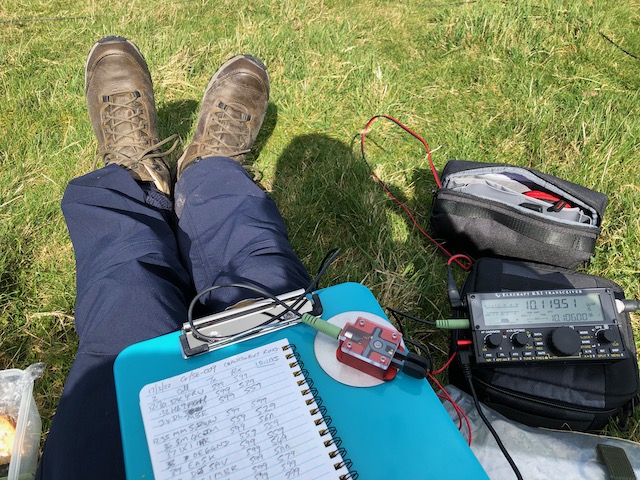 I could have persevered for a bit longer, but wanted to explore some other bands and also talk to some chasers. SSB sessions on 40 and 20 followed giving me 52 contacts in total.
It was just so nice to be able to get out in the sunshine on a hill again - I'm really looking forward to getting up some proper hills this year (early retirement starts in May

).
So once again, thank you Guru for giving me the push to get out there on CW, I intend to start all my activations this year with a CW session.
73 Jonathan