13th September 2016 - GM/SS-222 Duncolm
We woke to a wet morning with heavy rain and the clouds down on the hills. The forecast was for it to possibly be better later in the area to the south and slightly west, so we decided to do some domestic chores early and hope the weather would improve enough to do Duncolm later.
The rain had eased a bit by the time we left the cottage and headed towards Dumbarton and had stopped by the time we had done our food shopping. Cloud was obscuring the Kirlpatrick Hills as we headed through Old Kilpatrick to the official parking for Kilpatrick Hills by a sports ground at around NS469729: we were glad that it was signed since it wasn't at all obvious. It was dry so we started off walking without waterproof tops - just shirt and jacket, though wearing our waterproof trousers given the forecast for more light rain. We took the road back under the A82 and past gasworks before leaving it for a track which took us past scattered houses, angling up the hill with increasingly good views over the Clyde and back towards Glasgow.
The clouds were lifting and the sun was starting to appear and we were soon overheating. We stopped to remove jackets, but we were feeling overdressed and still hot with the waterproof trousers, but we started to make better progress. This was a popular walk, and we saw quite a lot of other walkers. We lost the Clyde and Glasgow views as we turned north and Loch Humphrey and the selection of hills beyond came into view. The good track took us past the dam but became boggier and narrower and eventually turned into a slightly intermittent and boggy path between Loch Humphrey and Berry Bank and Little Duncolm. The path took us onto a ridge west and round Little Dumcolm before forking to either ascend or skirt Middle Dumcolm: we opted for the lower level route on the way out, returning over Middle for the views on the way back. It started to rain again as we ascended the steep final ascent path onto Dumcolm itself and the trig point.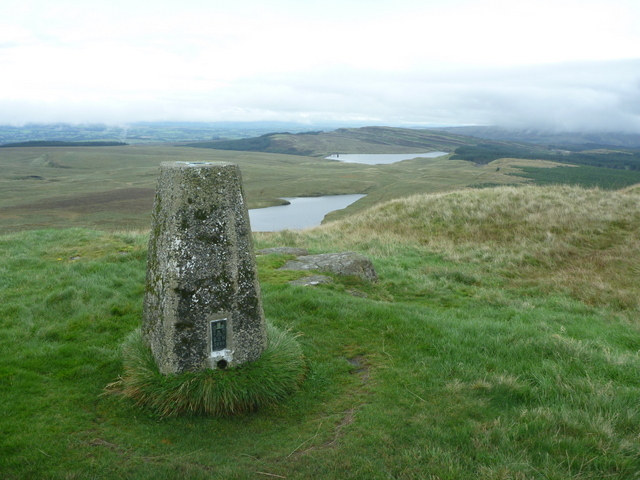 Duncolm and Loch Humphrey
Unlike earlier days there was little wind and we were troubled by insects at times, though just occasionally the wind got up enough to deter them. The clouds had lifted and we had all round views. We had intermittent rain throughout the activation interspersed with occasional sunshine. The trig point had a hole in the top, though it was partly blocked by a drinks can someone had jammed in it: Caroline exploited this to get the 2m dipole more firmly positioned in the trig point than usual, and being close to Glasgow got a pleasing 20 contacts on 2m FM (12 in the first batch, followed by another 8 after she had been on7MHz). HF conditions weren't particularly good and it took a while to get contacts, Martyn qualifying with 9 on 5MHz, followed by 13 for Caroline on 7MHz, but 14Mhz produced no contacts at all for Martyn, though he'd managed 1 2m SSB contact while Caroline was on 40m.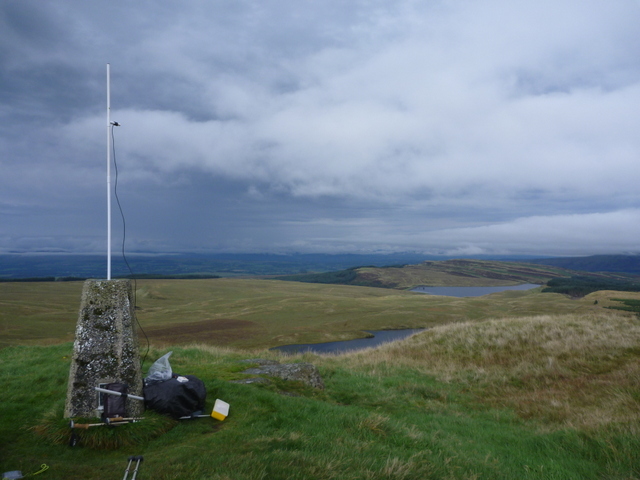 Bands of rain…
Unhelpfully another band of rain came over as we were packing up, but it cleared as we descended, and we got more extensive views, including of a distant Ailsa Craig. We returned to the car park to find if full with a children's football match going on. By now it was turning into a lovely evening, and we decided to drive back to the cottage round the eastern side of the Kilpatrick Hills, and were rewarded with some excellent sunset views of higher hills.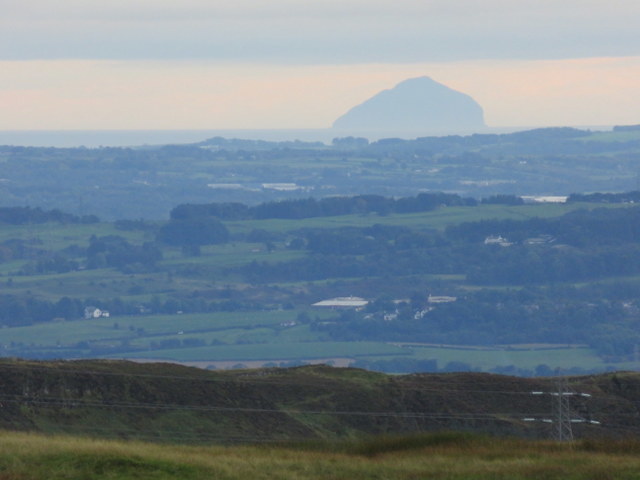 Zooming on distant Ailsa Craig on descent