There were some 23cm antenna ideas on another thread.
I use this one hand held. Got me 200+ KM on 1 W of FM at Easter.
[URL=http://s1019.photobucket.com/user/Comptonallen/media/SOTA%2023cm%20yagi_opt.jpg.html]
[/URL]
Compton
I have one of those PC board Yagi antennas. Went to the local surplus store yesterday to get the parts to connect it to my vintage Yaesu FT-911 HT which makes a massive 1 W on 1.2 GHz.
I'll post when I have the whole contraption soldered and working.
These are great little antennas from WA5VJB. 6 dB for $6 US.
http://www.wa5vjb.com/products2.html
wunder
It looks a bit fragile to be stuffed into a backpack or even attached to the front side of the pack. It needs something to protect the quads. Perspex perhaps?
Andrew VK1DA/VK2UH
Looks to me like it is mounted on the inside of a plastic sandwich box cover… sneeky
David
G0EVV
This is mine:
http://www.marwynandjohn.org.uk/GM8OTI/proj23cm15eleyagi/proj23cm15eleyagi.html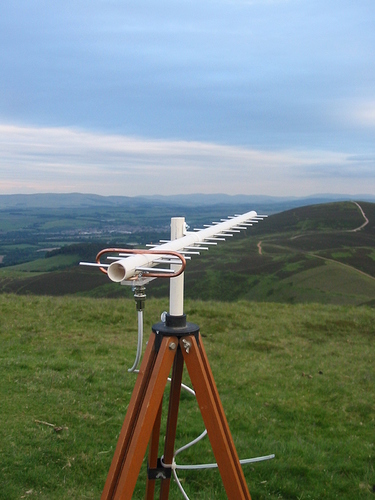 It straps on the outside of the rucksack and it's not fragile


73
John GM8OTI
Ok now I see how it's constructed. Very neat!
Neat Andy, and nice carpet too!

I use the WA5VJB PCB Yagi like Compton's most of the time. It's 3db less gain than the double quad but 30db less volume!
Thanks for the feedback. Some good examples of homebrew 23cm antennas and construction techniques to consider.
73 Andrew VK1AD
Hi folks
I said I didn't fancy carrying a 10el yagi around the Aussie scrub, well I constructed a 12el 23cm Yagi to carry around Aussie peaks with little to no scrub. The design is a DL6WU for 1296 MHz using VK5DJs Yagi Calculator.
The boom is 18 x 18 mm Wester Red Cedar, reflector and director elements are 3.1 mm dia aluminum rod, driven element is 2 mm copper wire and the balun is RG316. I will post construction details on my blog in the next day or so.
Homebrew 1296 MHz 12el DL6WU Yagi by VK1AD

Hi Andrew,
Very neat construction! Moreover, you have used recyclable material for the boom to keep the CO2 footprint low!
This conversation about 23 cm antennas for SOTA started right when I wanted to buy a new VHF/UHF handheld and it prompted me to go for an Alinco tribander! I will have a 23 cm antenna soon, thinking about a double quad, MFM design in a lunch box.
73 Heinz
Hi folks
Today from Big Badja VK2/SM-059 (QF43SX) using a SG-Lab 23 cm transverter and a homebrew 23cm 12el yagi, I worked Dave VK2DJS (QF46PV) on SSB over a distance of 324 km. My best long distance 23cm contact in only four weeks of operating on 23 cm.

The signal had mulitpath characteristics with an obvious audio 'flutter' indicating possible aircraft enhancement AE.
FT-817 IF feeding a SG-Lab 23cm transverter 2.5 watts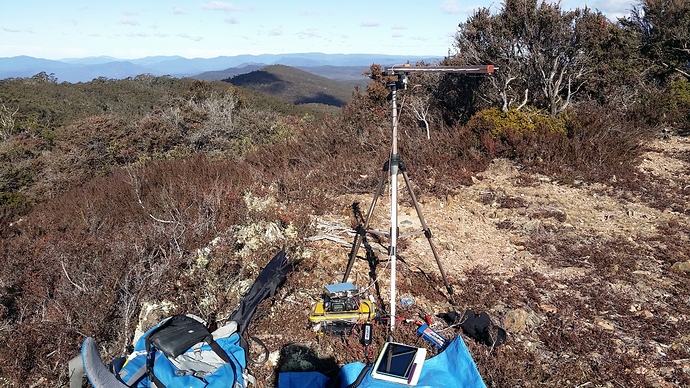 view south from Big Badja VK2/SM-059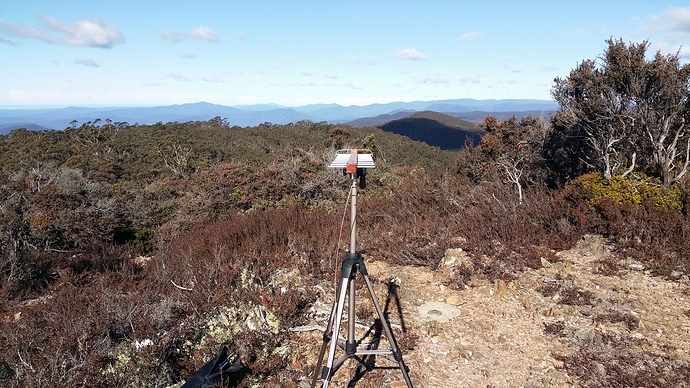 view north beaming at Dave VK2JDS from Big Badja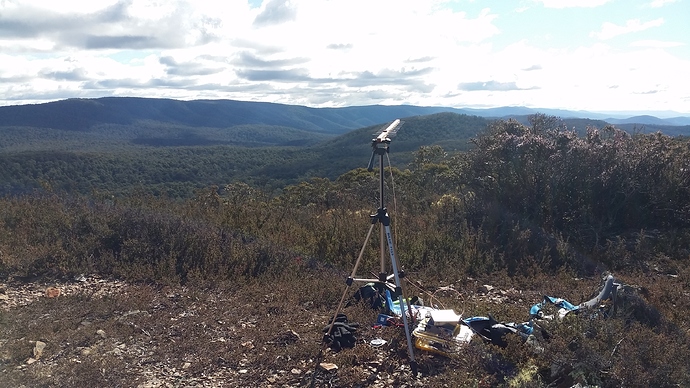 73, Andrew VK1AD
I would put money on it!
Great performance considering the low power from these transverters (and good ears at VK2DJS).
What was used at the other end?
Based on the photo Dave sent me, just after the QSO, plus reading his QRZ page, it would appear Dave is using a 4.6 metre dish. His 23cm station is at 940 metres ASL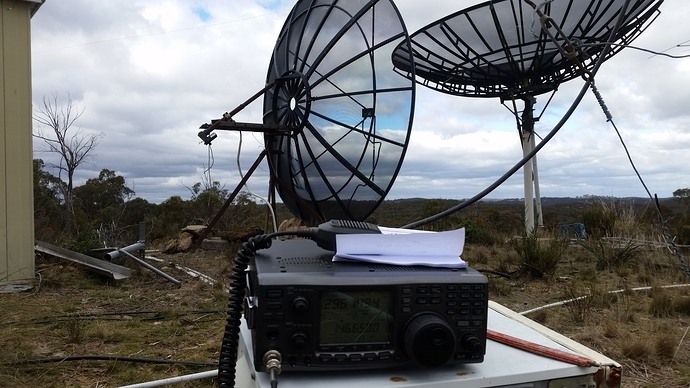 Cheers
Andrew VK1AD
< Louis Balfour > Nice! < /Louis Balfour >

Dave VK2JDS is an experienced EME operator on 1296.
VK2JDS is great to have at the other end of a 23cm activation. He's in a few of my logs on 23cm. I give him credit for 95% of the QSO. He's also really good at remotely fault finding your gear as I found out last week end when on Mt Walker.
Plus he enjoys it!
Compton