Dear all
Is it a typo? Probably. But no: the score really has 5 digits now:

This is the activator score of Jürg Regli, HB9BIN. Most chasers know Jürg, since he is doing SOTA in SSB and CW and is a real globetrotter. He is chairman of HB9SOTA, the Swiss chapter of SOTA, the organization behind the Swiss SOTA association, providing a good and well organized base for activations and SOTA friends in Switzerland. But Jürg has many talents, giving lectures on various topics, attracting talented people providing useful support, doing joint activations with others, erecting enormous antennas or being a practitioner for the useful or beautiful things in life. And he is also a well-known DXer.
Jürg has met his 10th Mountain Goat today on the Belchen summit in the Black Forest region. Simply take your wife with you, do some errands and combine this with a comfortable SOTA excursion in a beautiful region not far from home! Keeping the wife happy around SOTA is feasible and certainly also a part of this success.
SOTLAS reveals the footprint of his activity – even 69 contacts in the "other" mode, probably pleasant meals with other activators here or there.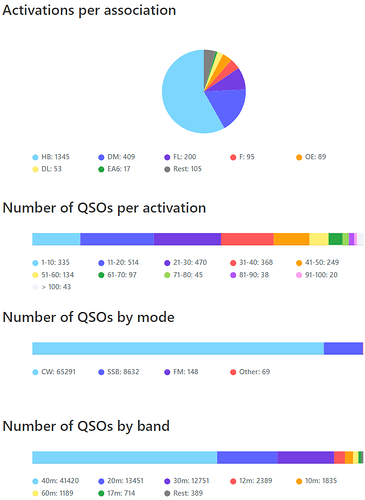 Jürg is the second SOTA activator to reach a level of 10,000 points world wide. SOTLAS and the SOTA database reveal some details of his portefeuille. Been here, seen that. There are not many summits in my own collection where Jürg has not yet been. And he is still interested in new challenges, mastering the "SOTA flavours" or discussing useful features with software writers.

So congrats on your special milestone, Jürg, and let's open a big bottle of bubbly for you!

Vy 73 de Markus, HB9DIZ