Here was the Mountain Weather Service Report for today:
SUMMARY FOR ALL MOUNTAIN AREAS
Snow will fall across the Highlands to low levels most of the day, heaviest southern & eastern areas, advancing slowly north. Sustained whiteout. Milder for England & Wales, with rain on and off, even on highest tops. A gradual improvement as rain eases across Wales. Widely blustery - gale force easterlies many Scottish mountains.

HEADLINE FOR LAKE DISTRICT
Blustery winds. Rain or drizzle most of day, at times heavy.

HOW WINDY? (ON THE SUMMITS)
Southerly; upland gales at dawn will ease to give a marked lull through the morning. Will then progressively strengthen to 30 to by about dusk 40mph.

EFFECT OF WIND ON YOU?
Walking increasingly impeded by the wind; in afternoon considerable buffeting developing where exposed. Significant wind chill.

HOW WET?
Rain much of day, heavy at times

Rain on and off most or all day. Briefly snow pre-dawn above 500m, but during morning all turning to rain up to highest tops. Some heavy falls lasting several hours. The most persistent rain focused on southern Lakeland fells. Some streams may rise quickly as snow melts.

CLOUD ON THE HILLS?
Blanket fog, highest cloud base north.

Cloud will persistently shroud the fells. The fog often from lower slopes up, particularly Pennines and south Lakes. Toward north Lakes & N Pennines, most cloud often above 600m.

CHANCE OF CLOUD FREE SUMMITS?
Almost nil most areas; 10% north Lakes.

SUNSHINE AND AIR CLARITY?
Extensively overcast and dull. Frequent poor visibility, even lower slopes in precipitation.

HOW COLD? (AT 750M)
Around 0C pre-dawn, but rising through the day to 3C, perhaps nearer 5C afternoon. But where exposed to wind, often feeling closer to -10C.

FREEZING LEVEL
600m at first, but progressively rising above higher summits.
Yes - wet and windy here in the Lakes!
I woke around 04:30 and decided to just get up and get on. Arrived at the parking spot at around 04:50 and contemplated for a while, given the rain, whether to take my one man tent or rely on the Bothy Bag. I decided that staying in the car for a while longer rather than attempting to put a tent up in the rain (for the first time) was the lesser of two evils.
The rucksack weighed in at around 8kg, radio-wise I was sporting a MCHF SDR 15 watt Transceiver with a Summerkamp SLA-817 HF Linear Amplifier - both on their first SOTA outing. Having found my Lipo/Buck converter power solution wanting I stole the 10AH battery out of my motorbike and lugged that up.
On the summit the wind was a fairly constant 20mph and erecting the inverted V SOTABeams Quadbander 80/40/30/2m dipole was fairly uneventful although it had to be supported at around 6m due to wind loading. I got myself Bothy Bagged up with the antenna clips set for 20m and unpacked and connected all the radio gear.
First and only 20m contact in the log was via groundwave with G8JSM/P on G/SP-017 Billinge Hill - probably less than 50 miles away! The band was completely flat otherwise, I spent about 10 minutes calling CQ and 10 minutes hunting around, nothing heard.
I braved the elements to clip the antenna to 40m knowing there was activity into Europe. A good set of contacts then resulted - mainly S2S contacts. OM1AEG/P on OM/BA-004 first European S2S in the log, followed by IK2LEY then OE5JKL/P on OE/NO-281 then two pairs of activators: SQ9MDF/P & SQ9NOT/P on SP/BZ-054 followed by OE5YYN/P & OE5AUL/P on OE/OO-330. Another S2S after 15 mins with S56LXN/P on S5/CP-035 was followed by a dry spell so I hunted a bit and snagged a contact with the special event station TM1GOAL.
Two more S2S with DD5LP/P on DL/AM-176, HB9DBM chasing then finally DM2AXL/P on DM/TH-066. I then set the antenna for 80m but that didn't seem to be working too well on transmit - SWR was a bit on the high side and I couldn't hear anything on hackgreen when I checked, so not sure what was going on.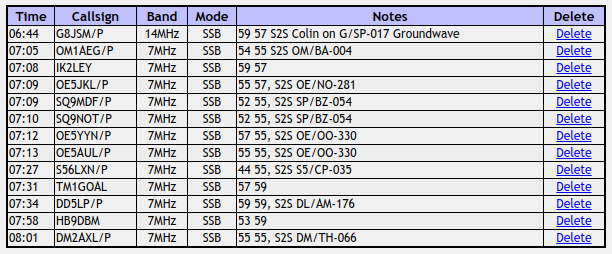 After sitting on very damp ground for over an hour and a half I decided I'd had enough and did a half competent job of packing everything away. My only Summit Brain moment was leaving my hat & gloves outside the bothy so they were especially nice on the way back down!
The battery did a fine job - I've not checked accurately about power output from the linear but I was driving it with either 2w or 5w in which should translate to around 30w - 70w out.
Thank you to the event organisers and all the brave folk out on mountains, and of course to the chasers.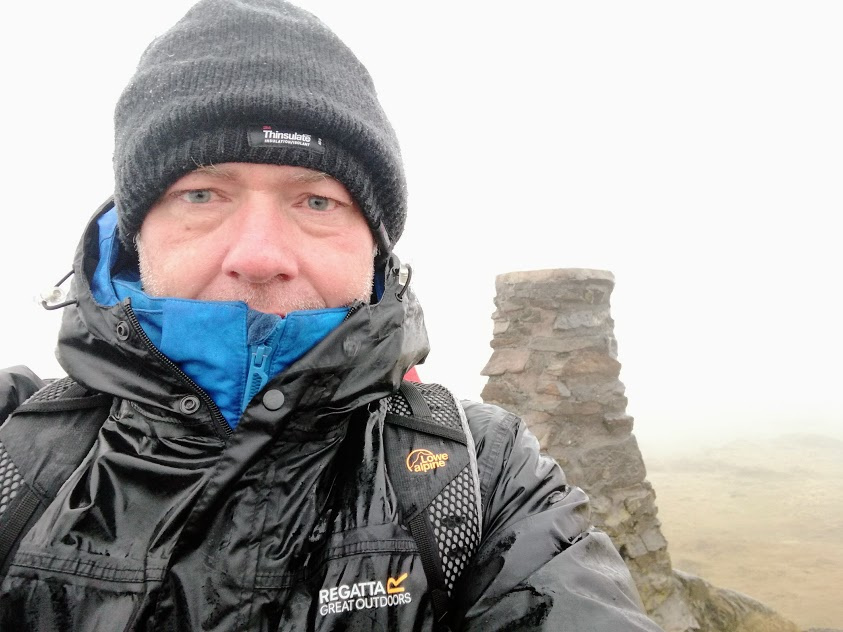 73 - Mark. M0NOM