During the last week I was looking on the sota mapping, I thought of an easy and fast activation.
the choice fell on a double activation, two peaks very similar to each other and very close, about 1.6km as the crow flies.
arrived on the spot, I started walking towards the Cima di Cusio I/LO-213, on the map any path leading to the top was marked, unfortunately it is really so, I had to climb grassy ridge, made slippery by grass and leaves, for about 300 meters.
When I got to the top, I fed Zac with water and his meal, but he was still hungry and I had to give him half of my food, a pack of bresaola.
I started to mount the antenna but the strong wind made me waste a lot of time.
Once I installed the efhw, I made a sad discovery, I had forgotten the coax at home to connect the transformer to the radio.
fortunately I had a bnc with 4mm socket, I cut the efhw of the length of the fishing rod and connected it to the socket, adding about 10mt wire on the ground.

I hoped I could tune it in 40mt but nothing to do, swr too high.
I tried to tune the 20mt, idem!
I made a try on 30 meters, successful attempt!
I started to call in cw, the sound of the dry leaves in the wind forced me to use headphones.
put in log 4 qso I decided to walk towards the second top, hoping to find a shelter from the icy wind.
the descent was challenging, arrived on the path I started the climb to the second top, much easier.
I found a shelter from the strong wind and I opted for an inverted L configuration, I used the mini fishing rod about 4 meters with fixed about 8 meters of wire and about 10 meters of wire for the ground, all fixed to the nearest and stable thing that was my leg! HI
This time the band that I managed to tune was 20mt, I started to call in ssb, then I switched to cw, with these working conditions I was impressed by logging South Carolina, North Caroline, Pennsylvania.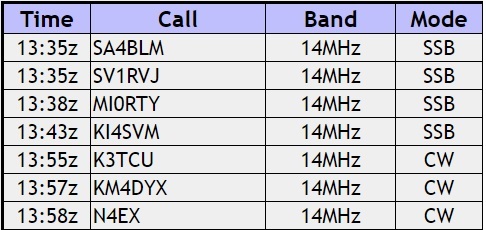 After about half an hour of calls I started the descent with Zac and 14 points!
if I had not forgotten the coax, I had a second resonant antenna and if there was not the strong wind it would have been a piece of cake.
Many thanks chasers!
73
Roberto