As I have mentioned in the past, the Appalachian Trail in the eastern US is maintained by volunteers. Even though the Trail is part of the US National Park system (where it is known as the Appalachian National Scenic Trail), most of the maintenance work is done by volunteer members of a network of 31 trail-maintaining clubs along the 2000-mile length of the trail.
I'm a member of the Georgia Appalachian Trail Club, which maintains the trail here in the state of Georgia from the trail's southern terminus at Springer Mountain to the border with North Carolina. My XYL, a friend, and I together maintain a 1.5 mile section. It happens that our trail section crosses over the summit of Wildcat Mountain W4G/NG-020. So anyone who activates that summit has accessed it by the trail we maintain.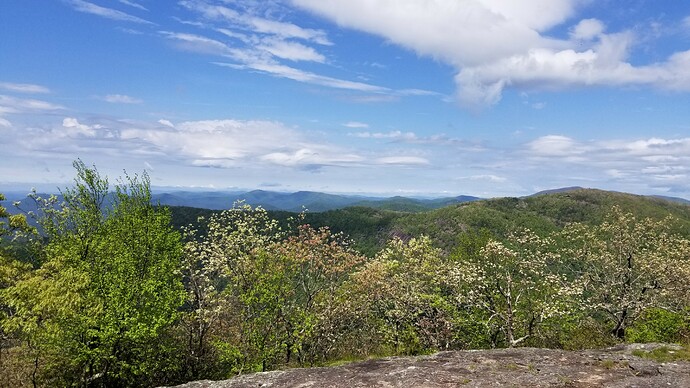 View from Wildcat Mountain W4G/NG-020
Our section actually is a side trail that leads from the main trail to the Whitley Gap shelter, one of the Appalachian Trail shelters for hikers to sleep in. We maintain the trail, the shelter, a composting privy, and a side trail from the shelter to a spring that is a water source for hikers.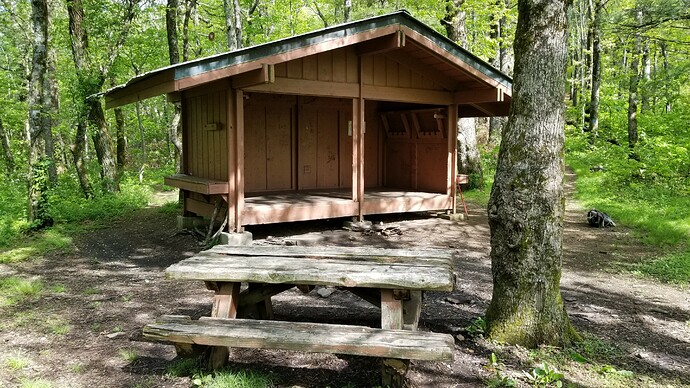 The Whitley Gap shelter with picnic table.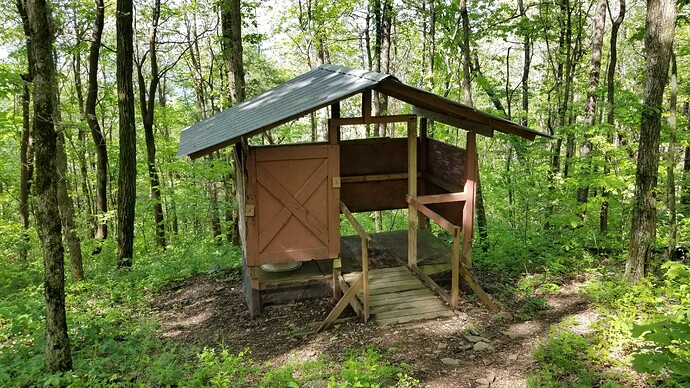 The composting privy. It needs maintenance, too!
"Maintaining" the trail means we visit our section four to six times a year to:
prune back branches that grow into the trail
remove dead branches and trees that fall across the trail, which may involve sawing if necessary.
clear away grasses, weeds (including poison ivy), bushes, etc., that grow into the trail
maintain drainage channels that drain rain water (and snow melt) off the trail so it doesn't turn into a swamp
identify dead trees that pose a safety hazard, so they can be cleared away by other volunteer sawing teams
pick up litter (fortunately not a big problem)
clear away unofficial fire rings that otherwise degrade the forest floor and lead to the creation of "informal" campsites
renew the painted blazes on trees that mark the course of the trail
maintain the structure of the shelter and the privy.
I was wondering: do any other SOTA operators maintain trails to SOTA summits, or maintain the summits? If so, what summits are they, and is this part of a formal organization or is it something you do informally?
[For SOTA ops in the eastern US: if you use the Appalachian Trail and want to help maintain it, this page has a link to some volunteer opportunities. It also has a link to find your local trail club, which is the best way to get involved. If you can't do volunteer work but want to help, it costs money to maintain the Appalachian Trail - you can contribute by becoming a member or by donating. Of course, anyone in the world can become a member and support the Appalachian Trail (hint!). And thanks!]