White Hill GM/SS-289 - 17th September 2023
After the successful activation of Kirriereoch GM/SS-287 with Andy MM0FMF, I decided rather than returning straight home, I would stop over in Dumfries and Galloway and activate another of the "new" GM/SS summits, White Hill GM/SS-289. Initially I had thought that I would activate this en route to the hotel in Newton Stewart, but the foul weather on Friday 15th prevented this. I had loaded my sleeping bag and camping air mattress into my car to cover the possibility of activating the hill after Kirriereoch, so was suitably prepared. My new motor is an SUV, so all 6 foot (1.83m) of me can stretch out in the back with the rear seat folded. In fact, I only needed the wide section of the rear seat to be lowered.
So, it was 7.25 p.m. when Andy dropped me off back at the hotel car park. After stowing my kit, I decided I needed food, so drove down into Newton Stewart where I found a fish and chip shop. After consuming a tasty fish and some rather greasy chips, I decided to drive to a large lay-by I had spotted on the Friday on the A75 near Dumfries to park up for the night and get some sleep. By the time I'd phoned home and sorted myself out, it was almost 10.00 p.m. and I was ready for some kip. Initially the road was fairly quiet and I was quite settled and reasonably comfortable… but then the traffic dramatically increased and there was no way I was going to get to sleep, so back behind the wheel I got to look for a quieter spot.
As I was fairly close to the parking spot for the hill (NY028825 as per the activation report by Phil G4OBK), I drove over to see whether it was suitable as a place to spend the night. Unfortunately the location is close to a bend on a rather narrow road and the parking spot is quite narrow as well. In the dark I couldn't be sure of getting the car fully off the road, so I headed back a few miles south to the village of Torthorwald where I found a suitable section of hardstanding by the A709… okay another A road, but much quieter than the A75. I soon dropped off to sleep, but woke at 1.30 a.m. with a headache – idiot, you're dehydrated! A good half litre of water cured that and it was off back to sleep until 4.30 a.m. when a car sped by at excessive speed. Considering I was near to the edge of the 30 mph limit, he (I don't think a woman would be that stupid), must have gone through the village at around 70 mph. After that I managed another couple of hours.
After breakfasting on cake (as you do on these occasions), I set off back to the parking spot, arriving there at 06:30z. In the light I was able to tuck the car right in and fully off the road. I was on my way down the road by 06:45z to reach the gate at NY029832 as described by Phil. The gate was locked with a combination lock on it. The first field had plastic wrapped hay bales in it – valuable winter feed, so a locked gate seemed very sensible. But was this the only reason for the gate being locked? Well in the second field were a herd of cows… and yes, the infamous bull. Continue round to the farm and up the track it would have to be, As I stood at the gate I could see the farmer in his pick-up on the track, so I expected an encounter, but he is friendly so no issues expected.
The start of the track was a running stream with a lone rare breed sheep standing guard. She didn't move much as I approached. so I assume she might have been hand reared. There were sheep and some large rams in the fields through which the track ran, but thankfully no cattle. I could see the farmer checking his stock, but he didn't bother me at all or come near until I was actually on the summit setting up… then he only came about 30 metres away and stayed in his pick-up. I waved a greeting and he returned a wave and then set off back to the farm.
It was blustery on the summit and it had started to rain a little. As I was setting up I realised that I had alerted in BST not UTC, so I changed the alert to a more accurate time, in fact 07:50z which was when I got onto 2m SSB. After many minutes of calling without any response, I decided to self-spot at 07:59z which brought Don G0RQL onto the frequency. Signals were considerably down on those during the Kirriereoch activation, but that was not surprising on this low summit. After signing with Don, it took a few minutes calling before Peter G1FVA called me. Afterwards I tried calling on 144.300MHz and my calling frequency, but this was set to be an activation when I wouldn't qualify the summit on 2m SSB.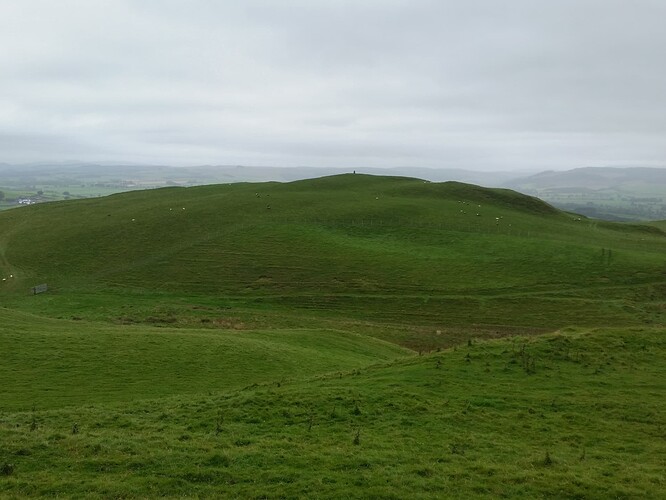 View across to the former SOTA summit of Hightown Hill
I lowered the beam, re-polarised the antenna and called on 2m FM. My first call brought back Matt M0MZB/M on his bicycle near Egremont… a new one for me as I've never worked anyone bicycle mobile before. We chatted for a while on 145.550MHz and then Bill M0DXT and Sue G1OHH called in succession. I had to call CQ again on the calling frequency to get two more contacts – Robin GM6LJE and Dennis G0ORO. I had now been on for an hour, was getting wet and so with no more callers it was time to pack up.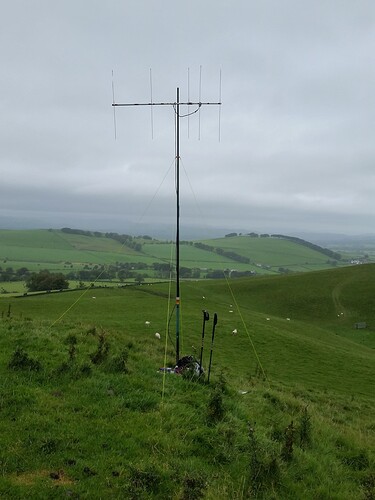 That beam is vertically polarised… again!
The lone sheep was still standing by track down near the farm on my return. Ironically the rain stopped as I set off down the hill and it was quite pleasant when I reached the car. I stowed my kit and changed my clothes before setting off home at 11.02 a.m. A straight run of 285 miles, interrupted only by stoppages for roadworks, congestion and an accident saw me home precisely six hours later.
Once again, many thanks to everyone that I worked. Stopping over and doing this activation now means I have just Arthur's Seat GM/SS-272 to activate before the Mullwharchar outing. Maybe I can arrange that for early November.
73, Gerald G4OIG