Report from activating the following four SOTA summits on Saturday 21st May 2022: 'Waun Rydd' GW/SW-004, 'Cefn Yr Ystrad' GW/SW-008, 'Craig Y Llyn' GW/SW-010 & 'Fan Brycheiniog' GW/SW-003:
Joint activation: @GW4BML Ben & @MW0KXN Kevin
Waun Rydd: GW/SW-004
So, Kevin and myself had arranged a joint activation adventure to take place in the South Wales mountains. It was an early start leaving my home QTH in Mid-Wales at 05:30 to arrive and meet Kevin at our first summit car park, Waun Rydd at 07:30. We had met before, so it was a good morning hand shake, all equipment loaded, and off we went on our travels.
The route we choose to Waun Rydd began with a steep vertical climb for approximately 1 mile, but a good straightforward path to follow:
We had a few small streams to cross and lovely views of the valley once reaching the ridge:
The wx seemed to be on our side, a nice cool breeze in the air, but dry. Perfect wx for tackling a summit like Waun Rydd! We even stopped on top and had a selfie with 'Pen Y Fan' GW/SW-001 in the background hidden by the mist:
Once reaching the trig stones, we found a nice sheltered spot to set up our equipment. Kevin erected his linked dipole for HF while I set up shop for 2m using my slim-g on a 4m pole. As per normal, the radio of choice for me was nothing but the Yaesu FT-65e, and Kevin was using his home-made HF 20m/40m rig.
We both managed to qualify the summit reasonably fast considering the time of morning it was

After putting out a couple of final calls, we packed all our equipment away and made for our descent. We had gained a little time, so that is always a good start when you have a big day ahead of you!
'Cefn Yr Ystrad': GW/SW-008
Now it was time to move onto the next summit of our day, Cefn Yr Ystrad. We were very lucky with this walk… usually it would be a 3 mile walk to enter the AZ zone, but because we met a very nice farmer, he said we could drive some of the way up through his ground. So, we parked up where he said was good to do so, and had a 3/4 of a mile walk to the trig:
We popped our heads over the brow, and the trig stone was shining in the distance. A nice flat walk for 300 yards and we were touching it:
Again, set up the same equipment and put some CQ SOTA calls out

We were activating just below the trig, set up comfortably on the grass - I even had a little chair I'd purchased from 'Go Outdoors' the weekend before!
After putting some final call outs and nothing in return, we packed up shop and made our way over to a memory stone where we showed our respects for a bomber plane that crashed many years ago.
Time to descent to the vehicle and make our way to summit number three of the day.
Craig Y Llyn: GW/SW-010
As we drove closer to the car park for Craig Y Llyn, I noticed we were gaining quite a lot of height. I love when this happens because it means less ascent on your legs

we parked up and followed a very well made path all the way to the trig stone:
Once we reached the trig, a selfie had to be taken:
Now after reading many of @MW0KXN Kevins activation reports, I do know he is very partial to the occasional Welsh cake here and there… so, I had made the effort to pop by our local bakery and pick up a pack of 5 Pecon & Almond Welsh cakes to surprize him! And what do you know… Kevin had also done the same. SO, this meant the last two summits we would be fuelled with traditional Welsh cakes:
Once we'd stuffed our faces, Kevin set up again for HF using my little Xiego X6100, which he was very pleased with and I set up for 2m FM trying out Kevin's 2m antenna he had made with his Kenwood hand-held. Both pieces of kit must have worked as we qualified pretty quick:
Called out a final few times with no replies so packed everything away. On our way back we payed our respect to a memorial of a little boy aged 5 who was found not far from the trig point in 1902:
Right, we were both feeling good, fully fuelled, so it was time to move on to summit number 4 which was the highest but last summit of our great day.
Fan Brycheiniog: GW/SW-003
We arrived at the parking spot for Fan Brycheiniog. The sun had decided to show itself, and was glaring down on us. What great wx we had to complete our day!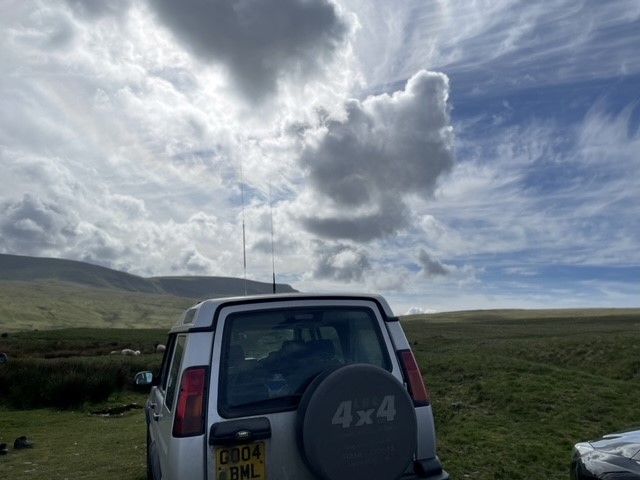 This route had a nice flat start with a good well worn path to follow: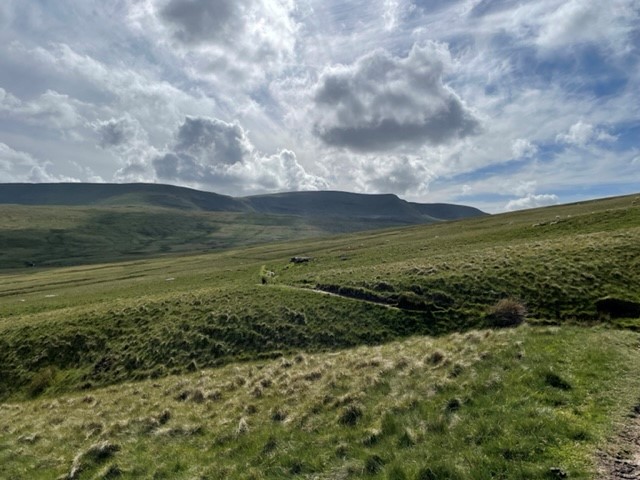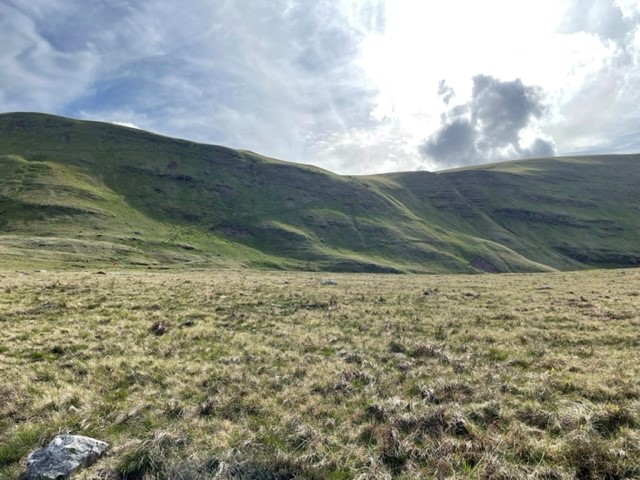 It was hiking over grassland for roughly 1.5 miles with the last piece being quite boggy! We did end up getting our boots drowned in mucky water a few times. We arrived at a nice reservoir just at the summit col and stopped for a drink before the last vertical climb we had in front of us: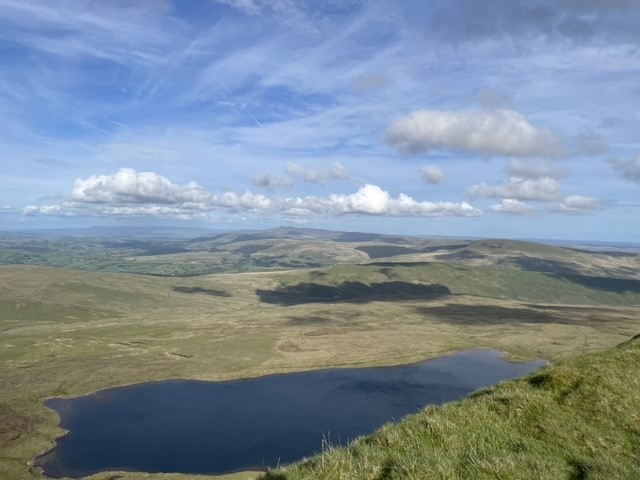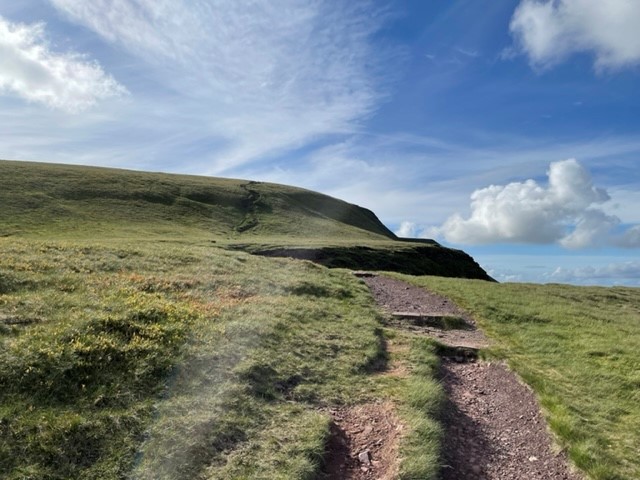 Finally we had done it

reached the top which was very near to the AZ zone and had a selfie - had to be done!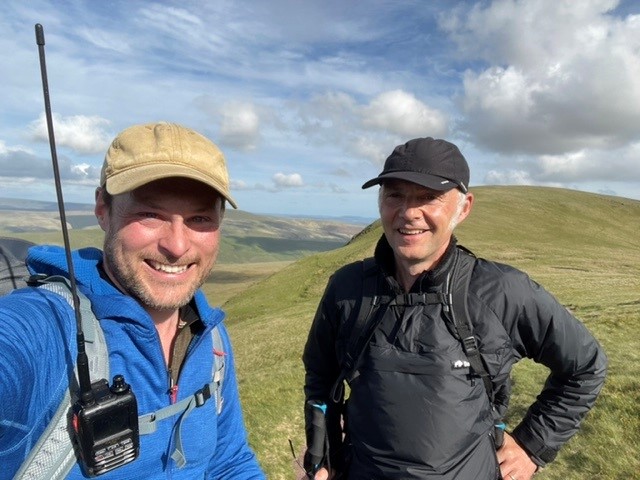 A further 500 yards and we were touching the trig on top of Fan Brycheiniog. Great wx, and just Kevin and myself on the top!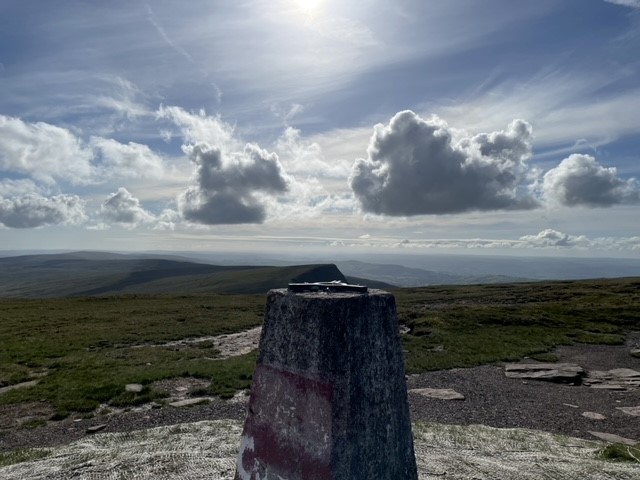 This summit had a lovely Cairn where we used as our office for the next 45 minutes

a slight change of operating, I used Kevin's dipole with my Xiego X6100 and operated on HF while Kevin used my slim-g and Yaesu FT-65e hand-held (at last he had quality in his hands) hi!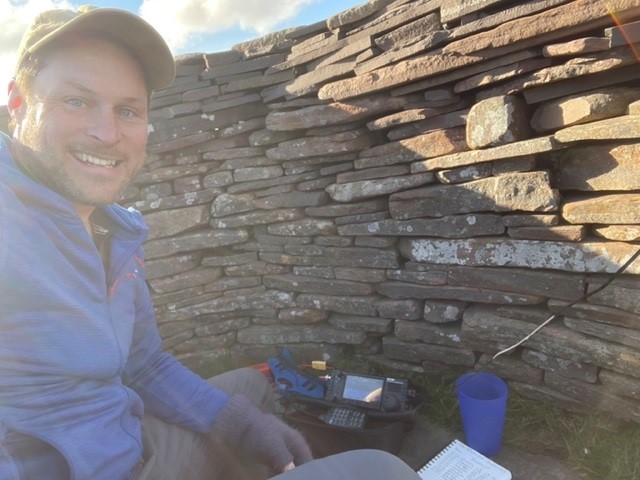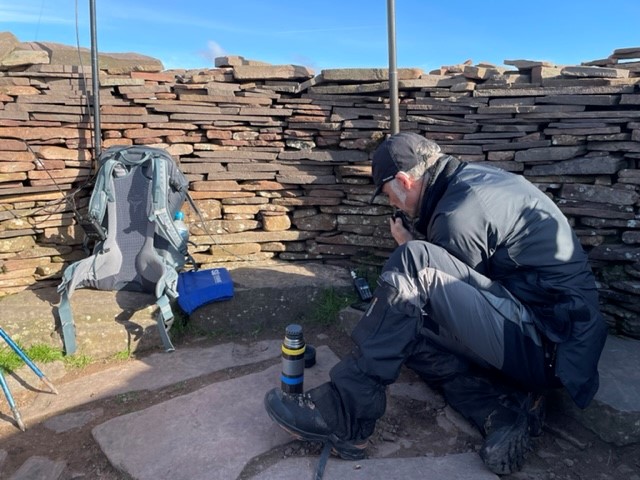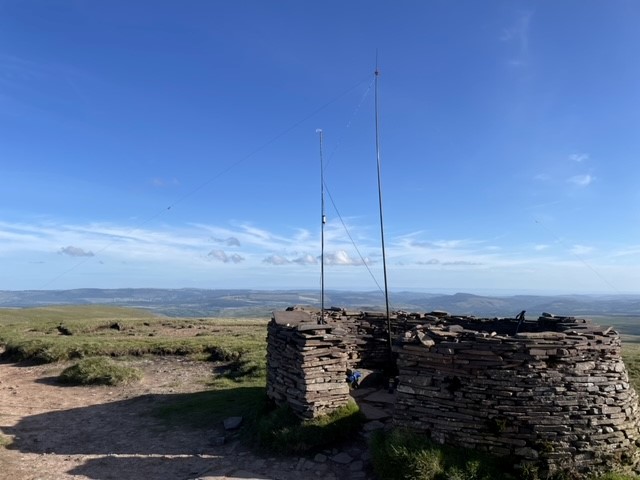 Once we had worked all chasers and qualified the last summit, big smiles were on our faces with a grippy hand shake made

not only did we manage to qualify all 4 summits… we also had a fantastic day with many laughs and stories exchanged! Thank you Kevin!

Before we packed away and made for our descent, the remaining Welsh cakes were eaten followed by a cracking cup of flask tea that Kevin had made. A great day had in SW land: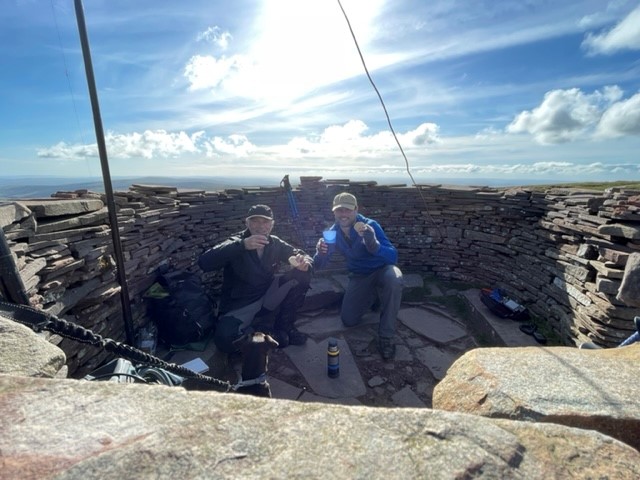 We'd like to thank all chasers who called into our SOTA adventure through-out the whole day - it was great to work you. Thank you to the S2S stations that we worked and to any one who spotted us - much appreciated! Until next time, take care and 73. GW4BML Ben & MW0KXN Kevin