The day started out in sunshine - 12 miles later it was dull. At the start of the walk, I switched to a merino wool top instead of a thin shirt. A pleasant walk along a well maintained forest road and a drop down a gap in the trees, quick step over a fence and plod up the hill and the summit was reached in 40 minutes or so. (It was only a couple of miles!)
I parked at the forest entrance board NT223499 and NW then SW at the "Don Coyote" adult play ground (aka gun range)- the gap in the trees which can be seen on aerial views (at NT303485) is a bit overgrown at the junction with the forest road, but a careful watch for the corner it's on revealed it. There was no real path once off the forest road, but no problems either.
Got all set up (before my alert time for a change!) and listened for a bit - 40m very busy with a French event active. I found a frequency, checked it was free, self spotted and quickly had a good response - all going well - yay! Then… I somehow managed to disconnect the microphone from the speech compressor - this resulted in a bit of a mess tbh - all my doing… By the time I'd noticed and corrected that, there was a lot of overspill from an adjacent frequency user and I was struggling to hear and guess it would be hard for others to hear also, so I changed to 20m as I couldn't find a clear freq.
20m was busy but not so much as 40m. Noticed a spot for @LB1DH on LA/SF-351 and appreciated a s2s with him. Moved up a bit and then appreciated another half dozen chasers.
Manuel @EA2DT managed to find me there after I failed to complete properly with him on 40m - sorry about that!
Today in Scotland, the MWIS forecast gave an east better west wetter. Seems that I live on the dry side and had travelled to the wetter side - in about 12 miles…
By the time I'd had the 7 20m qsos, it was beyond a drizzle to proper rain, evidenced by the waterproof sheet I was sitting on now containing a puddle - yuck! Time to go without attempting the alerted 2m - hope no one was hanging on for that.
Walking down the hill to the car, the rain disappeared and by the time I was home the sun was out!
The summit is up there to the right…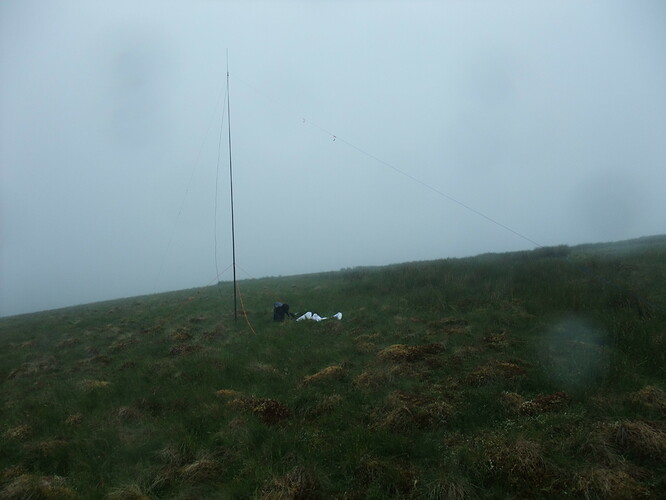 I've dried everything out now, so all well. I have also dug out an MP3 player I got a few years back with a Linein and a separate headphone socket. I've tested this with the 817 tonight and it records and has pass-through to the headphones also. Hopefully this will mean that I can have a better record of QSOs - I tend to end up trying to do too many things at once - well 3 , and that overloads my wee brain so I have to ask for info again.
Thanks for all the calls!
Alan