Report available from my recent activation of a cold, windy, snowy Waun Fach blog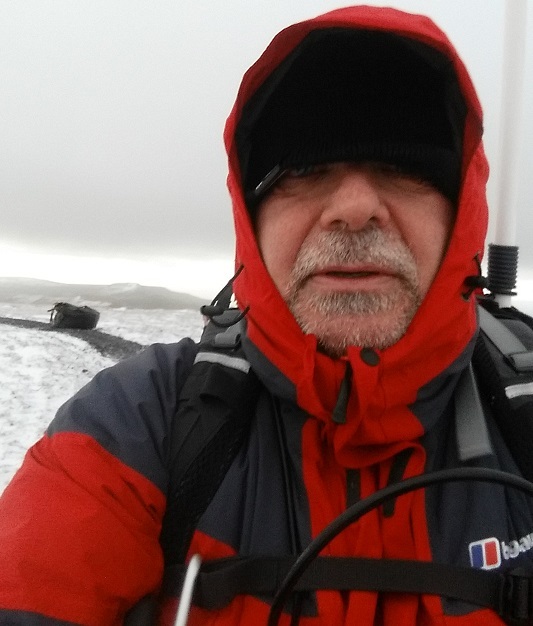 73 Glyn G(W)4CFS/P
Hi Glyn
Thanks for the link to your blog. As usual an excellent read. It was nice to meet up with you at Storey Arms and thanks for all the contacts and s2s. Looking forward to your next visit to SW.
73 Allan GW4VPX
Thanks for the blog Glyn.
I must try that route from the west this year.
I always go up from the other side via the Grywne Fawr reservoir.
You didn't happen to find my Bothy bag which blew away in the wind last year?

Pete
Thanks Pete - I was going to do the route from the reservoir but changed my mind the day before. I had both routes in my GPS and planned on the map, so I could have gone either way. Regarding the bothy bag - based on Sundays wind you should be looking in the Cambridgeshire Fens!!!
Allan - thanks for your nice comments - look forward to our next meeting. Next target is Waun Rydd with maybe Tor y Foel, though looking for a less windy day as the ridge looks a little scary!!
73 Glyn
I like your pictures. It didn't look much different from when we went, on 20 January, up the same route (but we paid the £2 to park in the Castle Inn car park to support them).
Possibly M0JLA looks a bit colder as we had less snow than you but more ice.
As usual the real highlight was the view as we walked up the Dragons Back but we couldn't even see the gliding club site just below us we had only just come out of the freezing fog above Talgarth before we parked. However the snowy Beacons were just visible.
Congratulations on reaching the summit plateau. We gave up as the last bit of the scarp slope was too icy so we aimed for a 'cosy' snowdrift to try to get out of the wind. After a very quick shared 2m activation (7 contacts, including a s2s GW4VPX on Craig y Llyn and a rare chat with G0RQL who is usually out of range) and 1 on 70cm (MW0MZM at Llangynidr) we voted unanimously to pack up very quickly and take the alternative descent WSW on Pen Trumau. We used to use this route often as an ascent but usually cut off across the valley, after reaching the bwlch, for a direct route to the top. We now discovered why this was a good move as the bog on the top of Pen Trumau would have been almost a wade but it was almost all frozen so we made good progress and soon stopped for a rest once we were out of the wind. We had heard the helicopter going backwards and forwards during our walk but it was only from here that we saw that it was carrying the bag of stones that you sat on!! We felt for the poor person up on the plateau who was supervising their arrival! Once back in the valley we used the old bridle track (which was not as sodden as we expected) back to our car.
Our effort also felt like a 'real' winter ascent and we thought we had earned the bonus. The icing on the cake was when we returned back to Hereford in the fog and discovered it had been fogbound at -6C all day!!
Thanks for the S2S from Carn y Cefn last week. It was quite a fight to get both up and down that because of that wind again but I found getting contacts a great challenge as I was further off the top than usual and 2mfm contacts were scarce and 70cm even more.
I see you are hoping to go up Waun Rydd soon. We are 'booked' to be up there tomorrow but it will depend on the River Wye whether we can reach it or not - and the snow when we get there! I look forward to the next S2S.
Viki M6BWA
Thanks for the comments Viki, fortunately it was just soft snow rather than ice when I was there. However, I always carry my crampons with me this time of year, but not required this time.
73 Glyn