W6/SC-031 Chiefs Peak – Be Prepared! & Nordoff PeaK W6/CC-030 - Easy Piece of Cake
First off, call and go visit the Ojai Ranger Station in Ojai to pick up a free permit (with gate combo) to access the Nordoff Ridge Rd through Rose Valley, which is north of Ojai on Hwy 33. 4 wheel drive is required. All of the FS rules are posted on their website https://www.fs.usda.gov/recarea/lpnf/recarea/?recid=11055 which states "no walk-ins accepted", but I've always found the people there friendly and helpful, so I don't know why they wouldn't give you a permit if you "walked in" and asked for one. They do limit the road to twenty vehicles per day. I wouldn't want to be up there if there was a lot of vehicles permitted the same day, as there would be many encounters where someone has to back-up the narrow road until a wide spot is found to pass. The road itself requires 4 wheel drive only in a couple spots, otherwise it's an easy fire road. The drive takes about 1-1/2 hours from Ojai to the "trailhead". No sign there….watch your GPS, easy to find.
While it's only a half mile from the trailhead to the peak, it is not an easy hike at all. It is steep and slippery in many parts due to loose rocks and soil. Trekking poles were a life-saver on this hike, or my XYL and I would have turned around. I also recommend long pants, as the trail is also brushy in parts. Bring plenty of water. There is very little shade (no trees). We had some shade due to our early start, however to find a comfortable rock and shade together was a rarity. The trail climbs a ridge which leads to the base of the actual peak. So due to our early timing, we did have a much needed shade break about half way up the last pitch of the peak. The last 100 feet of vertical requires some rock scrambling using all four limbs…be careful and watch for the occasional worn patch of dirt that tells you that you are on the trail. There were a few rock cairns that helped me find the easiest route to the top.
T-Mobile worked on the ridge, but on the peak the service dropped several times. I was able to get a spot sent after a couple tries. I did the activation on 146.52, as my XYL was patiently waiting 100 feet below me and I didn't want to take the time to set up the HF, since we had a second peak planned. One of my contacts was in Torrance at 68 miles, and another one was almost to the Mexican Border, over 180 miles away. Not bad for an 8 watt handheld!
When you finish this peak, take the easy drive to Nordoff Peak W6/CC-030 and score an easy 4 points. The views along this whole venture are awesome on a clear day! The Channel Islands, Pine Mountain, Frazier Mtn - all easy to see. I made 8 or 9 contacts on 20 and 40 meters. I had trouble posting a second spot, so K6RIN (Ron) posted for me, which brought me Connecticut and North Carolina on 20 meters. Thanks Ron! Final recommendation; stop at the Ojai Beverage Company for great food and many beverages (to choose from), after a nice-long day.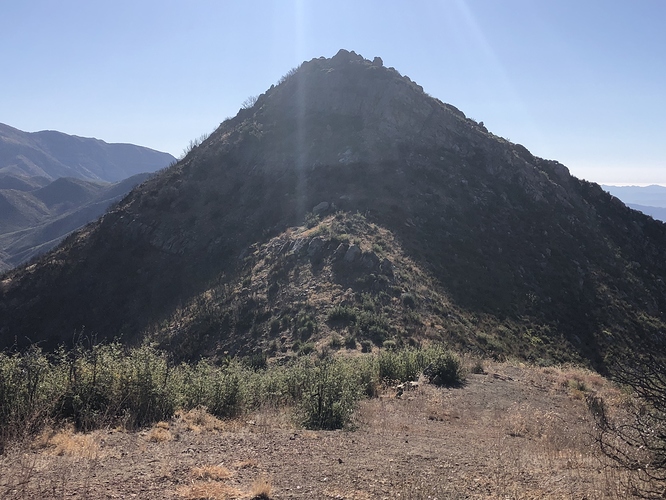 This is Chiefs Peak about 2/3's into the hike. It was steep to get this far and you can see additional steep climbing ahead. The trail wraps around the west side (right side) of the peak before the final pitches.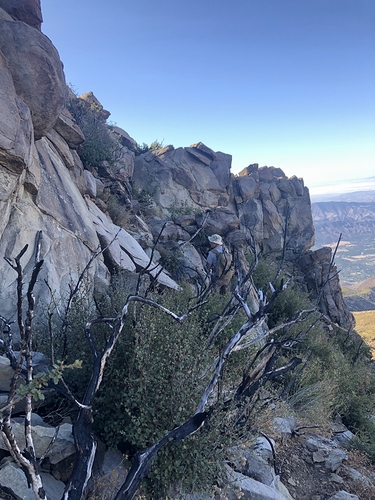 The final 100 feet of elevation gain requires some rock scrambling. Be very careful and best to do this activation with a partner climber for safety.
Always be aware, as this is rattlesnake country, and we also saw mountain lion tracks.
73 & Be Safe!
Ron K6CPR