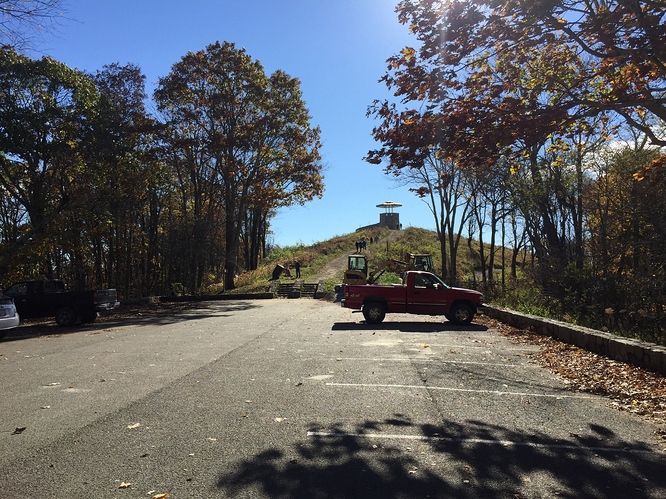 Ok, still learning the upload sequence. Aplologies in advance if this image takes too much bandwidth. The iPhone didn't give an option to use lower resolution.
This first photo is the "new" observation tower on High Knob. The old tower had a closed center and a snack bar or something inside (was closed every time I was there). The new one is much more open. Was really impressed by the thick copper ground cables from the roof to the base. The new accessible road/ramp is under construction and can be seen at the right of the picture over the truck's hood near the construction equipment.
The other shot is looking (I think) to the northeast. Was a really clear October day and Georgia's views from the tower.
On the first activation I set the station up on the far left corner of the parking lot on the wall. Then ran the LNR 10/20/40 back in the trees along the wall towards the near end. Second activation I set up on the near left corner and ran the antenna through the trees away from the parking lot. Much better spot. The wall is great sitting height for my short legs, and wide enough to easily hold my backpack, 817, etc.
I'll stop with these two photos in case they take too much bandwidth. If anyone knows how to make an iPhone send smaller bandwidth photos please send me a private message. Or a regular reply is ok too, in case some others have the same question.
As you can see, the actual summit with the tower doesn't have a lot of antenna supports. Anything I put up there may interfere with other guests. Don't want to give radio and SOTA a bad name. Incidentally on the first activation I did have a gent stop at my wall station with questions. Explained ham radio and SOTA, and he was genuinely interested with quite a few questions.
The second photo is the view from the tower, a very nice day at about 70 deg F. Both photos are from the second activation, took zero pick the first time (my very first activation).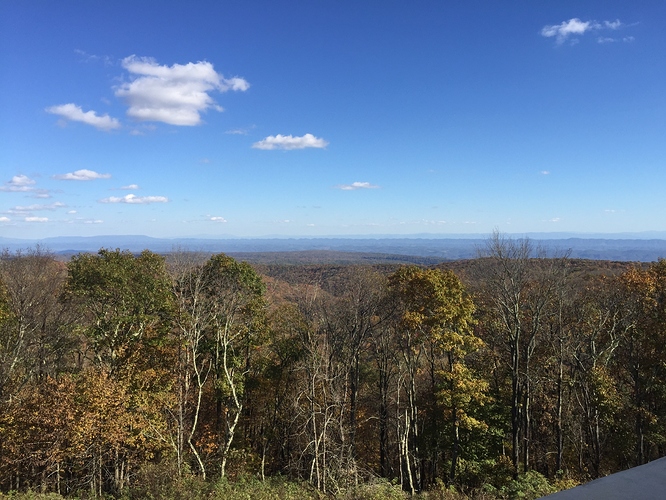 I do have a nice photo of the gang of antennas to the north, I'm sure hams would like those. Want to wait and see how these first two work before spamming everyone with too big a bunch of photo files.
73,
Mike, N4VBV