(edit: logs posted. vy tks es 73 chasers!)
This weekend Allison and I traveled to Ozarkcon* and did a few SOTA activations along the way there and back. I set out with a list of four hills that had never been activated and we ended up bagging two of them. When the wx soured, we opted for a quick activation of Taum Sauk mountain before heading home.
W0M/SP-004, Barnett Mountain - 330m, 2 Points (1st ref activation)
Logistics: We approached from the south. Follow NN north until the pavement ends, then take a left on the dirt road. We only made it 200 yards down this road before it was impassable in our (new) 2wd car. We parked and walked. A high clearance truck or SUV might make it to Klepzig Mill.
Ascent: We hiked the jeep track a mile to Klepzig Mill (37.126330,-91.198720). Look for Ozark Trail blazes to find the best place to cross Rocky Creek. Cross at the trail crossing as it's the best spot (trust me). From there, follow the OT north until it crosses a jeep track at (37.135000, -91.192133). Turn right on the track and start looking for a game trail etc to head straight up the hillside toward the summit. If you continue further west past the road before heading up, the underbrush is much more dense (that's how we came down). The route we took was .5mi to the summit from where we left the trail. The tree cover breaks after .25mi or so, and the going gets much easier.
Summit: The view of the surrounding hills was magnificent, and I don't think it would be any worse in the summer when the leaves are on the trees. It was a nice change from wooded summits. Comfy operating positions abound with all the rock outcrops. Trees for antenna if you need one, and I had enough Verizon service to spot via SMS. No data.
RF: KX2. 60' EF wire via 9:1 matchbox and 12' of coax. I worked 40,30, and 20 on both cw and ssb. That was the first time I have done ssb since my first cw activation. 40m was exceptionally long (I had a contact on 40 in Montana).
Summary: My favorite MO mountain so far. We ended up hiking 6mi or so round trip. If you could make it to the mill driving, it would be 4ish. Plan on a stream crossing (probably not doable just after heavy rain) and a .5mi bushwack. Our ascent route might be doable during the summer after the underbrush is in but it would be difficult. The view from the top is well worth the effort.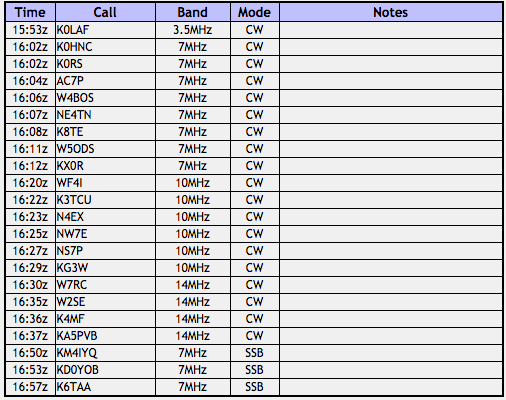 W0M/SF-028, Johnston Mountain - 416m, 4 Points (1st ref activation)
Logistics: Head north on U from Lesterville. We parked at a pullout under the powerline cut (37.495817, -90.823467).
Ascent: Bring hiking poles as the ascent is steep and loose. After .3mi, a jeep track appears on the NE side of the powerline (37.491817, -90.819967). Follow that until it dead ends. We found a salt-lick at the end of the track, so watch for poachers. Bushwack as straight to the summit as you can manage. This one gives bushwacking its name: it's very rough with lots of blowdowns. I absolutely would not do it once the vegetation is in. GPS would be very wise as it's difficult to follow anything close to a bearing.
Summit: Dense woods, difficult to even find a place to sit. Difficult to run an antenna. No view. I had enough Verizon service to spot via SMS. No data.
RF: KX2. 41' EF wire via 9:1 matchbox and 12' of coax. I managed to forget the pole, but I don't think we could have used it anyway with the brush. Antenna was up in a tree. I worked 40, 30, and 20 on cw.
Summary: Total round trip was ~2mi. Enjoy the powerline bit as the actual summiting was not inspiring. We saw bear scat. That combined with the signs of poaching and the incredibly dense understory made this one feel adventurous in a non-fun sort of way. I would definitely not do it again. Sorry for my cw on the early part of the activation. I thought it would be fun to use the very cool little paddle I bought at Ozarkcon (made by N0SA). I didn't adjust it properly though, and I was all over the place until I reverted back to my Palm.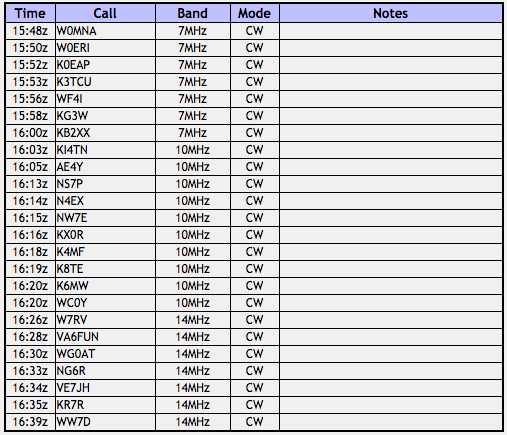 W0M/SF-001, Taum Sauk Mountain - 540m, 6 Points
Logistics: Drive up. Try to do it when it's not snowing.
Ascent: Walk .25mi from the parking spot to the MO highpoint.
Summit: Woods with a nice plaque. Lots of details written in other reports, so I won't repeat them. There is no sense of being on a summit other than remembering the long drive up.
RF: KX2. 41' EF wire via 9:1 matchbox and 12' of coax. 40m only, cw.
Summary: After the adventure on Johnston Mountain we had two other 1st activations to choose from, but both required longer hikes and it was threatening rain. Normally that wouldn't bother us, but we had a 6hr drive home looming and the temps were in the high 30s. I think we were also not in the mood for another Johnston Mtn style adventure. So we opted for a quick visit to the top of MO's highest mountain. It began snowing as I was working my second station. At one point, it switched to sleet and I began to get worried about the radio. By the time I'd worked 40m, it was coming down heavily, and I was pretty wet. I could have opted to pop out the bothy bag and do 30 and 20, but I decided to pack it up instead. Sorry to everyone waiting on 30 and 20. Taum Sauk is basically the center of the SF ref, so I am sure we'll be back.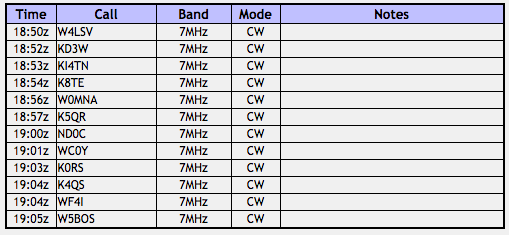 *Ozarkcon was fantastic. The 4 State QRP Group puts on quite the weekend with lots of interesting presentations and activities. Even more memorable, though, was meeting a bunch of fine SOTA folks, many of whom I've chatted with or beeped at over HF in the past few months. By the time we parted ways, I felt like I had known the group for years. If you have an opportunity to attend Ozarkcon, do so.