Bregenz and nearby towns are the home of many OE9 amateur radio operators including a fine gentleman, Herbert OE9HRV. On Thursday Herbert was very generous with his time, showing my wife and I the sights of Bregenz and Friedrichshafen in particular the Zeppelin Museum. Herbert being a keen SOTA activator, like myself, was somewhat disappointed by the predicted weather forecast for this region of Austria and nearby border regions of Germany, Switzerland and Liechtenstein. For the readers not in Europe, rain has persisted for the best part of two weeks, well at least in Austria.
Ever the optimist, Herbert encourage my wife and I to take a drive to Friedrichshafen, where Herbert predicted the rain would cease around mid day, making an activation of Gehrenberg DM/BW-348 (8 points!!) highly likely.
Yes, Herbert's prediction and timing was perfect, we had finished lunch at the Zeppelin Museum, on the banks of Lake Constance, when the rain and storm clouds parted. Herbert's plan was running like clockwork, we're off to activate Gehrenberg, my first DM activation.
As I said earlier Herbert is a gentlemen, or as we say in Australia, 'a great bloke' however Herbert has a sneaky dark side.

Herbert's wicked sense of humour for me being in OE9, meant my initiation to this region is to take on an EU pileup on 40m followed by a similar pileup on 20m. That's right no chance of a simple 2m FM activation, instead I was thrown to the EU lions for two HF pile ups. Herbert suggested this would serve as a good experience for the next day's activation in Liechtenstein, ha ha.
Anyway, the activation of Gehrenberg over 1.5 hours proceeded as Herbert had planned, if he thought I was close to running out of chasers, a short SMS to a few folk did the trick. Herbert's was smiling, watching me sweat under the pressure of another pile up! If Herbert's tactics weren't enough, a well known G chap in the UK posted my activation of Gehrenberg on the DX cluster, wahoo more pressure and all in good fun

Summary: 19 chasers 20m 14.310 MHz, 23 chasers on 40m 7.124 MHz followed by 1 local chaser on 2m FM.
During the first 40m pileup Jan OK2PDT got in early for a S2S contact from OK/VY-053. Thanks Jan, my first S2S within Europe.
A big thanks to Herbert for his generosity and time. Herbert provided the entire HF SOTA station, a KX3 feeding a 150 watt HF amplifier, antennas and batteries. This activation would not have been possible if not for the terrific spirit demonstrated by such a popular and a fine gentleman known in the SOTA community as 'Herbert OE9HRV'.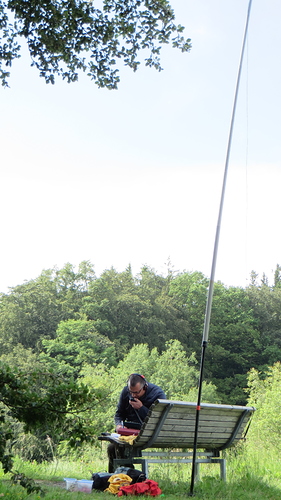 Photo by Herbert OE9HRV
73, Andrew OE/VK1AD
using an iPad