Hi all,
First of all, situate the context of this activation :
Recently released, XYL and I, from 3 weeks of battling the Corona virus, I opted for an easily accessible summit, given our state of fatigue.
F/AM-615 was chosen for its possibility of being accessible with a vehicle and a distance of 200m to cover on foot to take in addition to my radio equipment a camping table and chairs. AZ is quite wide on this fairly flat top.
The village of Vachères behind a lavender field, cloudy weather and a small wind 13°C.
After a quick installation this is where the problems start.
I start on 60m and I hear Gérald @F6HBI/P in F/AM-440 very loud 599+, he gives me a report of 559 …

No VHF or DMR TG973 but fortunately 5G coverage.
I hear a lot of stations calling me but they don't receive me…?
Time to go on 40m but the same problem, I RX quite well but difficult to work anyone

QSY to 20m and yesss the thing started

Worked 5 chasers in 5 minutes including @K4DY Leslie in NC.
I use an EFHW antenna 10m to 40m with a coil for the 40m and a link for the 60m!
I think I must have a bad contact on the coil as shown by the reports on RBN !

Back to 40m to work all EA2 Pamplona Gang

Sorry to the chaser asked me 2 times to return on 60m…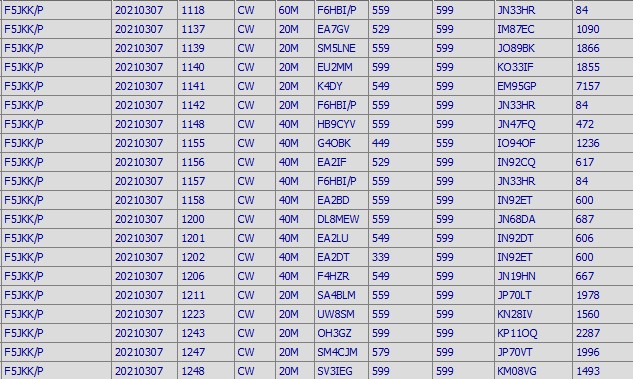 Have you seen that? every time I'm on a summit there's a little fox following me

PS: I called Roger @F5LKW because I couldn't remember using the power menu on the FT-817nd! I was at reduced power from the start …


Better to check all my gear and my brain before to go out again !
Sorry Roger we can't make the QSO was my fault

73, Eric F5JKK