Dear all
There is this search field for summits on the Associations page: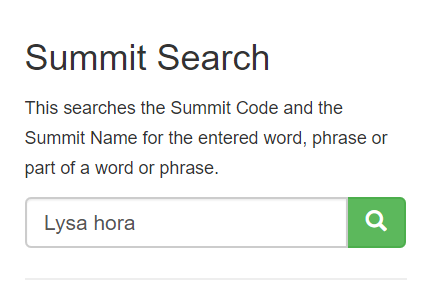 And there are summits named "Lysá hora" in the SOTA programme. But they are listed only when typing the correct accented letters into the box. "Lysa hora" results in 0, but the correct "Lysá hora" in 2 results. It seems that the search function compares even these accents with the database.
I am familiar with our accents and "umlauts" here in Switzerland from our German, French or Italian languages. But do it for other codes like in the Czech , Vietnamese, Greek or Russian languages, hi. I don't know how to type them correctly.
Is it possible to simplify the entry checking/parsing – to display such summits even when they are entered without any accents into the search field?
Thanks for your support,
and vy 73 de Markus, HB9DIZ