A quick update on the last couple of days here in the sunshine on the island

Yesterday we did the tourist thing and went up Timanfaya (EA8/LA-009). Unfortunately it is a national park so even though we went right past it we were confined to the coach that drives around a circular route. We had some nice food that was cooked over a well that went down some 10 metres to the hot rocks below.
After travelling down the coast geocaching we decided, at the last minute, on an evening activation and headed up to a summit we knew would be easy to access, Montana Roja (EA8/LA-026). Conditions were not good on the bands with 20 metres closing down early and 17 metres having S8 of static but we had some great views out to Fuerteventura.
---

Carolyn activating Montana Roja (EA8/LA-026) overlooking the edge of Playa Blanca in the southwest corner of the island
Today we decided to try two summits, one Carolyn had previously chased, the other unactivated. The first was Montana Negra (EA8/LA-010). Think of a big pile of shingle rising 200 metres up with a 500 metre climb to the summit and you have some idea of the difficulty of the climb up. Conversely the loose stones meant it was a easy and fast decent

We spent half an hour each on 20 and 17 metres and it took a while for the pile ups to die down. The weather was overcast but actually it was ideal conditions and made for a very pleasant activation with the various views of calderas surrounding us.
---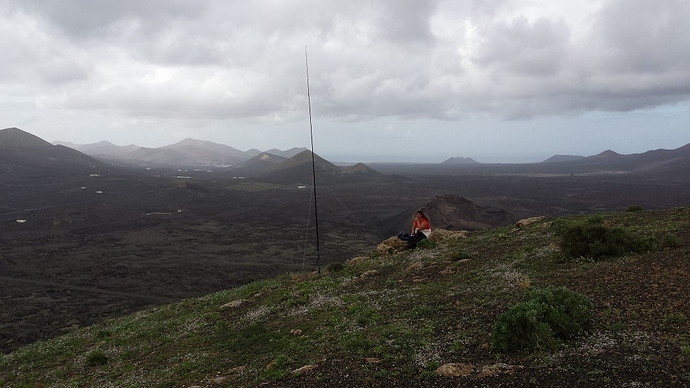 Carolyn activating Montana Negra (EA8/LA-010) with the view west

Helen coming down from Montana Negra (EA8/LA-010) bringing half the hill with her
We decided we had time for the second summit Montana Tamia (EA-LA013) which is right in the centre of the island and relatively unwalked by the visiting masses. There was an easy track to follow through a cultivated area and then a worn stretch that continued up the side of the caldera. It was steep but easy enough if not a bit relentless.
Helen was allowed to activate first and after some initial antenna trouble in the wind, she gradually broke down the wall of noise that was presented to her. Carolyn took over so Helen could continue around the caldera rim to a geocache which was annoyingly on the other side. When she returned Carolyn had just finished on 20 metres and continued on 17 metres with 100 contacts in total over an hour and a half between the two of us.
Sorry we had to close down but after 3 hours of activating over the two summits the batteries were sagging badly; we are now gently coaxing them back to full charge.
---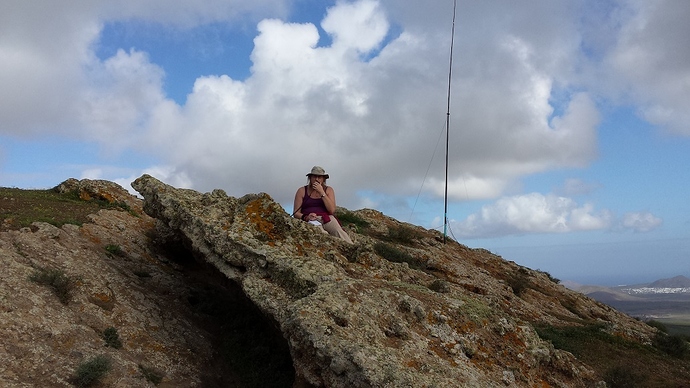 Helen in full flow at the start of the activation of Montana Tamia (EA8/LA-013)

The view from the trigpoint over the caldera; it does not do the drop justice! It was hazy but in the distance the golfball on Penas del Chache (EA8/LA-001) can be seen and beyond the bay the island of La Graciosa
We may have a quiet day tomorrow with just one activation but we are here until next Wednesday so expect some more over the weekend and beyond and maybe a few more new ones

Carolyn
(EA8/G6WRW/P)