There is a minimum standard for "must-do" SOTA days out that should be completed before 15th March each year. If you live in Macclesfield and your callsign is M1EYP.
If the following outings are not completed, and fully qualified for points & seasonal bonus by that date, I feel I have not started the year adequately:
Shining Tor G/SP-004, Gun G/SP-013 & The Cloud G/SP-015
Black Hill G/SP-002
Kinder Scout G/SP-001
Cyrn-y-Brain GW/NW-043 & Moel y Gamelin GW/NW-043
Brown Clee Hill G/WB-002, Titterstone Clee Hill G/WB-004, LongMynd-Pole Bank G/WB-005, Stiperstones G/WB-003 & Corndon Hill GW/MW-013
Moel Gyw GW/NW-053, Foel Fenlli GW/NW-051, Moel Famau GW/NW-044, Penycloddiau GW/NW-054 & Mynydd y Cwm GW/NW-076
Monday 21st January 2019 - Black Hill G/SP-002
The morning began with rallies of "telephone tennis" with a couple of supply teaching agencies about work for the day. As it was eventually established that there was none, I started making plans to visit Black Hill, and Richard G3CWI fancied an outing too. The the phone rang again and the discussed supply teaching assignment was now back on again. But I was now in SOTA mode, so I explained I now had other plans.
I picked Richard up and we drove up through Tameside. Just before Mossley, we stopped at a FB grocery shop where we were able to order breakfast viennas, stuffed with sausages, bacon, egg and mushrooms, and teas. Lovely.
We parked at the usual spot opposite the new Pennine Way flagged path, which we followed right to the trig point - "Soldier's Lump". The path was icy in places, so caution was required. It was much better later on the descent.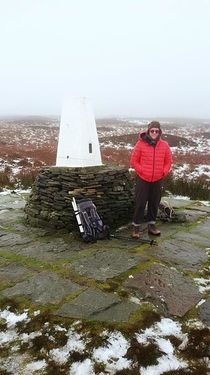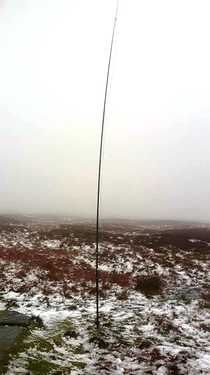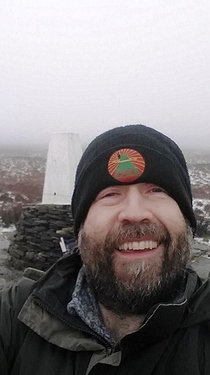 Richard worked on 2m FM with the MFD, while I went on 20m FT8 with the GP. Richard had qualified before I'd even managed to make a single contact! In a turgid half-hour, I'd made just one QSO on 20m FT8 - with a 9A station. I stopped calling CQ and started answering those of other stations. My success increased (though there was really only one direction it could go), and I made three more in the next ten minutes. So, at least, I'd qualified the activation on FT8.
I thought about going onto CW, but it was too cold and the hands were really starting to feel it. In fact Richard couldn't stand it any longer and started his descent ahead of me. I worked Pete 2E0LKC and Anne 2E0LMD on 2m FM with the handheld before setting off. I never caught up with Richard, meeting him back at the car.
In the true tradition of joint activations of Black Hill G/SP-002, our journey home took us via Stalybridge station, and the famous buffet bar. A pint of superb hand-pull stout was enjoyed along with a fabulous pork and chorizo pie, served with black peas and gravy. It was absolutely superb.
All being well, more "Winter Bonus Formalities" activation reports will follow shortly below…