After my infection with the SOTA virus in September (still active) and the Covid virus in October (overcome) a new activation period was possible in the first days of November 2022. Meanwhile I made some changes to the equipment. New is a trapped End-Fed Half-Wave antenna designed for 40, 30 and 20 m which - with some limitations - can be used on 17 and 12 m as well.
I took the chance for an activation of DM/RP-334 on a local public holiday in relaxing sunlight. As the nearest parking area to the summit is now private property and closed, I had to find a new parking spot a bit further away, which led to a scenic hidden trail to the summit. The new antenna was much easier to set up compared to the whip beforehand and I enjoyed a sunny morning with 40 contacts on all three core bands, the antenna was designed for.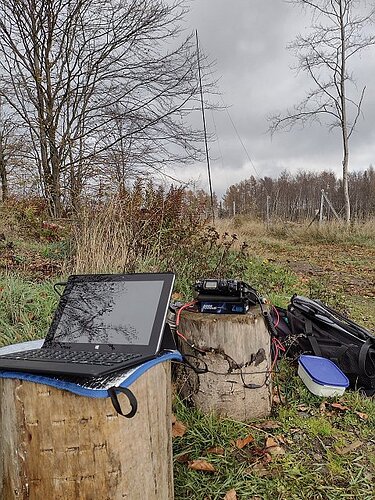 Next opportunity was the following Saturday - the rest of the family was busy with their own stuff - with a two summits activation of DM/HE-048 and later the day DM/HE-025. The planned 1 h activation on top of the first summit became an almost 2 h activity due to the pile-up and all on 30 m only. The next summit was my first with a luxury shack made of a table and a bench, but rather windy. My premiere was a first activation of 2 m CW in the SOTA program during the first hour of the Marconi Memorial CW Contest, ODX was 380 km with 5 W and a home-made HB9CV. In the end it got really cold and I enjoyed the trip home.
73 cu on the bands, Frank