I'm fairly sure I'm not the only one who will sometimes climb a hill and not activate it? This could be for a number of reasons but usually it's due to the weather; horizontal rain or flashes of lightening will put me off! However a tedious summit, that is very busy, which I've been on before will also cause a "can't be bothered" attitude. So which summit out of all that are available could it possibly be that I'm disparaging?
Well it is Snowdon. The biggest mountain in Wales, the summit which is visited by many thousands of excited people each year. Easily accessed by a railway with a luxury of a café making the mountain seem to be a trivial visit. I had been negative about it in a previous report here
Helen (M0YHB) and I were in Llangollen camping for the week at a Geocaching event and it was inevitable that at least one summit would be activated. I have already completed all the NW summits so know many of the least taxing or quick routes up the biggest summits. Helen suggested that she would like to climb Snowdon while we were near, I was not keen, partly due to walking it many times (but only activated it once) and partly no weather forecast for the week gave clear views from the top. I finally relented and accompanied Helen but was eventually pleased that I did.
The day before our walk we had already had a nice day walking the Llangollen canal from its source at the Hourseshoe Falls all the way to the Pontcysyllte Aqueduct and beyond to Crick, geocaching along the way. Back at the campsite in the evening we bumped into Pom (DG7ACF) and arranged to meet up for a chat after food. We walked down to Pom's van with a bottle of wine around 9pm in the evening with the intention of not staying too late but we were soon joined by a few more of Pom's German friends who had also come over for the Geocaching event. Catching up with things we have done since we last met meant time went quite quickly, particularly when shots of a nice single malt was included. I'm not too sure what time the Scots from the next set of tents came round and invited us to join them in more and various forms of alcohol, some of which I couldn't even identify. What I do know was that only myself, Pom and his girlfriend were the last up, we had out lasted everyone else including Helen. The night was finished off with a couple of rounds of Dobble* in Pom's van before I wandered off to find our camper at around 1am.
The next morning we woke a little later than usual to find a bright clear morning with a very gentle breeze. The previous few days had been very windy but today it was clear and bright. Breakfast things cleared away and then Helen broached the possibility of doing Snowdon. I was in quite a good mood, not feeling too bad from the night before so said OK when? Today she said with a mixture of optimism and determination.
There are two routes up Snowdon that I haven't been on, the tourist path from Llanberis and the Rhyd Ddu path starting from the rail station at Rhyd Ddu. Not wanting to do the busy track we went up the Rhyd Ddu path. We arrived at the car park at 11:30 BST to find the parking meter rejecting everyone's coins; free parking for the day then. At the summit Helen wanted to do a quick activation particularly if the conditions were poor so she carried a 2m hand held reasoning that she should be able to get at least 4 contacts to qualify from such a high summit. I unenthusiastically just packed our HF holiday kit, just in case.
The walk began by crossing the railway at Rhyd Ddu station and following the sign pointing the way towards Snowdon. The first part is a miners/quarry track that gently climbs till a gate is reached at the start of the true Rhyd Ddu path. This lower section is slabbed allowing quick progress until the first steep climb where the path become more like a stream bed with plenty of water running down it. From here the visibility became poor with the threat of rain in the air. The rest of the relentless climb was a monotonous trudge because I knew there were some spectacular landscapes hidden from view. The wind and mizzle had steadily increased as we climbed and I hoped that it would dissuade many from climbing.
---

The start of the Rhyd Ddu path proper as it leaves the quarry track
I arrived at the summit café, well nearly bumped into it, after around 3 hours of walking and we unfortunately seemed to get there at the precise time the train unloaded its cargo of adventurers all of whom jostled for the prize of getting to the summit peak. Helen and I had become separated some time towards the final section and with the crowds and visibility down to mere metres it took a phone call to find each other!
Eventually the people dissipated, finding their way back to the station leaving the trig point relatively free for Helen to do the final short climb. I walked to the lee side of the trig-point mount to find it surprisingly free of bodies and sat down to wait for Helen to join me. At this point all I wanted to do was get off the mountain, I could've been anywhere other than there in the cold and wet.
---

Helen queuing to have her picture taken at the trigpoint
Helen turned on the handy and could hear various conversations so a quick activation should be possible. I spotted Helen's preferred frequency she would hop to from the calling frequency and soon she was making a contact. While she was chatting I was looking at possible anchor points for a mast and for some inexplicable reason I unpacked my antenna and began setting it up. Much to Helen's disbelief. She made 7 contacts and then packed up to do some caching and to try to take some pictures of the views which were totally obscured by the mist.
I had been aware of the recent poor propagation reports so expected to struggle to make contacts. I added to the potential difficulty by choosing 17 metres to activate on. A band that has the potential to either be very good or extremely poor. As I tuned across the band and it seemed very quiet, I self-spotted for a frequency and with plenty of pessimism called CQ SOTA.
---

It was a bit cloudy on the top
Within 3 minutes I had qualified the summit and the calls kept coming. The band was behaving peculiarly, the first in my log was Manuel (EA2DT), not that unusual but the next two were G stations and they were exceptionally loud and strong as if they were very, very close. However one was a mobile down in North Devon, so not at the signal level I would normally expect. The fourth contact was Jan (OK2PDT). What I found astonishing was the mixture of contacts that were intra-G and continental which were mostly tremendously strong. The strength of my transmission was also commented on. 17 metres sounded like 40, something I had not experienced before and I do a lot of 17 m. While I was running, Helen took the opportunity to go to the café thinking it might be a little quieter because the train had just left on its decent. She returned with a very welcome hot chocolate, which, along with the numerous contacts lifted my mood no end. For 50 minutes calls kept coming but by this time I had started to become stiff and chilled so at the first opportunity I closed down. The final tally for the activation was an unforeseen 49 contacts on a band which at first glance was dead and is often overlooked by many.
---

Near the end of the activation, the trigpoint was clear of visitors…
It was now 16:00 BST so time to leave the summit. As we packed away the summit was briefly bathed in sunshine along with a view down towards the Pyg track. It was soon lost in a grey blanket. Not far from the top the cloud began to lift and we were able to see the ridge we had walked up a few hours before and all the way round and down into the horseshoe.
---

The cloud cleared briefly allowing a view of the Pyg track
---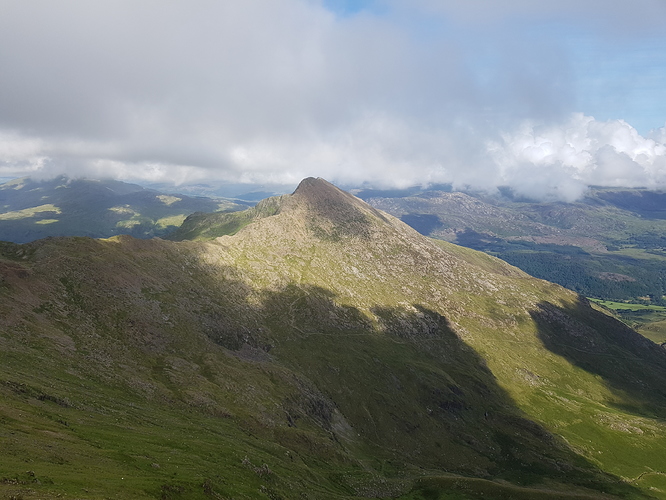 Looking over GW/NW-008 - Y Lliwedd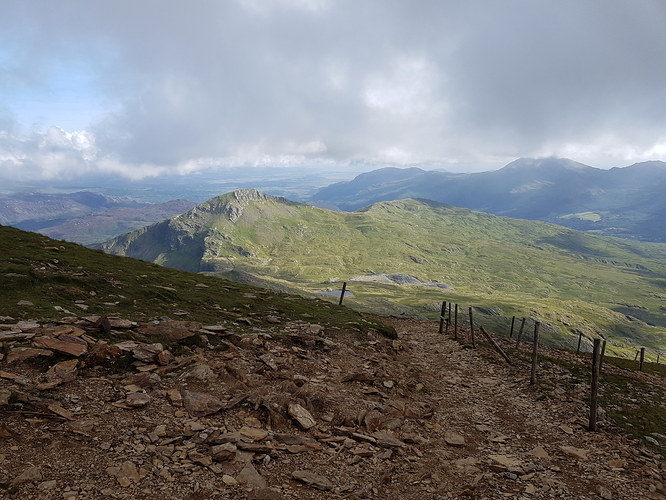 Looking over GW/NW-019 - Yr Aran

A view over the horseshoe on the way down with GW/NW-024 - Trum y Ddysgl and GW/NW-026 - Mynydd Mawr in the background
Back at the car park two and a half hours later the mountain was clear of its shroud and I was pleased that I had climbed the mountain once again and activated it.
Carolyn (GW6WRW)
*Dobble is a frustrating and sometimes very quick card game of "snap" consisting of 52 round cards with 8 symbols on each of which only 1 matches between any 2 cards!