The weather forecast for today (Nov 17th) suggested freezing mist and fog but in the pre-dawn darkness, the sky above our house looked clear with plenty of stars twinkling. An air temperature of -3C suggested it might actually be a good day ahead. We defrosted the car, and the dog, and set off.
Our target was Ladylea Hill - GM/ES-049 - a 609-metre two-pointer above Strathdon in West Aberdeenshire. I had alerted for it for approximately 11am. We'd enjoyed excellent November weather activating Benaquhallie - GM/ES-065 - on SSB yesterday (Nov 16th) and it would be a rare delight for a Scottish November to have two glorious days back-to-back, especially after many weeks of weather warnings for rain and gales.
There was a secondary target for today, though. For the past six months I have been working hard on trying to learn CW - an ambition of mine for more than 50 years - with self-study and practice supplemented by the patient weekly tutoring of Graham @GM4OBD of Aberdeen Amateur Radio Society. I have completed a few short successful chases (usually of Ben @GW4BML…!) and a couple of slow QSO's but plucking up the courage to try a CW activation myself always seemed beyond me.
But could today be the day?
The wealth of experience and support from SOTA activators suggested the best idea is just to get up there, press the key and give it a go, despite the inevitability of errors and mix-ups.
So, could today really be the day?
Ladylea has been activated on 13 previous occasions and so needs no more ascent details from me other than to say ample parking and a good path saw me at the summit with my wife, Ann, and SOTA dog, Sula, barely 45 minutes after leaving the car. And what a wonderful sight presented itself. Blue cloudless skies, absolutely no wind and the snow-clad Cairngorms looming up on the horizon. Just perfect.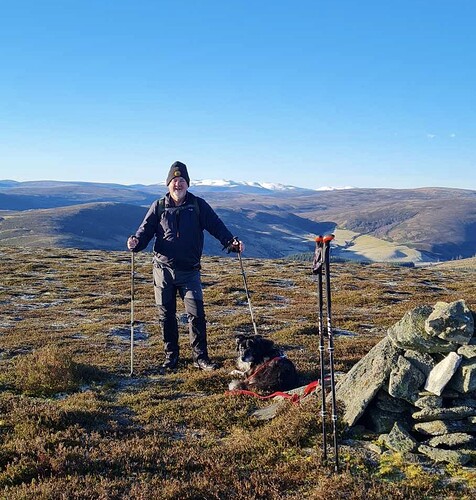 So, could today now be the day?
With the temperature soaring towards -1C, I set up my rig - KX2 and the seemingly impossible AX1 antenna with a 40m coil and a decent counterpoise. It shouldn't work - as many other threads on SOTA Reflector have discussed - but as I am fortunate to have one, I was determined to try it. I plugged in my mini paddles to the KX2 on my knee board, set up my notebook, plugged in my earphones and took a deep breath.The point of no CW return had arrived. After finding a clear frequency on 40m, I put a spot on SOTAWatch, swallowed my pride, pressed the paddles and called CQ.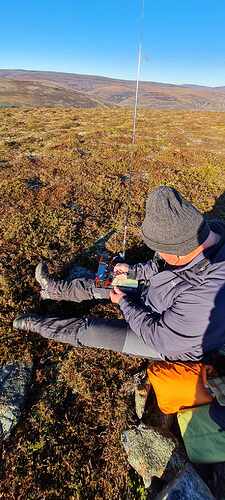 Well, almost. I fluffed my lines almost straight away but SOTA chasers can be a sympathetic and supportive lot. In no time, Gerald @G4OIG claimed his place in history by being my first CW contact from a summit. I was so excited I'm sure I wished him "Best 37s" in error! Thanks Gerald.
Next up was Andrew @G4AFI and he doubtless endured the same gobbledygook from me. I blame my freezing fingers!
Damian @M0BKV was next and the last of the Fab Four to secure my two points was Rich @M0RJP. Just as people had suggested, they respected my request for nice and slow sending which was hugely appreciated to get me on my way.
Sadly, I missed another couple of calls due to deep QSB, one of which I think was from Roberto @IN3NJB - a distance of about 950 miles - but I couldn't quite confirm the contact due to the QSB so didn't log it. It's an impressive distance, though, as the AX1 antenna really is tiny and I had no huge expectations of it. No matter, my 5w generally travelled about 450 miles for a 559 report so I'll settle for that for starters.
A huge thank you to my first four chasers - Gerald, Andrew, Damian and Rich - for allowing me to make my mistakes - and there were many - but still letting me complete my long-awaited first CW activation.
Today was, indeed, the day. The first of many, I hope.Truly memorable.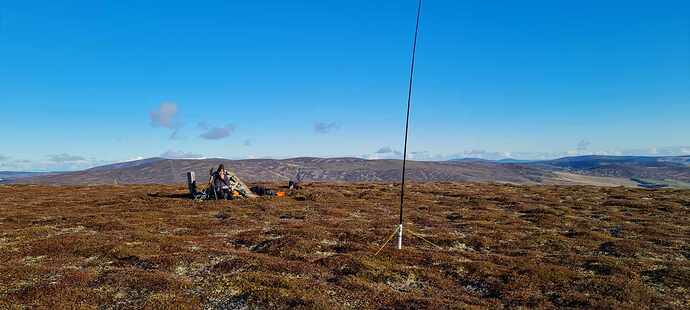 Despite feeling like I needed a lie-down after all that CW excitement, I put up my 66ft end-fed on to my 6m carbon mast and worked some SSB chasers, including Horacio @LW2DO in Argentina, for the second time in a week. It never fails to amaze me that one can get a 5/3 report from more than 7,000 miles away using just 10w and a bit of wire.
So, for anyone else contemplating learning CW and using it on a summit, I can only repeat the advice I have been given repeatedly, which I now know is true and which I used for the first time today. Forget your fears, ignore your inhibitions, park your pride - just do it. That's surely the key to CW success.
73 Mike