Like many amateurs, I often get the thought…"ooh I wonder if that could be made into an antenna"… when it comes to everyday objects that are definitely not meant to be used as such. Due to a failure of a household appliance, which was made of aluminium I decided to give the below a try.
Well today, I give you the Frail Loop: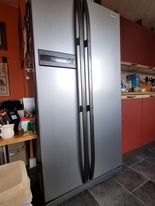 Using my MFJ-223 analyser it seems to be multiband on 40m through 6m (the limit of the analyser) depending on the how wide the doors are open. If the doors are closed, it is not resonant at all at any frequency.
This leads me to suspect that the inside is acting as some kind of cavity resonator and the the antenna would be highly directional and thus quite high gain. I think it would need some castors adding to be able to rotate to the desired direction with the beam width being quite narrow.
Shown below is the antenna tuned to 20m (14.285 is where we get 1.19:1 meaurement)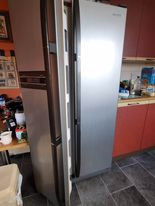 I also suspect it may tune vhf/uhf and even microwave but the door adjustments needed will have to be very precise. Using the motor coil as part of the feed point may also allow 80m and top-band to be used.
I have no idea on where to start on modelling the radiation pattern of this thing, so if anyone wants to give it a go, I'll supply the measurements.
Your thoughts please.
Ian
G7ADF