It was a sunny 81F Sunday and my wife Liz (KC2JOS) and our friend Jill and I were headed to Talcott Mtn in Connecticut for the first ever W1 activation. We parked on the side of a road that stretched into Talcott Mtn Park and ended at a helipad and were greeted with a wall of bugs. It was truly terrible, and my deet was of little deterrent effect.
Once we started hiking along the trail, the bugs seemed to quiet down a bit. This was Jill's first hiking experience in many years, and I think it was a good idea to pick this mountain to hike up as the 1.5 mile trail was lined with the occasional bench and was well cleared. Jill is a lifetime New York City resident and was really looking forward to getting out of the city for some nature.
All along the way I ran the N2YTF-3 beacon on my TH-D7ag, although my rig never heard itself digipeated. Only later in the shack back at home did I see that my summit top operation itself did make it into a digipeater off in the distance. You can see the APRS log at:
http://aprs.fi/?call=n2ytf-3&mt=m&z=11&timerange=3600
and if you roll over my position you can see a ray stretching to the digipeater that heard me.
After a 400ft vertical gain and 1.5 miles of horizontal hiking, we arrived at the base of Heublein tower about 4:30 PM local time. Heublein Tower is the one time summit top home of the Heublein family. There the Heublein family hosted US Presidents Eisenhower and Reagan at their incredible hill top home, and legend has it that Eisenhower got the idea to run for the Presidency while a guest of the Heubleins.
I quickly scouted out an operating location, a somewhat secluded spot on the top of a chain link fence near the tower, while the girls quickly toured the home which was set to close at 5PM.
I turned on the rig and texted Dave, W2VV who was kind enough to spot me on SOTAWATCH (14.340 for the whole operation) despite being very busy trying to catch a flight to NYC from Ohio.
Equipment was a homebrew LiFe battery pack with a single NiMH kicker cell and a 706MKIIG with PAC-12 antenna. The LiFe pack is capable of more then 50 amps drain and weighs less then an NiMH pack of similar AH capacity.
Although conditions were quiet at first, I quickly started a pileup…but bizarre radio conditions began to wreak havoc with my operating. 20m acted like 6m during poor sporadic E conditions…I had s9+60 signals one minute and then within just a few seconds everyone disappeared. Thankfully I had an extremely low noise level and I was able to work even very weak stations.
The bugs started aggressively coming after me, despite my various bug sprays. Although I did not catch them on film, several mosquitoes were desperately trying to bite my rig and mike cable…I have never seen such aggressive bloodsuckers. My hands bear the evidence of multiple bites today…
I was so transfixed by the pileup and bizarre conditions that I did not watch my battery drain and in about 2 hours of aggressive 100w SSB and 33 contacts I completely depleted my batteries, without anything left for CW and PSK…particularly frustrating since I brought along an NUE-PSK and K40 CW keyer kit. In any event, we were all hungry, the sun was going down and the girls had had enough…so I guess the batteries picked a great time to empty.
I did manage to work 33 stations on SSB including Hungary, the UK and Ireland (EI9JU). Jill shot a nice video of me working EI9JU that I have posted to YouTube: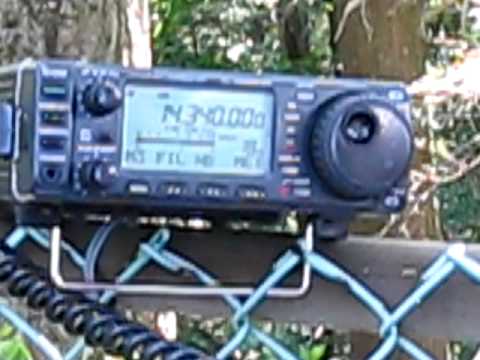 I have also posted pics of the operation and some of my equipment to the flickr SOTA group:

Roll over the picture for a description of the gear.
In retrospect, it's a shame that fence did not run East/West instead of North/South as I am sure I could have worked more EU with the fence oriented East/West…but I was very happy to be on the receiving end of a pileup!
73 to all and a special thanks to those who worked me or tried to work me.
Tom-N2YTF