G/SB-001 The Cheviot 29/10/19
Short report on activation during a family holiday with son(16) who usually tolerated his dad's strange hobby but minus dog who we decided at six months might run out of umph !
The 10% chance of rain and uninterrupted blue sky predicted my the met office failed to materialise and during the ascent we were treated to the fist sleet of the season!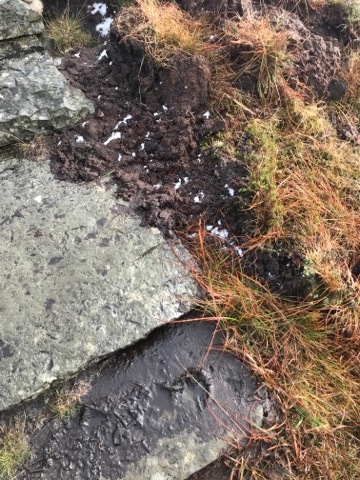 We were dropped at Harthope Burn at the point where the road becomes private and then ascended Scald Hill. Whilst I staggered up my son was carefully counting the bird's ( Grouse ) and wondering why the estate had not positioned the shooting butts in a different positions. His conclusion was that the tracks would make access difficult and less profitable.
The ascent was not really very pleasant being a long boggy slog to the summit which at times reminded me of Black Hill, black deep and boggy but if anything slightly steeper but from memory just as black… The trig point is now a good couple of meters above the remains of the peat.
At the summit there was a large collection of volunteers from the local wildlife trust who had been transplanting spagnum moss to the bald and black muddy summit.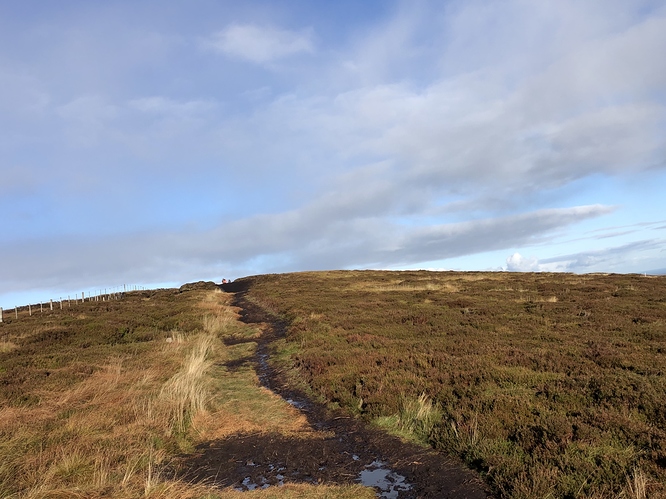 As the promised blue sky became sleet and those extra layers now seemed a good idea as I set up a linked dipole and tried 80m then briefly 40m whilst my sons improbably small and light bag failed to produce a pair of gloves.
The descent was uneventful and it took approximately 2 hours to get up, an hour for playing with radio and getting cold then just over an hour back down. Had we had much of a view we may have tried making the route circular. The Harthope valley was beautiful but the boggy slog to the summit reminded me why I had not been back to The Cheviot for probably three decades…but perhaps I had just been unlucky with the weather. On the plus side I'm nearly 20% goat…
Thanks to all the chasers - 80m seemed to be working well!
73. Paul