This is a wonderful, easy summit near the town of Archangelos on the east side of Rhodes.
Thanks to previous activation reports and other information available on the internet I was able to determine there was a road to the church on the summit from the main road EO Rodou Lindou 95.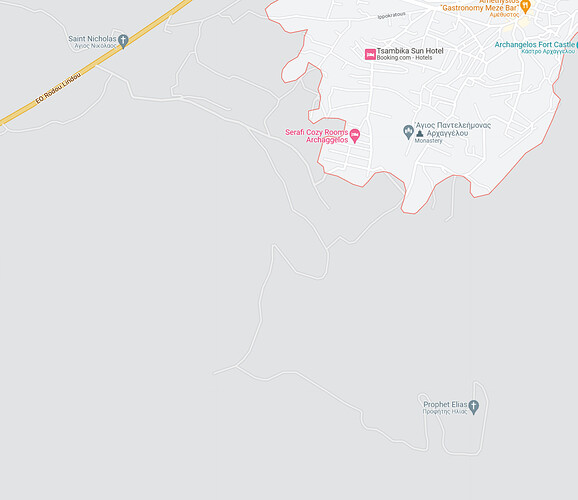 Summit Road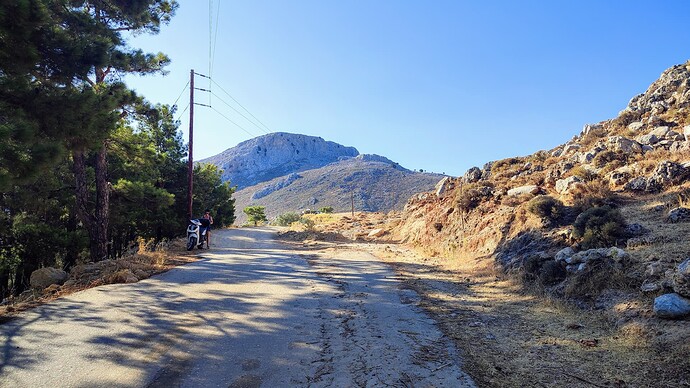 Initial Parking Position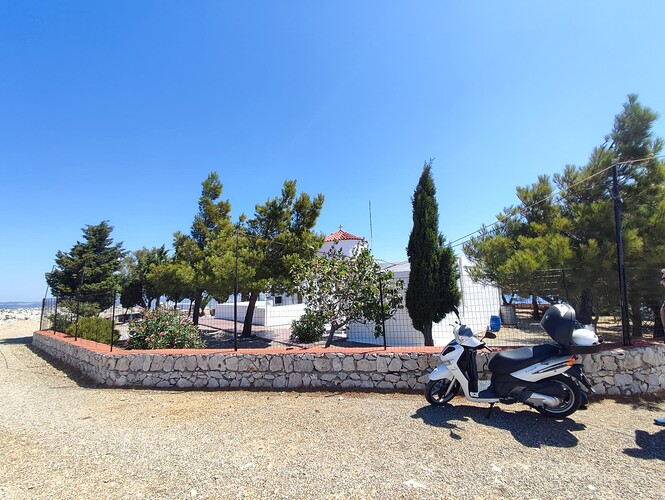 Actual Parking Position
We had planned to walk as indications were that the road was in poor condition. There is a gravel section of around 200m at the start of the road which we initially walked, but then seeing further that the road was in good condition I went back for the scooter to see if we could get further. We were able to reach the summit via scooter with no issues. In a car maybe it would seem narrow in places, but the scooter had no issues.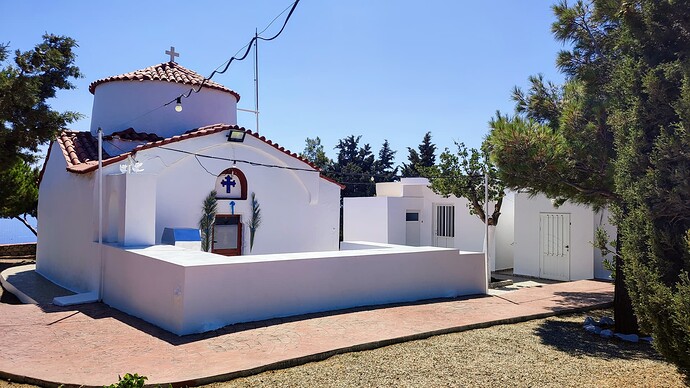 Summit Church
Just to note that the temperature was forecast around 38°C - we had arrived around 9am local so it was probably more like 30°C but still hot for climbing hills! I brought with me the IC-705 running on internal battery 5w with the Super Antenna MP1 and lightweight tripod.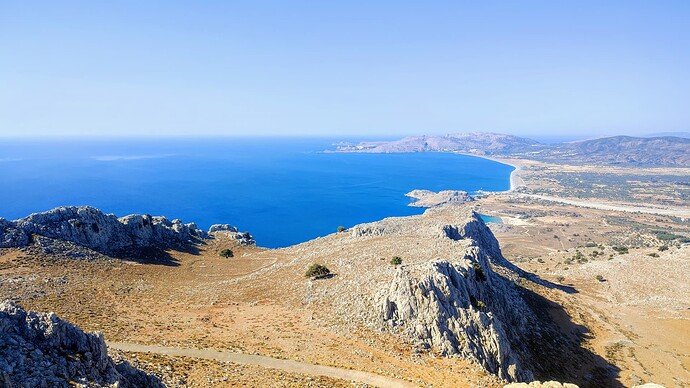 View to the South of the Island
I setup on what appeared to be the natural summit, some 25m from the church. The remains of a wall provided shade for the rig and phone.
There was a possibility of an Australian contact with two stations in QSO with Mike @2E0YYY but the 5w wasn't to be on 20m. I got a message later from Ernie saying he could hear me faintly on 18m but I didn't get that in time to try for a QSO.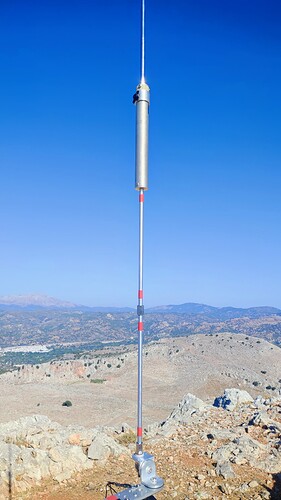 Not the way to setup a Super Antenna!
I had alerted for all bands from 30m to 10m to try and work as many stations as possible. Chris @F4WBN was on the case as always with Manuel @EA2DT not far behind! Lovely to get some Greek stations in the log too.
Apologies to Fabio @IK2LEY - my poor morse skills taking quite some time to work out his full callsign and location for my one S2S, but it was very gratifying to subsequently see his alert and determine I had copied all the information correctly. Phil @G4OBK as always was super-easy copy sending at exactly the same rate as was calling. If only everyone was like you Phil!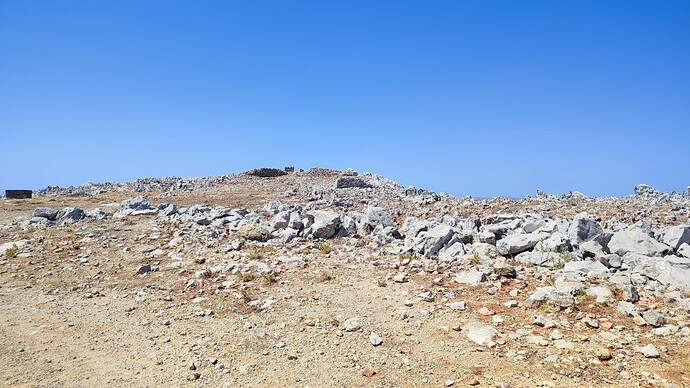 View from the Church to the Operating Position
When I reached 10m I immediately heard Colin @DD5CF calling on the QRP frequency and it was lovely to have a chat with him, and great that he was able to give me an 8 character Maidenhead Locator for his position in his Croatian /P location - and also big credit for calling CQ on 10m!
I'd highly recommend this summit, if you are walking the 2km path then it would be best done first thing in the day or last thing in the evening if the attempt is made in high season!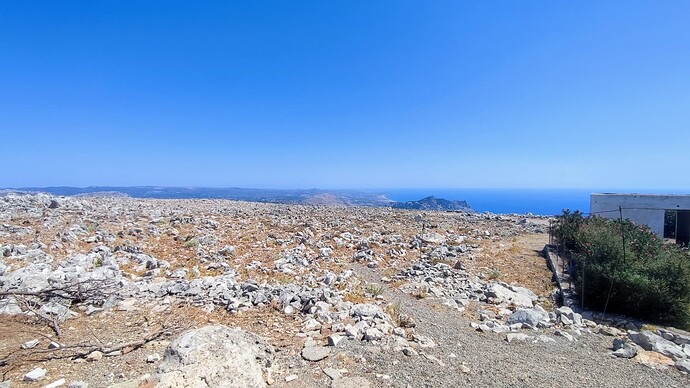 View to the North of the Island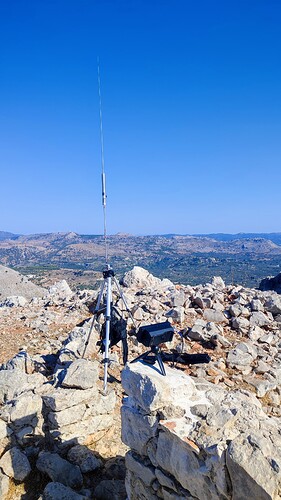 View to the Interior of the Island
| TIME | CALLSIGN | BAND | MODE | RST | RSR | OPERATOR | SIG | REF |
| --- | --- | --- | --- | --- | --- | --- | --- | --- |
| 06:24 | F4WBN | 20m | SSB | 59 | 58 | Christian | | |
| 06:26 | SP9JKL | 20m | SSB | 59 | 55 | Jerzy | | |
| 06:27 | SV3IEG | 20m | SSB | 59 | 57 | Dinos | | |
| 06:28 | EA2DT | 20m | SSB | 57 | 42 | Manuel | | |
| 06:30 | S56IHX | 20m | SSB | 59 | 57 | Marjan | | |
| 06:31 | S52AU | 20m | SSB | 55 | 53 | Borut | | |
| 06:31 | DJ2MX | 20m | SSB | 59 | 41 | Mario | | |
| 06:31 | SV3IEG | 20m | SSB | 59 | 55 | Dinos | | |
| 06:54 | EC6DX | 17m | SSB | 59 | 55 | Jose | | |
| 06:54 | DL7CX | 17m | SSB | 59 | 55 | Dr. | | |
| 06:55 | DJ4FF | 17m | SSB | 55 | 53 | Robert | | |
| 06:56 | DJ2MX | 17m | SSB | 59 | 55 | Mario | | |
| 06:59 | EC6DX | 15m | SSB | 59 | 31 | Jose | | |
| 07:00 | 9A1AA | 15m | SSB | 59 | 59 | IVO | | |
| 07:03 | HA6PJ | 15m | SSB | 55 | 57 | János | | |
| 07:04 | SV3RPQ | 15m | SSB | 59 | 57 | ANDREAS | | |
| 07:05 | EA7GV | 15m | SSB | 55 | 52 | JOSE | | |
| 07:06 | EA3EVL | 15m | SSB | 44 | 55 | PABLO | | |
| 07:13 | 9A/DD5CF/P | 10m | SSB | 55 | 33 | Colin | | |
| 07:22 | DL6MST | 10m | SSB | 57 | 54 | Klaus | | |
| 07:22 | OK2PDT | 10m | SSB | 57 | 57 | JAN | | |
| 07:23 | OK1KT | 10m | SSB | 55 | 57 | VRATISLAV | | |
| 07:33 | DL1FU | 30m | CW | 559 | 339 | Friedrich | | |
| 07:34 | IK2LEY/IS0 | 30m | CW | 559 | 549 | | SOTA | IS0/IS-025 |
| 07:52 | IV3FPX | 20m | CW | 579 | 579 | Boris | | |
| 07:54 | G4OBK | 20m | CW | 579 | 439 | Philip | | |
| 07:56 | ON7GO | 20m | CW | 449 | 339 | Philippe | | |
| 07:58 | UW7CN | 20m | CW | 579 | 599 | Alexander | | |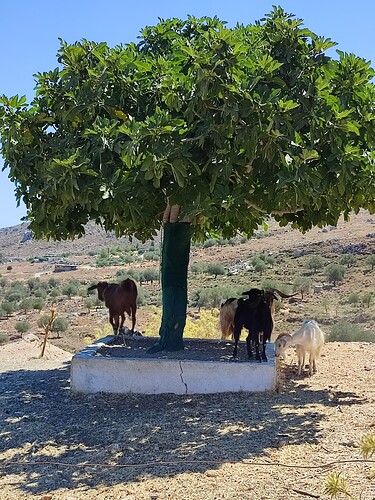 Mandatory Rhodes Goat Photo

Setting Up