Arriving at Walna Scar Car Park dead on 6pm I had decided to activate Old Man of Coniston again (my last activation was on my birthday in March - cold, windy, rain, still snow on the ground at the top) with the promise of pleasant summit conditions.
The East side of the mountain still has a working Slate quarry - last time we were there charges were set off that rippled round the horseshoe.
After initially following another group of walkers on a lower but longer path I cut back up to the slate slag heaps and came across an old car/truck.
The original working mine still has several derelict buildings and old mine equipment including a toppled tower from the slate cable car.
After around 1 hour 20 minutes I reached a calm summit.
On the final ascent I noticed a guy above hauling a mountain bike. His routine is to take a Tiramisu and have his photo snapped eating - his phone wasn't working so I helped out. He'd been on Red Screes earlier that day.
An initial call using the FT1XD handheld on 2m brought in Sue in Lancaster @G1OHH and Douggie near Carnforth @G7CDA, Clive @2E0EVD from FARS and a solid 59 both ways into Wales with Mark @MW0TTK.
I then put up the SOTABeams QuadBander, using my new 4.2AH LiFePo battery attached direct to the MCHF running barefoot (I was trying to keep pack weight to a minimum). Following on from a C4FM session I worked 20m with Manuel @EA2DT as always hot on the SOTA chase. After a good set of 20m contacts I moved straight to 80m with three contacts - it had been noted that GX0OOO/P had already activated the summit, so apologies for not providing chaser points.
Moving to 40m Geoff @GM4WHA was much clearer copy than 80m I then jumped around the bands a bit having tried and failed to tune up my 160m loading coils to anything other than around 4:1 SWR - more investigation required. Had a nice chat at the end with @F4GHB Alain in Burgandy before shutting down and watching the sunset.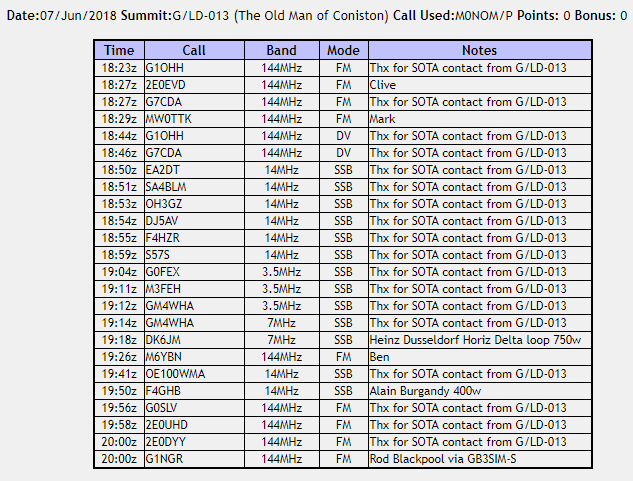 The shadow cast by the mountain looked awesome as it stretched out East.
The whole east side of the Isle of Man was visible on the horizon - I tried to take a photo and you can just make out the outline.
I started back down at around 21:30 BST and reached the car around an hour later - it was still light! On the way down I noticed that Low Water was perfectly mirroring the sky - an enchanting sight.
Thanks to all the chasers - I'll have to try 2m/70cms including SSB with a yagi/quad at some point from this summit as the takeoff was excellent. I had a QSO with @G1NGR Rod via the Snaefell repeater GB3SIM-S.
p.s. I won a photo competition at work today with my photo of a farm shack on the ascent to Gray Crag and eventually High Street. A nice, significant, Amazon voucher is on my way!