To reach the "seven summits", the highest peaks of all continents, is a famous challenge for ambitious mountaineers. Aconcagua (LUM/PH-001, 6960 m) was activated within SOTA at least four times, and amateur radio operation outside SOTA was reported from Kibo in Africa by HB9BXE. But whether all 7 summits will ever be activated is still open.
Other summit collections are easier to reach. The "3 Peaks Challenge" involves climbing the three highest peaks of Scotland, England and Wales, and this is done frequently, quite often even within 24 hours. Several years ago, I was able to activate Ben Nevis, Snowdon and Scafell Pike within 2 years. Obviously I was the first foreign amateur, but I could not find out, how many British radio operators have finished this collection.
Recently, HB9DQM reported his activation tour to all of the high points of the Swiss cantons, which required considerable mountaineering skills. Joe, OE5JFE is working on the highest summits of each of the Austrian states (Bundesländer), which also is not an easy task.
With the activation of Langenberg (DM/NW-263), I completed my personal challenge to activate the highest mountains of the 16 German states. Not all of them qualify for SOTA, but GMA provides an opportunity to document the activations of all of them. I believe that it was the first time this has been done with amateur radio.
It was an interesting journey which took me several years, since I wanted to combine my activations with other business or private travels. I visited nice places which I would not have seen otherwise and met many friendly people.
Thanks for all support and many QSOs.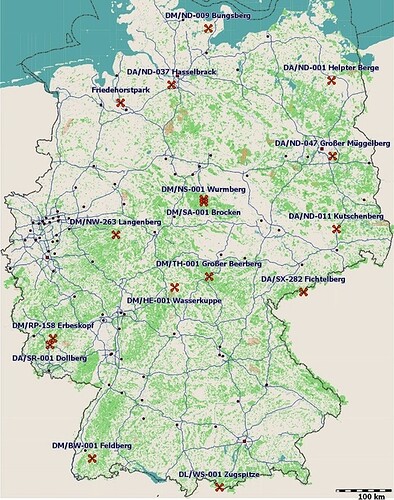 Kartendaten: © OpenStreetMap-Mitwirkende, SRTM | Kartendarstellung: © OpenTopoMap (CC-BY-SA)