Sound great! Do you have a campground in mind yet? I have a 28ft camper trailer I might could bring… Id have room for a few folks…
Please count me in! I have a retro 23' trailer, 30 watts of solar and lots of batteries. I also have a pneumatic antenna gun where we can shoot a fishing weight over the trees for that 160 Meter antenna…

Kent K9EZ
Salisbury, NC
With reference to my earlier request for people who might have 160m capability, I now plan on being in the UK for the event. I therefore won't be operating on 160m. Looking forward to some S2S with NA.
Kevin AC2KL
I hope to make it this year! Dave, AE9Q
Based on summit density and activation activity, I have decided on Roan Mountain State Park as our base for the campout. It is located within 30 minutes of I-26 with some of the best summits in the southeast within a hour's drive. Roan Mountain State Park has sites for RVs/trailers, tent sites and even cabins are available (across the main road from the campground). The tent sites can accommodate more than one tent, but there will be an additional charge for more than four people staying at one site. There are several group camp sites suitable for 5-6 tents which share a common fire pit and picnic table. Individual tent/RV sites can be reserved online but if you are interested in one of the group camp sites, please contact me directly to coordinate. RV/Trailer sites 1-19 are the better sites for those guys (bigger/flatter) and the tent sites are numbers 20-40.
Campsite reservation link - https://tnstateparks.itinio.com/roan-mountain
Here is a drive-thru video of the campground - lower campsites start at 6:34: https://www.youtube.com/watch?v=6EU38rvulcY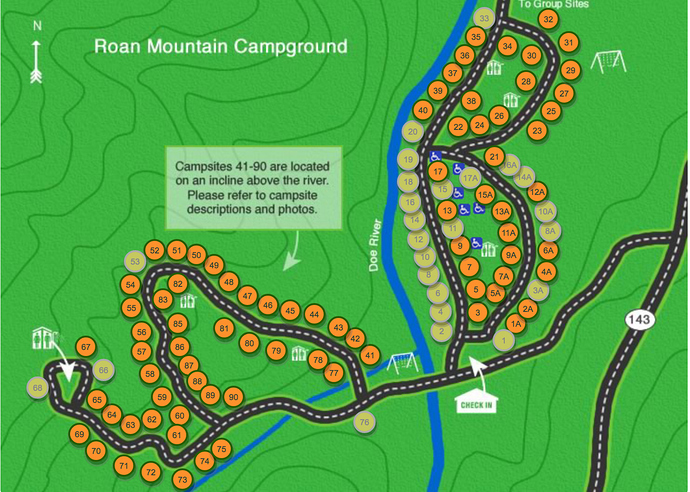 73, pat - KI4SVM
W4 SOTA Campout Summits Map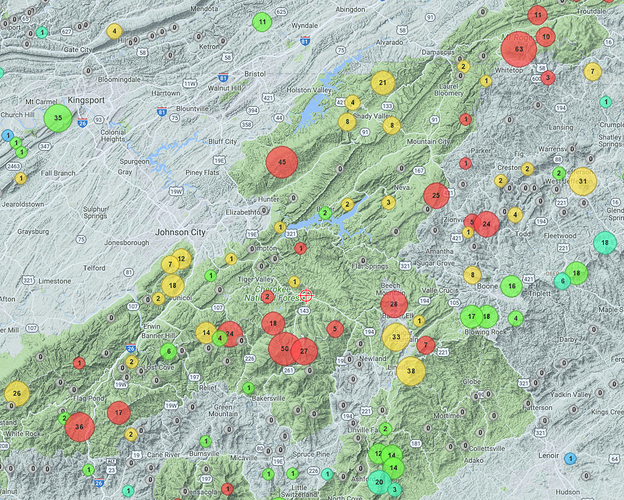 Here are some logical summit pairings for those not familiar with the area.
Roan Mountain State Park is located at the base of the Roan massif, which is the home to several spectacular SOTA summits. Just up the road from the state park is Carvers Gap, trailhead for W4T/SU-005 - Roan High Knob and W4C/EM-001 - Grassy Ridge Bald. You can go from the dense spruce and fir covered Roan High Knob to a 3 mile hike across open balds to Grassy Ridge Bald. Further north along the Roan Massif is W4C/EM-003 - Hump Mountain - a bit longer hike at 4+ miles but most of it through beautiful grassy balds. W4T/SU-015 - Little Rock Knob is easily accessed from the State Park as well. All four of these summits are located along the AT.
Banner Elk area drive-ups - W4C/EM-007 - Beech Mtn, W4C/EM-011 - Sugar Mtn and W4C/EM-022 - Grandmother mountain are often done together due to proximity and ease of access.
Moses Cone Memorial Park - W4C/EM-032 - Rich Mtn and W4C/EM-026 - Flat Top Mtn are nice hikes along old bridle paths and a natural combination near the touristy town of Blowing Rock, NC.
Three easy Blue Ridge Parkway summits - East of Boone along the BRP, you will find easy targets with W4C/EM-060 - 3070, W4C/EM-043 - Thomkins Knob and W4C/EM-058 - 3730. If you still have time left, you can head up to W4C/EM-021 - Mount Jefferson.
Amphibolite Mountains - North of Boone, NC you will find W4C/EM-005 - Elk Knob and just across the valley is W4C/EM-011 - Snake Mtn (which is reputed to be one of the finest hikes in NC). Not too far away is the drive-up summit of W4T/SU-022 - 4580.
Linville Gorge Summits - Along the western rim of the gorge, W4C/EM-046 - Laurel Mountain is a short and easy hike and W4C/EM-066 - Dogback Mtn is a drive-up summit. W4C/EM-059 - Dobson Knob is a short hike from the end of a Forest Service road off of Old NC 105. Wiseman's View and Linville Falls are both worthwhile tourist stops along the western rim. On the eastern rim, W4C/EM-049 - Hawksbill Mtn and W4C/EM-051 - Table Rock Mtn are excellent summits with great views of the Gorge. W4C/EM-070 - 3161 is a longer hike that shares the trailhead with Table Rock Mtn and takesy ou through the rugged Chimneys before climbing the summit on the north end of Shortoff Mtn.
Shady Valley Summits - Heading up to the Shady Valley area along Hwy 91, you will pass the drive-up summit of W4T/RV-001 - Holston High Point. W4T/SU-037 - Rich Mtn and W4T/RV-002 - 3940 are both located just off the AT and W4T/SU-038 - Grindstone Knob is a very short hike along the Iron Mtn Trail.
I-26 Summits - Closest to RMSP is W4T/SU-058 - Pinnacle Mtn which offers a longer 3 mile hike from the I-26 side or a shorter 0.75 mile hike from the west. Heading north W4T/SU-062 - Whiterock Ridge is a short hike and easily accessible from I-26. To the south on I-26, W4T/SU-024 - High Rock is a nice and shorter hike along the AT and W4T/SU-010 - Big Bald is a virtual drive-up if access is pre-arranged.
W4V/W4K Combo - Although a bit longer drive from RMSP, these two drive-up summits are easy to access and is the easiest way to add W4K to your list of activated associations. W4V/GC-001 - High Knob and W4K/EC-001 - Black Mountain
73, pat - KI4SVM
I'm reserved - Site 13… Bringing camper… Have room for 3 more if anyone wants to share the camping fee.
Since you are the first person with a site with a electrical hookup, I guess that makes you the official battery charging station!

I will keep updating the attendee list and any important info in the first post.
This is going to be fun…
73, pat - KI4SVM
Yep! I can bring a extra radio for a 2m-fm / HF-SSB base station too.
Pat,
I plan to be there, but not as a camper. I will join the group in the evenings, driving up from my home in Gray, Tennessee. I look forward to meeting many of those who have either been chased by me, or who have chased me. It ought to be a lot of fun. Looking forward to it.
–John. KJ4ZFK
Most excellent, John! I, as well as I am sure many others, will enjoy meeting you in person. It is always good to make a contact with you, either as a chaser or an activator. Maybe you can scare up a few more of the locals too!
Hey Tent Campers! The tent sites by the river are almost gone, but #39 and #35 are still open at this point. SOTA campers are at 36, 37, and 40, so we have a good grouping at that area. Reserve your site now!

Dave, AE9Q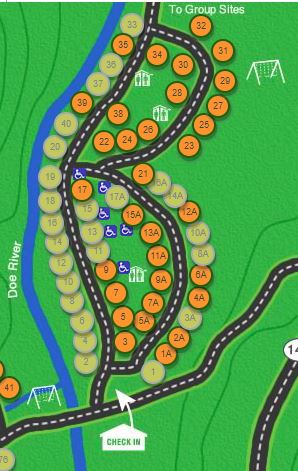 Hello Pat, I have the dates marked on my calendar and plan to be there for an "eyeball" QSO with all of the attendees. I may do an activation or two as well.
Looking forward to it !!
Walt NE4TN
Me too, Walt! This is going to be fun.
Looks like the SOTA Riviera is fully booked now.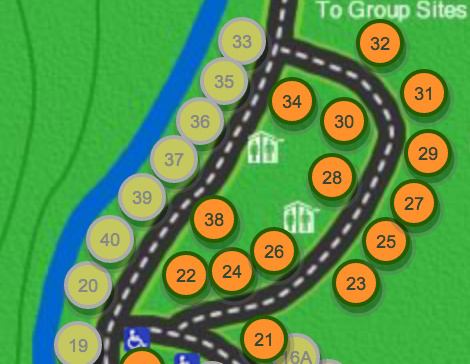 I am planning to attend on Saturday and Sunday and plan to arrive on Friday evening. I will be staying with Alan, KN4BBC.
Derek, WF4I
Please put me on the mailing list as well. I plan to go to the four day
meet.
Johnpaul//AB4PP
Good deal! John Paul, are you bunking with Alan & Derek?
I hope you have me on the list…for all four nights.
JP
Put me on the list.
I will come on Thursday and stay for the four days.
Please advise you received this.
Johnpaul//AB4PP