Dear all,
As many of you know already, I fought against a rectum cancer since the end of 2018, all 2019 and 3/4 of 2020. During all those hard times, ham radio and SOTA in particular was a great company. I enjoyed chasing from home and even activating when possible.
After my last operation in August 2020 to reverse the ileostomy I got I June 2019, I fully recovered and got back to work by the 25th of September.
Everything was going well but just a few weeks later, by the beginning of November, I started feeling some sort of pain in my back and inside my abdomen. I went to the doctors and after some blood analysis and a couple of scanners in December and January, they finally confirmed to me that my very aggressive cancer had reappeared and I was due to quickly start a new series of chemotherapy treatments.
Athough I was decided to fight again this Cancer 2.0, I admit that I felt quite disappointed and I was starting to think that I should prepare myself to any possible outcome.
My chemos started on February and I've already got 2 sessions. The third session is due to happen tomorrow. The plan is for a total of 6 sessions. The chemo sessions are quite hard and it usually takes me some 5 or 6 days to overcome the effects. With the chemos and the not very nice wx we've been having lately, chasing SOTA is all I've been doing these last days.
But I've been feeling strong back again over the last few days and I finally decided to go activate our local summit Mt. Ezkaba this morning, despite the 7º C in Pamplona which were 4º C at the summit with a cold breeze from the North.
Here you can see me right after setup, when I was ready to start my activation: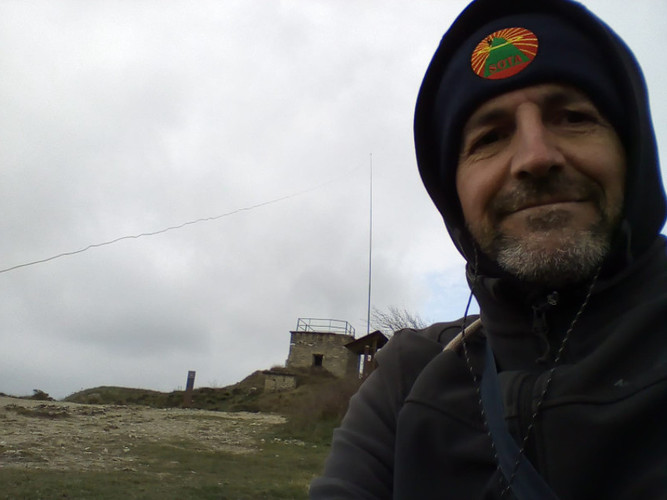 Setup was a 14m long endfed wire hanging from the top of a fishing rod up about 8m a.g.l. as a sloper to a 9:1 unun and a 6m long counterpoise wire layed over some bushes and the grass. The rigs were my usual FT-817ND at 5W with the help of a MFJ-941b antenna tuner. Battery was a 4S2P LiFePo4.
I didn't alert my activation and before selfspotting, I tried to make S2S with the activators spotted on SOTAwatch at that time. It was about 11h30z and the first S2S of the day came on 40m CW thanks to HB9BAB/P. After this 1st S2S, someone asked me to QSY 1 UP, which I did to find Eric F5JKK who was my 2nd QSO of the day. Eric kindly offered himself to spot me, but I said no, thanks because I wanted to chase other activators for S2S.
So, I QSYed to 40m SSB and managed to S2S with CT2GSN/P and CT2IUV/P.
After these S2S and after having unsuccessfully tried it with HB9ELZ/P on 40m CW due to QSB and with ON4TA/P on 20m SSB due to skip, I decided to QSY and selfspot on 60m CW, where I only logged 4 QSOs (3 EA and 1 DL). After a number of unresponded CQ calls, I QSYed back to 40m CW for a S2S with HB9DST/P and then to 20m SSB for a S2S with DL1CR/P. Not seeing other activators spotted on SOTAwatch, I QSYed to 20m CW, selfspotted and had a good run of 22 QSOs in 20 minutes, being one of these a DX with K4DY and all the others from Europe.
After a number of unresponded CQ calls, I QSYed to 30m CW.
When I was about to start on 10.118, Ignacio EA2BD informed me of a potential S2S just 1Kc down. There I went and materialised the S2S with HB9IIO/P.
After this S2S, I returned to 10.118 and while I was typing on my smartphone for a selfspot, an activator started CQ SOTA right on that frequency. It was HB9CGA/P and I quickly had a new S2S in my log. After this QSO, I QSYed up and found someone calling me on 10.119. I asked QRZ? and it turned out to be G3RDQ, so we made QSO and I decided to selfspot on that frequency, which let me have a good run of 21 QSOs in 27 minutes. When I had already had a number of unresponded CQ calls and I had announced QSY to search for potential S2S, I was called by HA8ZB and we completed QSO.
I remember having picked up a 8ZB earlier in the 20m pileup, but after 3 opportunities, ?8ZB never showed up and I continued with the rest of the pileup. I'm pretty sure it was HA8ZB, so I'm glad he could finally chase me on 30m.
All in all, 56 QSOs, 7 of which were S2S and 1 DX with the USA, after about 1h50 on air and having worked on 20m CW & SSB, 30m, 40m CW & SSB and 60m CW. I feel great now after a very nice time in the mountain and on the air.
Thanks dear chasers and activators for your calls and QSOs.
I'll be looking forward to copying you all again very soon from a summit.
73,
Guru