Radcom Basics is a sort of web based newsletter from the RSGB that was released last night.
The four artices in this first edition are:
Making the most of 10MHz
What is Summits on the Air?
What is Software-defined Radio?
What is DMR?

If you are an RSGB member, you can read the SOTA article here:
https://thersgb.org/members/publications/radcom_basics.php?id=5572
If not, here it is (without the nice formatting):
Summits on the Air (SOTA)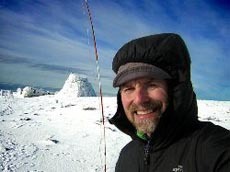 Radio amateurs are often accused of being a slovenly lot—spending too much time slouched in front of their radios when they could be outdoors getting some much-needed exercise.
But there are two radio hobbies that get you out and about.
The first is Amateur Radio Direction Finding (ARDF), where you have to track down hidden radio beacons while running around the countryside.
This is a bit like radio orienteering.
While Summits on the Air (SOTA) combines mountain climbing, hill walking and radio.
SOTA is an award scheme for radio amateurs and shortwave listeners that encourages portable operation in mountainous areas.
The scheme has been carefully designed to make participation possible for every one—it is not just for mountaineers!
There are awards for activators—those who ascend to the summits, and chasers—who either operate from home, a local hilltop or are even activators on other summits.
Each summit earns the activators and chasers a score that is related to its height.
Certificates are available for various scores, leading to the prestigious "Mountain Goat" and "Shack Sloth" trophies.
An "Honour Roll" for activators and chasers is also maintained at the SOTA online database.
Each week hardy radio amateurs venture up hills around the UK and further afield and endeavour to make contacts from summits.
So where do you start?
Firstly, see the SOTA website for all the information you need.
SOTA stations use a wide selection of operating bands and modes, including 2m FM, 2m SSB, HF SSB, HF CW and even 10 GHz.
Your home QTH will have an effect on your choice of bands and modes.
If you live close to mountains then you may have considerable success with a 2m FM station and a simple antenna, working activators in your own country.
However, SOTA is international and you can contact activators throughout Europe and beyond if you have access to the HF bands.
A summit is defined as "a prominence of at least 150 metres", so they are not all mountains.
The SOTA web site has plenty to choose from, depending on where you live or are visiting.
There is a database of summits across the UK and the world.
Each summit is assigned a number of points between one and 10.
In some countries there is a seasonal bonus of three points per summit to help your score.
Each summit has a unique code.
So Scafell Pike in the Lake District at 978m—a 10pt summit by the way—is G/LD-001.
While Brown Willy in Cornwall at 420m—a 1pt summit—is G/DC-002.
There is even a site called www.sotawatch.org that shows you what summits are being activated and when.
Certificates are available for gaining 100, 250, 500 and 1,000 points—for both activators and chasers.
These certificates are printed in colour and are personally signed by a member of the SOTA Management Team.
Endorsements such as "All CW" or "VHF" can be added on request at no extra charge.
If you reach 1,000 points, you can also obtain an attractive "Mountain Goat" trophy with your callsign inscribed on it.
In case you're tempted to hang up your boots after attaining the 1,000 level, further certificates are available at 2,500 and 5,000 points!
So if you are interested, what do you do next?
Before doing anything visit the SOTA website and read all the guides about taking part in the scheme and activating a summit.
This will save a lot of embarrassment later when you climb a peak and release you don't know what to do next!
Above all, have fun.
SOTA is a great way to combine outdoor pursuits and radio.