SOTA NEWS SEPTEMBER 2017 - Part 1 of 2
Editorial - by Mark G0VOF
Welcome to the September 2017 edition of SOTA News. Some exciting news with two new associations going live from 1st September: 4X – Israel & XE1 – Mexico Central as well as other major updates! See 1st September 2017 - Updates for details.
My thanks go to the following contributors:- Barry GM4TOE, Skip K6DGW, Roy G4SSH, Kevin G0NUP, Rob and Audrey G4RQJ, Warren ZL2AJ, Toru JH0CJH, Luc ON7DQ, Bob F5HTR.
73, Mark G0VOF
========================================================
The August 2017 edition of SOTA News was viewed more than 1,036 times.
SOTA AWARDS AUGUST 2017 from Barry GM4TOE - SOTA Awards Manager.
Slightly quieter on the awards front this month but still a lot of claims. Congratulations to KG7EJT and PA7ZEE for achieving the Mountain Goat level and PA7ZEE for achieving 25k Chaser points while DL2YBG, WA7SB and N6JZT have made "Supersloth" level.
Sometimes these tables of statistics hide some quite amazing achievements by our participants not least of which is Paul, HB9DST. Achieving Mountain Explorer Platinum is a fairly common occurrence but what is hidden behind this achievement is that he has activated in 50 Unique Associations which, I believe, is a first; congratulations.
Trophies Issued
Mountain Goat
KG7EJT Tim Nair
Shack Sloth
K0MP Bill Leahy
AB4PP John Paul Keon
WF4I Derek S. Brown
NC6B Donald K. Olsen
Certificates Issued
Activator
PA7ZEE Geert Paulides 1000 points
KR7RK Keith Schlottman 500 points
SQ9APD Bartosz Kuzma 250 points
WX7EMT Chris Caviezel 250 points
HB9GHJ Urs Gredig 250 points
KF7SEY Troy Greenberg 100 points
KE6MT Rex Vokey 100 points
Chaser
PA7ZEE Geert Paulides 25000 points
DL2YBG Klaus-Peter Dreessen 10000 points
WA7SB Rick Hallowell 10000 points
N6JZT Hal Rounds 10000 points
SQ9APD Bartosz Kuzma 2500 points
W2SE Bruce Babcock 2500 points
M0WBG Neil Challis 2500 points
YO8AZQ Adrian Done 1000 points
SP6NVB Bogdan Morawski 1000 points
WX7EMT Chris Caviezel 500 points
KF7SEY Troy Greenberg 500 points
IS0LYN Mario Lumbau 500 points
2E0DIJ Duane Yates 250 points
YO6EVA Gajdo Eva 100 points
K6ABM Austin Munger 100 points
Activator Unique
HB9BIN Dr, Juerg Regli 1000 summits
M0JCQ James Stevens 100 summits
Chaser Unique
K8LJG John C. Kroll 500 summits
Summit to Summit
KR7RK Keith Schlottman Silver
M0JCQ James Stevens Bronze
WX7EMT Chris Caviezel Red
Mountain Hunter
N9XG Ian Offer Bronze
HB9FZE Stefan Weilenmann Bronze
Mountain Explorer
HB9DST Paul Schreier Platinum
K1LIZ Elizabeth Burns Bronze
M0VFC Robert Chipperfield Bronze
Microwave Award
G4AZS Adrian Bayling 250 km 23 cm
VK1AD Andrew Moseley 200 km 23 cm
VK1AD Andrew Moseley 100 km 23 cm
I have received several very generous donations towards the costs of running SOTA and these are very much appreciated. Now that certificates for printing yourself are issued without charge these donations help fill a gap in the income stream so many thanks to those of you who have been so generous.
There are still a few Polo Shirts left which are available with a free incentive to purchase them; once these are sold I will not be purchasing new stock so now is your last chance to acquire one of these embroidered shirts.
Reported above is the amazing achievement of HB9DST in activating so many unique Associations which raises the question is there a demand for an award to mark these sort of achievements? Both Activator Unique and Chaser Unique are summit orientated, should there be a class within this award to show the number of Associations activated or does this discriminate unfairly against those unable to access many Associations? Comments to me please.
That is all for this month, stay safe on the hills,
73
Barry GM4TOE
SOTA Awards Manager
========================================================
NORTH AMERICAN REPORT from Skip K6DGW
Hi All,
Despite a month of moderately severe weather across most of North America [and some very serious weather in E. Texas and Louisiana as I compile this], SOTA activity in the new world was up in all categories. CW operation seems to be higher than past history, and I'm not sure what to make of the 7 AM QSO's.
NA Statistics for Aug
Produced: 08/29/2017 at: 10:00:24
Total Activations: 732 [639]
Total Activators: 204 [178]
Total Chaser QSO's: 7709 [5995]
Total Chasers: 290 [270]
Unique Summits: 545 [430]
BAND # LAST MONTH
3.5MHz: 20 ( 0.2%) [ 12 ( 0.2%)]
5MHz: 36 ( 0.4%) [ 95 ( 1.6%)]
7MHz: 1265 ( 16.5%) [ 1243 ( 20.9%)]
10MHz: 843 ( 11.0%) [ 765 ( 12.9%)]
14MHz: 4941 ( 64.6%) [ 3447 ( 58.1%)]
18MHz: 196 ( 2.5%) [ 125 ( 2.1%)]
21MHz: 14 ( 0.1%) [ 19 ( 0.3%)]
28MHz: 18 ( 0.2%) [ 9 ( 0.1%)]
50MHz: 11 ( 0.1%) [ 11 ( 0.1%)]
70MHz: 1 ( 0.0%) [ 0 ( 0%)]
144MHz: 289 ( 3.7%) [ 182 ( 3.0%)]
433MHz: 11 ( 0.1%) [ 13 ( 0.2%)]
1240MHz: 3 ( 0.0%) [ 8 ( 0.1%)]
MODE # LAST MONTH:
AM: 7 ( 0.0%) [ 0 ( 0%)]
CW: 5502 ( 71.8%) [ 4287 ( 72.3%)]
Data: 1 ( 0.0%) [ 5 ( 0.0%)]
FM: 300 ( 3.9%) [ 202 ( 3.4%)]
SSB: 1844 ( 24.0%) [ 1432 ( 24.1%)]
AWARDS AND ACHIEVEMENTS:
Etienne, K6ATN, sent an advance copy of the Pacific Northwest News which featured Tim, KG7EJT: "Tim Nair-KG7EJT reached Mountain Goat status during his July 16, 2017 activation of Tiffany Mountain (W7W/OK-029). Dennis-WA2USA, in Indiana, was the fourth contact on Tim's activation that got him to 1,000 points. This particular activation was mostly on 20 meters, with one contact on 40 meters."
"In a Facebook Post, moments after his activation, Tim stated, 'Just reached Mountain Goat level!!! Thanks for the contacts!!!'. 'This is truly an amazing accomplishment', stated Todd-W7TAO. 'You are really the first native Washington SOTA Mountain Goat, earning most of your points in our great state. This is an exceptionally difficult task with most six point or higher peaks being rugged and accessible for only a very short season. Well done sir. This is a big deal and to boot, you are a first class operator!' Tim's first SOTA activation was in January 2015 and it took him 182 summits in order to reach 1,000 points. When Tim started doing SOTA, all contacts were made using 2 meter FM for the first 1½ years. About 90% of all his activations have been 2m FM. The Tiffany Mountain activation was an exception as it was strictly HF."
(Ed Note: Please forgive me if I posted Tim's achievement last month, I don't have access to that issue right now)
The PNW News also made note of SOTA on the front cover of "QRP Quarterly," two "QST's [US],", "Practical Wireless [UK]," "Amateur Radio [VK]," "Break-In [ZL]," "CQ [US]," as well as a featured article with KG7EJT [see above] in "Mountaineer Magazine." Of course, Todd, KH2TJ, was featured reclining on W7M/EM-110 on the cover of the ARRL Annual Report for FY 2016. [Todd signed my copy of that photo for me]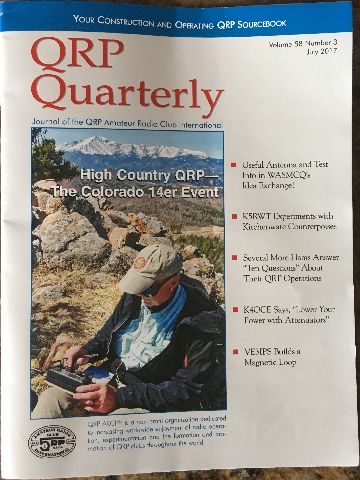 Steve, K7PX, on W0C/FR-052 w/Pike's Peak in background. credit: Steve, WG0AT.
Bob, K0NR, provided a photo of the "QRP Quarterly" cover. Bob's article about the Colorado 14'er Event was published in that issue.
Curtis, KC5CW, provided a fairly detailed report on activation of two "virgin" 14'ers, W0C/RG-004 and W0C/RG-002, along with Andrew, KD5ZZK [who drove up from Baton Rouge LA] and Jamie, N6JFD [who drove 1,000 mi east from So. Lake Tahoe CA]. Curtis mentioned as an aside that Andrew achieved Triple Mountain Goat on this expedition.
RESOURCES:
Having a hard time explaining "prominence" to someone new to SOTA? Try this link, thanks to Chris, KJ6WEG: www.youtube.com/watch?v=i8P5a1uqIMw
Dan, NK6A, will be presenting a talk on SOTA at the ARRL Southwest Division Convention on 16 Sep at the Torrance Marriott [Los Angeles]. More info at www.hamconinc.org/welcome-1.html
FUTURE EVENTS:
Ryan, WG4I, advised: "Pat (KI4SVM) and myself (WG4I) have a planned Georgia/ Carolinas camping trip for October 20 – 22 at Sarah's Creek in NE Georgia, see https://www.fs.usda.gov/recarea/conf/recarea/?recid=10497. The campground is primitive with pit toilets but at least one of us will have a generator for cooking, charging batteries etc. I will be bringing my pop-up trailer if anyone wants to come but needs a place to sleep."
"There are many SOTA summits within minutes of the campground. It will be an excellent opportunity to activate multiple summits in a day, contact others doing adjacent summits in the area and get your SOTA complete. It is under a 2 hour drive from Atlanta, Ashville, Charlotte, Knoxville, and many other areas."
"Let me know if you are interested. Several of us will be getting there on the 19th to get the good spots and reserve adjacent ones for those on their way. We should be able to put several tents on one site to split site cost."
WORDS TO THE WISE:
Being the wizards of electricity that we all are, I'm sure we all know to avoid thunderstorms, but sometimes lightning can happen out of the blue. Todd, KH2TJ [of ARRL Annual Report fame], offered the following, also reported in the Sacramento Bee:
"August 24, 2017 6:28 AM A hiker survived a lightning strike Tuesday near Donner Summit, according to the California Highway Patrol. A couple from Austria and a Fairfield friend were on a hike Tuesday from Donner Summit to Squaw Valley when the Austrian man pulled ahead of the others at Tinker Knob near Soda Springs, says a post on the CHP Valley Division Air Operations page on Facebook. His two companions heard 'a large crack and saw a flash of light'."
"Wary of further strikes, the other hikers stayed off the ridge and called 911 about 2 p.m. They called to the man, who was able to wave his arms and shout. A CHP helicopter arrived to rescue the man, who was taken first to Tahoe Forest Hospital in Truckee and then to the UC Davis Firefighters Burn Institute for treatment."
COLORADO 14'er REPORT:
The "Colorado 14'er Event" is an annual mountaineering event on the Colorado peaks over 14,000 ft [4,268 m] elevation. It was inevitable that when SOTA arrived in North America, it would find a home in the event too. From Bob, K0NR:
"I did some analysis of the Colorado 14er Event activity using information from the SOTA database. I know this is not complete because not all operators submitted their logs to the database, but this is still the best record that we have. In particular, some of the more casual VHF FM operators have not adopted the SOTA infrastructure, so this data will likely under-report VHF activity. We will keep encouraging these folks to use the SOTA database."
"In recent years, we've had two major shifts in the event guidelines:
We expanded the summits from the traditional 54 Colorado 14,000 foot mountains to include all SOTA summits in Colorado (W0C).
We expanded from Sunday only to all weekend (Saturday and Sunday)
Because of these changes, I have not attempted to do comparisons with previous years. See http://www.ham14er.org/ for detailed info on this event."
"There are 777 QSOs with W0C summits entered for August 5 and 6 (UTC date). The actual event is based on Mountain time in the US, so this may skew the results slightly.
The most popular band was 20m (51%) followed by 2m (16%) and 30m and 40m both at 11% of the total."
"The most common mode was CW (60%), followed by SSB (24%) and FM (16%). There were 26 summits listed as activated and some summits had more than one activation over the weekend."
"No surprise, some familiar SOTA calls were on the air cranking out the most QSOs:
KX0R 141
NS0TA 111
N0TA 81
W0CP 78
KD0YOB 66
Of course, we had super participation by the chasers. Here are the top chasers for the event:
W0MNA 20
W0ERI 19
W7RV 19
WA2USA 18
W4EX 18
NG6R 16
"There were many S2S contacts but I have not been able to tabulate those in time for the Sept SOTA News. It was a super SOTA weekend…thanks to everyone that participated! Thanks to Guy N7UN and Andy MM0FMF for providing the data."
REPORT OF THE MONTH: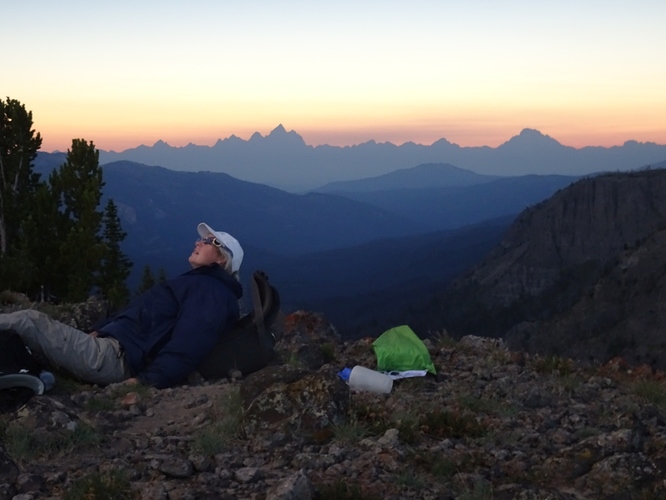 Eclipse in the Teton Wilderness. credit: unknown
Bob, AE7AP, reported that they just returned from an 11-day backpacking trip into the Teton Wilderness including some activations in Yellowstone National Park.:
Trip Highlights & Challenges
· We had lots of solitude – often going days without seeing anyone.
· Many of the trails were not cleared – there was tons of deadfall once off of the main-line trails.
· The "Parting of the Waters" was cool – it is a creek that is located perfectly on the continental divide. It splits & one half goes to the Pacific Ocean & the other half to the Atlantic. https://en.wikipedia.org/wiki/Parting_of_the_Waters
· Seeing the start of the Yellowstone River – where the North Fork & South Fork converge.
· The South Fork of the Yellowstone is one of the most remote & beautiful on-trail places that we have been. It has solitude, green meadows, flowers, waterfalls, huge snow cornices … It didn't look like anyone else had been in there for a while.
· The trail out of the South Fork had some snow chutes remaining – I was glad that we brought our microspike traction devices.
· It was fun to see the Grizzly (at a distance). We ran into another trio that had a close encounter (not fun).
· We simultaneously ran into a N. Bound & S. Bound CDT hiker at a trail junction (one of us on each trail). The S. Bound hiker was Jerry-KG6ENL ("Trailblazer") – whom we previously saw July-4 in the Scapegoat coming out of the Dearborn River! The N. Bound hiker was Rabinath from the Netherlands - Blog: http://www.trailjournals.com/journal/entry/575675
· We were in the path of totality on a 10,200 ft. prominence for the eclipse & had the Tetons as a backdrop – it was perfectly clear, calm, and awesome!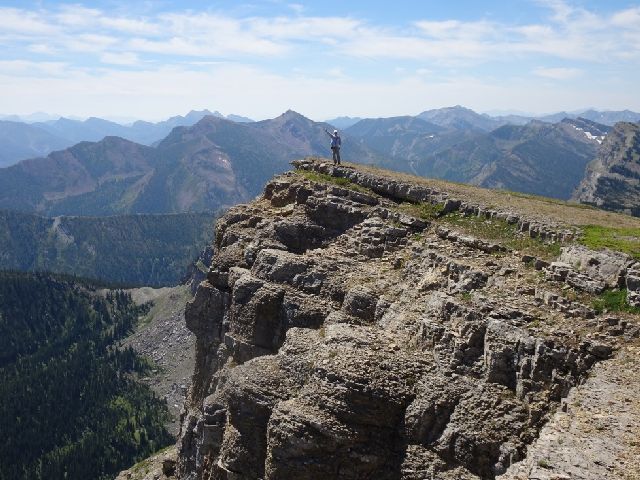 Rob, AE7AP, on top of the 'Chinese Wall' in the Bob Marshall Wilderness [Montana]" Credit: Rob's wife Barb
· Working Vick-K7VK from W7Y/TT-076 – this was the only local QSO that I was able to make. I had lots of time & Wx crunches that limited my time on 40m.
I really, really, appreciate those chasers that worked me first (and hopefully spotted me) on each summit. I didn't have APRS coverage in this area & I doubt that RBNhole got me reliably either – particularly when I changed plans! The first chasers on each of the six summits were: VE7HI, KB7HH, NQ7R, N4MJ, K0MP, & WA6MTZ. Thank you!
73,
Rob – AE7AP
Thanks to all who contribute news items to me, that's going to finish off New World SOTA for Aug.
73,
Skip, K6DGW
NA SOTA Reporter Dude
Sparks NV DM09dn
k6dgw@foothill.net
============================================================
SOTA France – Robert F5HTR
Hi to all, activator and chaser!
Activity in France for both "F and FL" associations has been really good during this month.
I have counted at least 191 activities for the month of August. There were probably many more I think!
Of course, this is a new record for France to get a such intensity of traffic !
We could hear the usual folks from France : F4EGG, F5LKW, F5UBH, F6HBI, F8FEO, F6HCC, F4FHV, F5RGY, F5UKL, F6EFI, F4VRL, F5HTR
During this festival month, a lot of foreign Ham's came to activate French summits.
SOTA activity is increasing, and we noticed duing the past month a kind of Radio tourism. A lot of Hams come to hike or to ride bicycles around the mountains, especially in Vosges.
We could hear this month, as expedition in Vosges :
F/M0BLF/p, F4EGG/p, F5HTR/p, F5UBH/p, F/PB2T/p, F/M0WML/p, F/G4WSB/p
The greatest surprise was meet Hans and his friend on the departure parking place !
Thanks to the mast on his rucksack, we recognized him easily. It is not very often to meet another OM in mountains !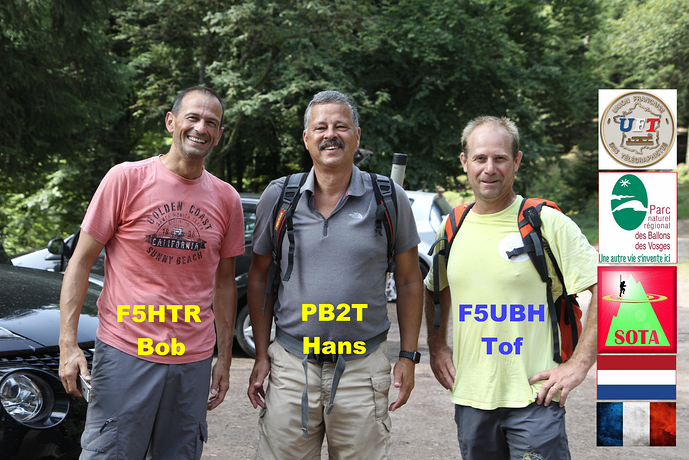 My best 73 to you all
F5HTR
Bob
F & FL association manager
============================================================
SOTA NEWS FROM JAPAN by Toru JH0CJH
August is summer holiday season and large number of activations have been
made.
SOTA activities in August 2017 in Japan as of 31 August 2017.
Activation
Total 196 Activations with 1790 QSO have been made and reported.
Activation increased by 32% compare with last month.
JA: 180 activations with 1627 QSO from Summits
JA5: 9 activations with 125 QSO from Summits
JA6: 3 activations with 14 QSO from Summits
JA8: 4 activations with 24 QSO from Summits
Chasing
Total 427 Chasing QSO have been made and reported. QSO numbers of Chaser
increased 46% compare with last month.
JA: 392 chasing QSO
JA5: 1 chasing QSO
JA6: 34 chasing QSO
JA8: 0
Normally JA5 and JA8 areas have a very small number of activations or almost
None at all, but as you can see the number of activations increased
drastically because of summer holiday season. Actually I had a short trip
to JA8 Hokkaido in the summer holiday with my wife and made an activation for
a very short period.
Also 11 August was national holiday in Japan. It was newly settled last
year as Mountain day. This new holiday also pushed up the number of SOTA
activations.
Keiichi JF8LPB made SOTA activations from Germany and Czech. Brief report of
his activation is shown below, and reported by John's blog site.
On 19 August, Keiichi made activations from three summits with DK9JC John
and DO1DJJ Joerg. John and Joerg are very supportive and Keiichi appreciates
their hospitality very much. Keiichi uses a FT2D and FT-817ND with 25W linear
amplifier with Inverted V antenna. The results of his activation were:
DM/RP-158 Erbeskopf 816m 20m SSB: 11 QSO
DM/RP-187 Wildenburgerkopf 664m 2m FM: 4 QSO. 1 QSO has been made with John
who stayed at RP-158
DM/RP-171 Roesterkopf 708m 2m FM: 1 QSO 40m SSB: 14 QSO
On 27 August, Keiichi made activations from two summits. He appreciates
OK2SRO Honza's advice to avoid the activation on Friday and Saturday because
there was ham radio festival on these dates. Also he made a QSP of his
operation to his ham radio friends.
Results of his activation are shown below
OK/ZL-043 Kycera 757m 2m FM: 5 QSO
OK/ZL-045 Hostyn 734m 2m FM: 23 QSO
He got a huge pile-ups of calls from local stations including OM and SP stations
on 2m, at Hostyn summit.
Keiichi states special thanks to DK9JC Johnny during his stay in Germany.
Keiichi is Class 1 licensee in Japan but he got novice class license by
mistake of the regulatory authority. DK9JC John gave great support to so Keiichi could properly
gain a Class A license in Germany.
With regards to the biggest ham radio event in Japan, Tokyo Ham Fair 2017
will be carried out on 2 and 3 September this year. SOTA Japan association
will promote in this event again with Yama to Musen stand. I will report this in next monthly report.
73, Toru
---
============================================================
THE VIEW FROM THE NORTH - 116 By Rob and Audrey G4RQJ
Very little to report this month, no personal activations due to medical problems, poor conditions on the bands and rising local noise levels (up to S8) and a worrying lack of activations on local fells.
So how about a few tips for people starting on hill walking and sota activation.
Make sure someone knows where you are going and when you intend to be back Be careful if using unfamiliar circular routes that you do not know. Start out with straight up down routes and take notice on the way up of diverging paths and note which one you take, particularly in woodland, (make a little mark on a tree, draw an arrow on the ground with the tip of a walking pole or place a recognisable stone) Once on the summit mark where you arrived as the start of your return route, if you stay for a long activation cloud may creep up and hinder your finding your path again. You may be cold by this time and the problems of a different route down will be much harder to deal with. In my (Robs) case you may find exposure that upsets vertigo, or a river not easily crossed or any number of man made obstructions and a turn back will be hard if darkness is approaching. Good maps and compass skills are the way to go as is a gps assuming the batteries are up to it! but knowing your downward escape route is invaluable. Two of the questions we have been asked on a summit in cloud are, "Which is the way down?" and "Where is the way back to the car park?" Knowing where you started from is important! Most of this is basic Boy Scout stuff but few people seem to know it Take care, have fun and remember to let your backup person know you are down .
Back to business and we hope to be at Telford Rally in September and also to attempt a few hills in the area, our first activations for some time. This will be a test of our abilities so hope it works out ok. If not we may have to cut this column to an occasional basis instead of monthly. We hope for the best.
Meanwhile That's all for now.
Take care out there
73,
Rob and Audrey G4RQJ
========================================================
*********** SOTA NEWS PART 2 FOLLOWS BELOW ********