SOTA NEWS NOVEMBER 2017 - Part 1 of 2
Editorial - by Mark G0VOF
Welcome to the November 2017 edition of SOTA News.
My thanks go to the following contributors:- Barry GM4TOE, Skip K6DGW, Roy G4SSH, Kevin G0NUP, Geert PA7ZEE, Peter ON4UP, Toru JH0CJH, Warren ZL2AJ.
73, Mark G0VOF
========================================================
The October 2017 edition of SOTA News was viewed more than 1,135 times.
SOTA AWARDS OCTOBER 2017 from Barry GM4TOE - SOTA Awards Manager.
October provided another large number of award claims which, as seems to be usual, arrived as a batch early in the month and then a second batch late in the month. Congratulations to husband and wife team KB1RJC and KB1RJD and to Phil VK2JDL on reaching Mountain Goat. The Chasers provided some firsts with DL1FU on 150k points (always a gentleman on the key slowing down to the Activator's speed without fail), S52CU with 50k Chaser points, a Mountain Goat and a Platinum S2S claim all in the same month; also AC1Z on 25k points and DD0VE and DL4TO on 10k points. Also of note are EA2DNO and EA2DCA who managed to achieve Platinum Mountain Explorer awards.
Well done to all claimants, high scoring or new entrants, this facet of our hobby offers a wide range of opportunities for all participants.
Trophies Issued
Mountain Goat
KB1RJC Herman W. Weber
KB1RJD Merle E. Weber
VK2JDL Phil Clancy
Shack Sloth
EA3HP Daniel Horta Fortuny
ZL2AJ Warren Harris
KY7S Douglas Henderson
Certificates Issued
Activator
S52CU Mirko Curk 1000 points
VK2JDL Phil Clancy 1000 points
K0NR Bob Witte 500 points
EA2EHX Bidal Ibarra 250 points
WU7H Josh Gibbs 100 points
VE6AGR Kenneth M. Smith 100 points
Chaser
DL1FU Friedrich Winzer 150k points
S52CU Mirko Curk 50000 points
AC1Z Bob Daniels 25000 points
DD0VE Ralf Mantyk 10000 points
DL4TO Gerhard Sedlak 10000 points
KR7RK Keith Schlottman 5000 points
K3TCU Gary Kulling 5000 points
W2SE Bruce Babcock 5000 points
YO6CFB Laszlo Bako-Szabo 1500 points
LZ2OQ Georgi Aleksov 1000 points
DD6UDD Detlef Wabersky 1000 points
KY7S Douglas Henderson 1000 points
YO6CFB Laszlo Bako-Szabo 1000 points
N9XG Ian Offer 500 points
YO6CFB Laszlo Bako-Szabo 500 points
SQ9JXW Jakub Kasprzycki 250 points
YO6CFB Laszlo Bako-Szabo 250 points
KD0FZT Eric Philipp 100 points
YO6CFB Laszlo Bako-Szabo 100 points
Activator Unique
N9XG Ian Offer 100 summits
Chaser Unique
K3TCU Gary Kulling 500 summits
EA5IJG Angel Garcia Ibanez 100 summits
Summit to Summit
S52CU Mirko Curk Platinum
JP3DGT Katsushige Oiji Silver
LZ1GJ Jany Ganchev Silver
AC1Z Bob Daniels Silver
Mountain Hunter
M0WBG Neil Challis Platinum
AC1Z Bob Daniels Platinum
W2SE Bruce Babcock Gold
DL4TO Gerhard Sedlak Gold
Mountain Explorer
EA2DNO Iratxe Urizar Platinum
EA2DCA Alberto Diaz Platinum
N9XG Ian Offer Bronze
AC1Z Bob Daniels Bronze
Microwave Award
VK2JDL Phil Clancy 100 Km 23 cm
Once again I have run out of Mountain Goat trophy blanks but these are on-order and the manufacturer should have them with me in about a week.
Now my favourite gripe – the folk who cannot be bothered to check their logs before ordering awards. Once again I have been faced with orders for awards where the date of qualification has either been put as the order date or, even worse, just the current year when it is blatantly obvious that the award stretches back over a number of years. I can understand that establishing the actual award date for Mountain Hunter or Mountain Explorer is not immediately obvious but the general Chaser and Activator awards (and their variants) can be easily established in a few minutes by simply downloading your relevant log as a csv (comma separated variable) file, opening it in any of the spreadsheet programs that reside on the vast majority of computers and checking the score against the date. If I can do it you can do it so why do some people expect me to do the work for them?
Many of you will be aware that I started a poll about proposed new merchandise items to try to establish what I should be stocking into the coming year. Ideally I would like to stock everything but when you consider the range of sizes (and colours) that I have to hold, and the initial cost, I have to be pragmatic. The general view was that personalised name badges and full zip fleeces would be of interest so I have put the wheels in motion to stock the fleeces and arrange for samples of the badges to be produced prior to making them available to order. I anticipate these will be added to the shopping site in the next few weeks. Further stock will be purchased when funds permit so I may well run another poll in the new year to establish what else might be of interest – thank you one and all for your input, it definitely made the decisions easier.
Following on from the acquisition of new stock I am planning some enhancements to the shopping website to make ordering easier AND to provide me with better stock control records (with forewarning of potential out-of-stock items). One enhancement I am planning is to allow people to personalise their certificates and trophies; in the past if you wanted different or additional wording you had to email me with your requirements and I had to amend the database so that you could order. In future this will be a feature you can add at the time of ordering. Other changes are also planned and I hope to announce these in my next monthly report.
I am planning a visit to EA8 in December so if you want awards and/or merchandise before late December you will have to place your orders no later than 21 November and for trophies in the first week of November (by 7 November at the absolute latest). I will not close the shop but I shall be away from 30 November until 18 December and that is very close to the last posting date for Christmas delivery.
Please stay safe on the hills
73
Barry GM4TOE
SOTA Awards Manager
========================================================
NORTH AMERICAN REPORT from Skip K6DGW
Greetings from Canada, US, Mexico, Central America, Greenland, and most of the Caribbean. It seems like October just flew by. The ARRL Sweepstakes [CW], sort of the granddaddy of NA contests, will be upon us on 4-5 Nov which for me signals the real beginning of winter. Our statistics show the beginning of the winter decline in SOTA activity:
NA Statistics for Oct
Produced: 10/29/2017 at: 19:16:10 UTC
  Total Activations:    594  [618]
   Total Activators:    189  [201]
 Total Chaser QSO's:   8906  [6410]
      Total Chasers:    289  [292]
     Unique Summits:    434  [443]

BAND     #               LAST MONTH

3.5MHz: 23 ( 0.2%) [ 18 ( 0.2%)]
5MHz: 57 ( 0.6%) [ 39 ( 0.6%)]
7MHz: 2645 ( 29.9%) [ 1383 ( 21.9%)]
10MHz: 1037 ( 11.7%) [ 887 ( 14.0%)]
14MHz: 4291 ( 48.5%) [ 3378 ( 53.6%)]
18MHz: 368 ( 4.1%) [ 134 ( 2.1%)]
21MHz: 147 ( 1.6%) [ 13 ( 0.2%)]
28MHz: 25 ( 0.2%) [ 8 ( 0.1%)]
144MHz: 236 ( 2.6%) [ 412 ( 6.5%)]
220MHz: 1 ( 0.0%) [ 3 ( 0.0%)]
433MHz: 6 ( 0.0%) [ 10 ( 0.1%)]
1240MHz: 3 ( 0.0%) [ 4 ( 0.0%)]
2.3GHz: 1 ( 0.0%) [ 2 ( 0.0%)]
10GHz: 1 ( 0.0%) [ 0 ( 0%)]
MODE # LAST MONTH:
AM: 1 ( 0.0%) [ 2 ( 0.0%)]
CW: 6801 ( 76.8%) [ 4441 ( 70.4%)]
Data: 2 ( 0.0%) [ 3 ( 0.0%)]
FM: 244 ( 2.7%) [ 425 ( 6.7%)]
SSB: 1805 ( 20.3%) [ 1428 ( 22.6%)]
Still waiting to hear news from the rumored XE Association…
AWARDS AND ACHIEVEMENTS: At the very beginning of October, Merle, KB1RJD, and Herm, KB1RJC, made it into Mountain Goat status. Merle is the third female MG in North America and is the first east of the Mississippi River. Additionally, they are the 3rd North American couple to enter "Goatdom." It is believed that they are also the oldest, they report their ages as "North of 80." Should anyone wish to challenge that claim, we can arrange a "Fact Check."
EVENT REPORTS/PLANS: We had several events and gatherings of the NA SOTA Community in October:
Elliott, K6EL,reports: "Twenty SOTA folks, tried and true, gathered October 21st for the sixth annual SOTA lunch at Pacificon. Show and tell was supplied by K6EL and by Elecraft chief designer N6KR, who brought his new antenna and soft case for the KX2. He discussed keyer paddle improvements and on-board logging for that transceiver, in addition to data mode pluses and minuses. He also revealed that logging might come to the KX3. Elecraft discounts were available to attendees, as well as sections of very light weight 300 ohm twin-lead. People were surprised at the small size of the glass SOTA trophy shown by K6EL. Everyone commented about how nice it is to see the faces behind the microphones, and everyone vowed to return next year."
N6KR
[Thanks to Oleh, KD7WPJ, for the photos]
Dean, K2JB, reported on the W4G North Georgia SOTA Campout Weekend: "Earlier this year, Ryan, WG4I (ex. KK4OSG) put forth the idea of having a SOTA Campout in the North Georgia area sometime in October. The W4G/NG region just happens to have numerous SOTA summits close to a centrally located campground, so plans were made and queries send out to local activators."
"On Oct 19-22, WG4I, KI4SVM, WH6LE, KI4TN, K1LIZ, KM4JKM, KJ4RSW, KN4BEV, and K2JB all participated in the 1st W4G/NG SOTA Campout. The airwaves were definitely radio active during those days. Chasers surely had their dials turning getting to all the spots. Among the participants, we logged 43 activations, 156 S2S QSOs, 26 Completes, 276 Earned Activator Points and 838 total QSOs. Several activations were qualified with at least the first QSOs being S2S! WG4I had one activation with 8 S2S QSOs. KM4JKM and KN4BEV were first-time activators both scoring S2S contacts. KI4SVM, K2JB and WG4I even managed night-time activations."
"We were all very busy every day but were able to relax in front of a big campfire in the evening with good food, good beverage and good stories about the day's activations. WX could not have been better as we had SEVERE CLEAR conditions on the summits. The numbers convinced us that we've hit upon a good formula for feeding our SOTA addiction as well as a way to introduce SOTA to newcomers. So, stay tuned for the next W4 SOTA Campout which is already being planned."
"A thousand thanks to all the faithful chasers who, even though they had already worked a particular summit that day, jumped right in the pileups to give all of us activators that thrill of the chase. Photos can be seen at https://flic.kr/s/aHsm4VspyS "
Also from Oleh, KD7WPJ: "WC6J, K6KNS, and myself, KD7WPJ, activated KU6J Memorial Peak. It was nothing special in this activation, except that we did it during CW WW SSB Contest. It was a challenge for K6KNS to make minimum 4 contacts, using phone. He was lucky to make one contact with beginner KM6HMQ on 2 m FM. Then we saw spot on SOTAWatch from K7ORG, who was on SSB on 20 meter from Sardine Peak just 17 miles from us. He was very impressed when all three of us made S2S QSOs with him. Finally two of us walked down ridge to be outside of activation zone and added two more contacts to K6KNS log on 2m FM."

[Ed Note: W6/NS-204, located near Truckee CA, was dedicated as "KU6J Memorial Peak" following the death of Eric June, KU6J]
And in the Event Plans department … from Keith, KK7RK: "The Oro Valley Amateur Radio Club will hold their annual hamfest on Saturday, November 11. I was thinking it might be fun to have an informal SOTA ops meetup there? Anybody interested? See http://www.tucsonhamradio.org/hamfest "
"The hamfest is held right off the I-10 freeway in Marana so it's super easy access from Phoenix and Tucson. If you're looking for a nearby peak to the hamfest, I think the closest may be Safford Peak (aka "the Sombrero"), W7A/PE-088."
NEWS: Elliott, K6EL, noted, "Like nearly all issues of QST the past 18 months, there are references to SOTA in multiple places in the November issue. K1ZK's set-up on W1/DI-004 is on page 61. A pic of KH2TJ on peak in Glacier National Park is on page 90."
REPTILES: With the increasing SOTA activity, it is easy to forget that outdoor activities have their hazards and risks. This from John, K1JD: "As you have read, Fred [KT5X] and I had quite an adventure last week. Red Mesa activation involves an 8 mile RT hike on uneven ground with loose rock and cacti. We were about 2 miles in when Fred was bitten by a small prairie rattlesnake. Statistically about 25% of snake bites are "dry" which means no venom is injected but those are poor odds. There were only two viable choices: calling 911 or hiking out."
"We knew that most snakes around here, prairie rattler included have hemotoxic venom. The occasional Green Mojave rattlesnake found in this part of NM is the exception: it's venom is neurotoxic which attacks the central nervous system and would therefore require calling 911. Far away from public roads, this amounts to betting one's survival on the timely arrival of a Life Star helicopter. With the Prairie rattler, we figured we had more time to act and chose to hike out. It took nearly an hour to get back to my truck. Maybe it was the best decision, maybe not."
"Having decided to hike out, the next question was how to mitigate the effects of the bite. We've all seen enough Western movies to know what you're supposed to do when a rattlesnake bites you: apply a tourniquet to isolate the bite from the bloodstream, cut around the wound and suck out the poison. NO! For hemotoxic venom, the poison will reduce platelets dramatically so one could bleed to death and the isolated tissue on the bite side of the tourniquet could become necrotic and need to be amputated. You can try to suck out the poison using one of those REI pumps but it won't help. Buy something else at REI."
"I had taken a few photographs of the snake that the ER Doc and staff found interesting. However, it's unclear whether this information assisted poison control in formulating the antivenin treatment. It was definitely a "cocktail" of several types. I was unaware that anti venom today is mostly powdered and has a much longer shelf life. That's on the plus side; on the negative it took over 30 minutes to mix and get it into the saline bag for the IV. The dosage was very carefully calculated. The first antivenin treatment was one of 4 over 2 days."
"Please take this opportunity to read up on snakebites, there are many articles on the Web that you'll find informative. Snakes are one of many risks that activators take because we believe the probabilities associated with them are small. Maybe so, but obviously they are not zero. Another good idea is to hike with a buddy especially when going into remote areas. Life or limb could depend on it."
That will do it for October's report from the New World. Please activate safely, take a buddy if possible, leave an itinerary and schedule with someone, and be aware of dangers around you.
73,
Skip, K6DGW
NA SOTA Reporter Dude
Sparks NV DM09dn
k6dgw@foothill.net
============================================================
SOTA NEWS FROM JAPAN by Toru JH0CJH
October 2017, it was a miserable month indeed. Out of 31 days in October, 23 days were rainy days in Tokyo and 10 days out of 23 days were torrential rain, Really miserable for mountaineers! Accordingly fewer activations have been made although October is the best season for hiking in Japan.
However the numner of QSO's per activation has increased. Perhaps huge numbers of fanatic activators push up the number of QSO's.
In October the following number of activations have been made.
SOTA activities in October 2017 in Japan as of 31 October 2017.
Activation
Total 133 Activations with 1959 QSO have been made and reported. Activation numbers are still high like last month, but other than JA
regions activity is lower. Perhaps the reason is weather the conditions.
JA: 125 activations with 1919 QSO from Summits
JA5: 3 activations with 13 QSO from Summits
JA6: 1 activation with 4 QSO from Summits
JA8: 4 activations with 23 QSO from Summits
Chasing
Total 270 Chasing QSO have been made and reported.
JA: 249 chasing QSO
JA5: 1 chasing QSO
JA6: 20 chasing QSO
JA8: 0
There was a plan of VK/ZL/JA <> EU S2S Event on 21 Oct 17, however bad weather caused by a typhoon jeopardized our plan of action. However some brave SOTA lovers made activations under severe conditions. Two such fanatic SOTA lovers JI1IHV and JI1UPL made an activation from Minoyama
JA/ST-017. Good Job! Hira san.
On 13, 14 October, Andrew VK3ARR returned to Japan! He had a business trip to
Korea HL and dropped off a couple of days in Japan. He arrived on Thursday
and he flew to Shikoku Isl JA5, Kagawa prefecture for activation from Mt.
Kiyama JA5/KA-015.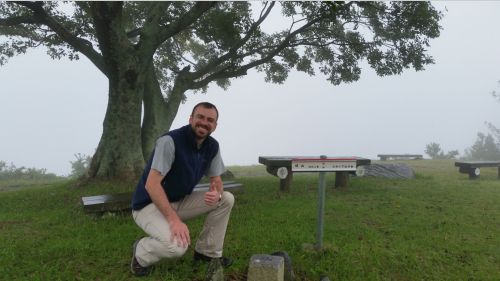 Andrew VK3ARR
Surprisingly he came back to Tokyo within a day and had a party in
Akihabara, famous as Electric city. We enjoyed in Shabu-Shabu restaurant
again in Akihabara with Hira san JI1IHV, Leo JI1UPL, Andrew JI1GBE/VK3ARR,
me JH0CJH and JM1NCT Aki san (from left side).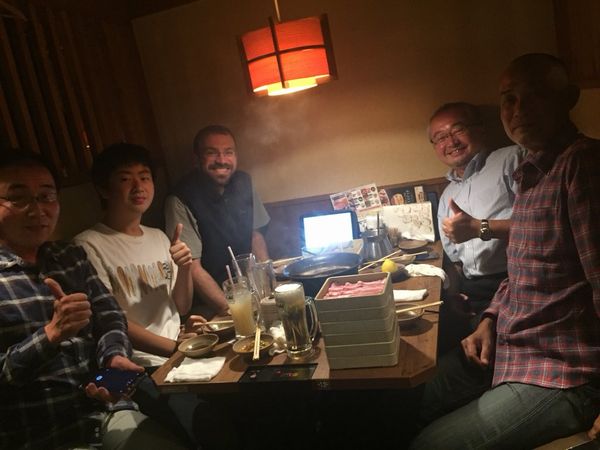 Next day, he flew to Hokkaido JA8 and made an activation from JA8/OM-038 Mt
Kijibikiyama. By this success of activation he made all 4 JA SOTA
association activations. Congratulations.
---
============================================================
ON SOTA Winter Activation Day – Peter ON4UP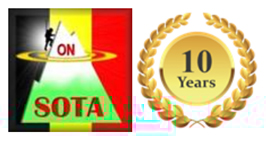 Dear SOTA participants,
Slowly we are getting towards the end of our 10-year ON association celebration year. A lot of special 10-year ON association awards have already been issued. In order to end this great year I propose we do it with a big bang: The first ON-SOTA-winter activation day on Sunday 17 December 2017!
You are kindly invited to participate by activating, chasing and making summit-2-summit contacts as much as you can with the focus on Belgian SOTA-summits.
This day will be the ideal opportunity to:
     activate those missing ON summits to get the 10-year ON association activator award


     chase those missing ON summits to get the 10-year ON association chaser award


     go for the 10-year ON association complete award


     provide the necessary contacts for international SOTA chasers so that they can get the 10-year ON association chaser award


     make ON summit2summit contacts on 2m


     activate in rain, snow but most probably in sunshine …


     have a lot of SOTA-fun!

Remember that you can get a 3-point winter bonus for ON SOTA summits with 6 or 8 points … even if you already have activated that summit during the summer!
73, Peter – ON4UP
ON SOTA association manager
========================================================
*********** SOTA NEWS PART 2 FOLLOWS BELOW ********