SOTA NEWS MAY 2018 - Part 1 of 2
Editorial - by Mark G0VOF
Welcome to the May 2018 edition of SOTA News.
My thanks go to the following contributors:- Barry GM4TOE, Skip K6DGW, Roy G4SSH, Kevin G0NUP, Warren ZL2AJ, Paulo CT2IWW, John G4YSS, Phil G4OBK, Mark M0NOM.
73, Mark G0VOF
========================================================
The April 2018 edition of SOTA News was viewed more than 910 times.
========================================================
SOTA AWARDS APRIL 2017 from Barry GM4TOE - SOTA Awards Manager.
April was a very busy month for awards with many participants claiming the higher levels but also a notable number of newcomers claiming the entry level awards.
Congratulations to Mountain Goats HB9DGV, HB9IIO, KW4JM, K1LIZ, SP9PND, HB9NBG and LZ1GJ and Shack Sloths KU4R, EA4AAI, W0SEB, AA1VX, KJ4M, CT1IXX and W7GJ. Higher level awards have been claimed by SP9PND (Activator 2500) and Supersloths W2SE and KA5PVB.
Most unusual claim of the month goes to G4DQB, Chaser 500, all Narrow-boat Mobile. Is there anybody else out there who can claim unusual locations or modes for Activations or Chases?
Trophies Issued
Mountain Goat
HB9DGV Rolf von Allmen
HB9IIO Daniel Mottier
KW4JM Scott Carter
K1LIZ Elizabeth Burns
Shack Sloth
KU4R Robert Warden
EA4AAI Gerardo Campó Cayuela
Certificates Issued
Activator
SP9PND Milosz Kocierz 2500 points
HB9DGV Rolf von Allmen 1000 points
SP9PND Milosz Kocierz 1000 points
HB9NBG Rene Lutz 1000 points
K1LIZ Elizabeth Burns 1000 points
KW4JM Scott Carter 1000 points
LZ1GJ Jany Ganchev 1000 points
SP9PND Milosz Kocierz 500 points
WX7EMT Chris Caviezel 500 points
N4SFR Ron LaGrone 500 points
SP9PND Milosz Kocierz 250 points
SP9PND Milosz Kocierz 100 points
WD4CFN Steve Ghertner 100 points
K6ABA Javier Beltran 100 points
RA9WJV Marat Adgamov 100 points
OK7JR Jan Reznicek 100 points
K7EEX Mark Vickers 100 points
Chaser
W2SE Bruce Babcock 10000 points
KA5PVB Chuck Dobbins 10000 points
JA1VRY Tadashi Mishima 5000 points
K5QR Andrew Bonnot 5000 points
OZ6ABZ Jens Dehlendorff 5000 points
G4DQB Geoff Wallis 500 points
W0SEB Ken Kjar 1000 points
AA1VX Dave Glow 1000 points
KJ4M Gene Eighmy 1000 points
CT2IXX Jacques Diegues 1000 points
KU4R Robert Warden 1000 points
W7GJ Lance Collister 1000 points
AA1VX Dave Glow 500 points
2E0DIJ Duane Yates 500 points
2E0DIJ Duane Yates 500 points
JA6FCL Kazuo Koga 500 points
DL9KWA Karl-Hermann Wolski 500 points
2E0DIJ Duane Yates 250 points
N3NNU Joseph Ladd 250 points
K0DAJ Donald Jarvinen 250 points
SP9MOV Krzysztof Krawiec 100 points
2E0DIJ Duane Yates 100 points
Chaser Unique
NS7P Phil Shepard 5000 summits
ON6ZQ Christophe David 4000 summits
K6EL Elliott Pisor 3000 summits
OZ6ABZ Jens Dehlendorff 1000 summits
JA1VRY Tadashi Mishima 500 summits
Summit to Summit
SP9MA Jaroslaw Surma Platinum
9A6CW Ivica Zitko Silver
9A6CW Ivica Zitko Silver
9A6CW Ivica Zitko Bronze
9A6CW Ivica Zitko Red
LZ2OQ Georgi Aleksov Red
SOTA Complete
PA7ZEE Geert Paulides 100 summits
Mountain Hunter
AA1VX Dave Glow Platinum
CT2IXX Jacques Diegues Gold
LZ1WF Vasil Filchev Gold
JA1VRY Tadashi Mishima Gold
F4HHL Johan Barre Silver
2E0DIJ Duane Yates Bronze
2E0DIJ Duane Yates Bronze
K8HU Robert Rippel Bronze
ZL3JD Phil van Kuilenburg Bronze
Microwave Award
GM4WHA Geoff Harper 50 km 23 cm
VK1AD Andrew Moseley 150 km 13 cm
VK1AD Andrew Moseley 100 km 13 cm
This is an ongoing theme of my monthly reports – do folks just ignore what I write? I have a continued stream of inaccurate claims: missing qualification dates, wrong certificate ordered, incorrect email address and this month (quite honestly, beyond comprehension) two wrong claims for trophies.
In future if the wrong (or missing) information is on the order you will receive the order as placed or, if information is missing, the order will be cancelled. I spend enough time working on awards and do not have the time available to chase participants for the information which is required. The information is available from your database log, check it and make sure your claim is accurate, then double check your order to make sure what is on the order is what you require. I will always try to help if you are not certain what to claim, my contact details are on the website and on the shopping site.
SOTA will have a table at the Glasgow Rally at Braehead Stadium on 20 May; I will have a range of SOTA merchandise available but if you require something specific please contact me beforehand and I will bring it with me. This can save you the significant cost of postage
Please take care and be safe on the hills
73
Barry GM4TOE
SOTA Awards Manager
========================================================
NORTH AMERICAN REPORT from Skip K6DGW
Well, hello again from the Western Hemisphere! As you can see from the statistics below, things picked up smartly in April. I don't recall having over 9,000 chaser QSO's before … but then there are lots of things these days I don't recall. Buried in those numbers is a noteworthy achievement: We had what I believe is the first activation in XE2-Mexico Norte'. XE2N activated XE2/AG-008 on 8 April. Among other chasers he may have worked whose reports are buried in what seems like terabytes of SOTA activity is a QSO with XE2AT on 2 m FM. The only reason I know this is that the statistics generator produces a hugely long detail file, and XE are the last associations before the summary statistics.
NA Statistics for Apr 2018
Produced: 04/29/2018 at: 21:27:54 UTC
  Total Activations:    709  [494]
   Total Activators:    211  [167]
 Total Chaser QSO's:   9137  [7913]
      Total Chasers:    326  [286]
     Unique Summits:    428  [355]

BAND     #               LAST MONTH

3.5MHz: 83 ( 0.9%) [ 75 ( 0.9%)]
5MHz: 287 ( 3.1%) [ 333 ( 4.2%)]
7MHz: 2294 ( 25.2%) [ 2309 ( 29.5%)]
10MHz: 1112 ( 12.2%) [ 1362 ( 17.4%)]
14MHz: 4312 ( 47.3%) [ 3204 ( 41.0%)]
18MHz: 208 ( 2.2%) [ 214 ( 2.7%)]
21MHz: 12 ( 0.1%) [ 14 ( 0.1%)]
28MHz: 6 ( 0.0%) [ 16 ( 0.2%)]
70MHz: 1 ( 0.0%) [ 2 ( 0.0%)]
144MHz: 776 ( 8.5%) [ 265 ( 3.3%)]
433MHz: 5 ( 0.0%) [ 5 ( 0.0%)]
1240MHz: 2 ( 0.0%) [ 2 ( 0.0%)]
MODE # LAST MONTH:
AM: 1 ( 0.0%) [ 2 ( 0.0%)]
CW: 6426 ( 70.6%) [ 6215 ( 79.6%)]
Data: 2 ( 0.0%) [ 2 ( 0.0%)]
FM: 781 ( 8.5%) [ 271 ( 3.4%)]
SSB: 1890 ( 20.7%) [ 1313 ( 16.8%)]
AWARDS AND ACHIEVEMENTS: Several this month
Tennessee has a new Mountain Goat – John, KJ4ZFK. Congratulations John!
Fred, KT5X [also known as WS0TA] reports that Mike, AD5A, has earned the first NM Iconic Peaks Award by a non-NM summiteer. Mike activated Wheeler Peak, Hermit, Taylor, Capulin, and Pedernal beginning in Sep 2015 and completing on 10 Apr 2018. Congratulations Mike!
Fred also called attention to the New Mexico Century Award for 100 chaser QSO's with NM summit activations. So far, there have been four awards: NS7P, K6EL, W0MNA, and W0ERI. Now, Phil, NS7P, joins … well – no one … he's the first to be awarded the NM Double Century Award!! Fred says he has at least 30 medallions on-hand in 4 different designs.
Ryan, WG4I, reported on the W4 Campout at Roan Mt. State Park [TN] where he joined the Herd along with Scott, KW4JM. Dean, K2JB, conjured up a large pot of his famous SOTA Chili and dutch oven cornbread for Friday dinner. Congratulations to our new goats and many thanks to Dave, AE9Q, for the photo.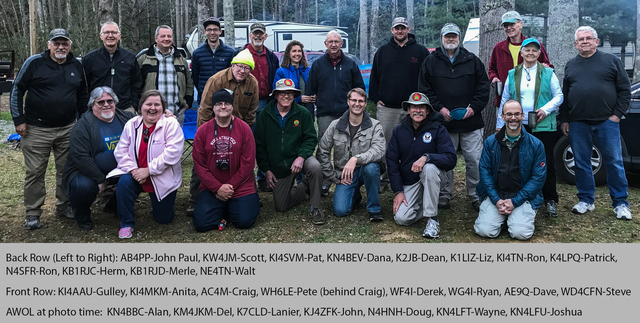 Bob, K0NR - W7M AM, reported that Lance, W7GI has joined the Society of SOTA Shack Sloths with 604 chaser points in April.
And finally, Phil, NS7P [yes, that Phil … again] worked his 5,000th unique summit as a chaser, thanks to Dean, K2JB, who made a quick QSY to 20 to bring it off.
NEWS, EVENTS, and HAPPENINGS:
From Elliott, K6EL, proof that the Second Law of Thermodynamics is wrong and there really is a free-lunch in the Universe, "Hold that date - Our sixth annual free SOTA lunch at Pacificon will be at 12:15 pm on October 20, 2018, again at the Marriott, San Ramon, California, hosted by K6EL. Details and RSVP's later."
From Jeffery, AA6XA: "Five of us gathered at the Cannery Cafe in Hayward for brunch and some great conversations about radio, SOTA, and hiking. In attendance were Rex KE6MT, Jeff AA6XA, Vic AB6SO, Alex KK6ZLY, and Alex's YL Haley."
"After enjoying our meal at this excellent eatery, we split up and headed to different mountains for some activations. KE6MT went to NC-191 and was forced into a VHF only activation after some red ants decided to invade (after he put up his HF antenna, of course). AA6XA went to NC-432 and had a pleasant activation in the shadow of a repeater without any ants (or ticks). AB6SO drove up to CC-072 with some new antennas to test. K6EL made the arduous trek up to NC-423 and got in some summit-to-summit action. KK6ZLY was not able to join in the activations this time. Tim AF6TF had other plans in the morning, but was able to get up to a summit in the afternoon."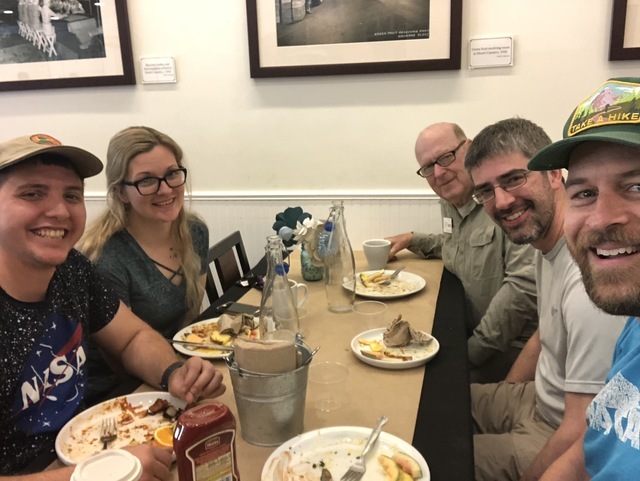 [Ed. Note: Hayward is a city on the east side of San Francisco Bay, south of Oakland. Famous for a fault that is seismically active and may be the trigger to California's "Big One," it is in the center of a region with many summits, a number of them fairly easy access]
Bob, K0NR, reports that Steve, WG0AT, has rebuilt the Cafepress web page for Colorado 14er Event merchandise. You can find it at https://www.cafepress.com/mtngoatwear
John, VA7JBE sent a photo of an activation of Mt. Garibaldi, VE7/SL-009. Some summits are walk-ups, some are drive-ups, and some are ski-ups.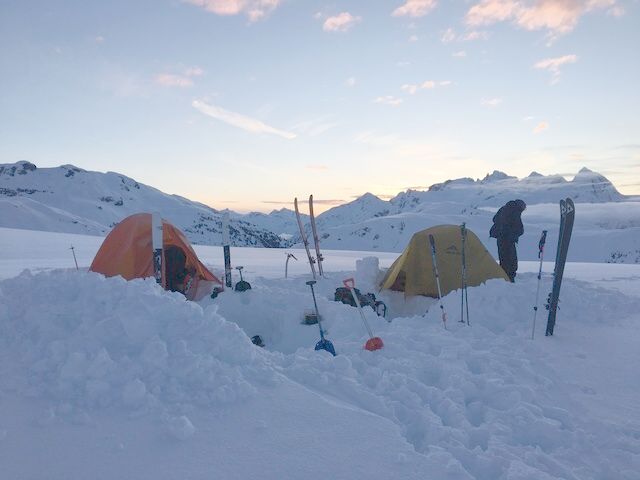 K0NR provided a link https://youtu.be/iu9Zps4hQbg to a presentation on SOTA to a radio club which may be of value to those asked to do likewise for their club. I [K6DGW] also have a Powerpoint presentation from several years back given to the No. Calif. Contest Club. Possibly we should start a library of resources?
And to close, while not North America, I did receive an announcement of what I think may be the the first word from South America SOTA:
"Brazil will join the SOTA community for good… Tomorrow, April 19th, around 16UTC, PY2GTA/p, João Carlos Vieira, will activate PY2/SE-012. He will use 15 and 20m, SSB, CW and FT8. This is the first activation of Brazil and hopefully many more will follow. PY2 is the first association in Brazil association with 804 SOTA summits and 15 regions. Brazil is a huge country (200m inhabitants, 8 515 767 sq km and more than 32.856 amateur radio operators) which will add several thousands summits to the SOTA Program.
Vy 73
Pedro, CT1DBS/CU3HF
That's it for this issue, thanks to all of my contributors. Summer is almost here … in the N. Hemisphere.
Skip K6DGW
NA SOTA Reporter Dude
============================================================
Czech tour – Phil G4OBK
I am in Czech Republic with Victor GI4ONL. We are doing 8 days SOTA in the western part off the country bordering Germany. Eva HB9FPM helped us in applying for Czech licences, so Victor is OK8VM and I am OK8CDX. We will be active on summits until 9th May using the 20, 30 and 40 metre bands.
73 Phil G4OBK
============================================================
SOTA Portugal – Paulo CT2IWW
Despite the unpleasant weather, close to 15 stations were setup on SOTA summits on April 21st, in observance of SOTA Portugal Day. Rain and wind were a constant presence on some of the activations but that didn't hamper the will and high spirits of the activators.
Contacts were made on HV, VHF and SHF, with most of the activations occurring in the northern and central regions. A few of these stations operated all day long and sported multiple operators.
The original date for the event was April the 7th but the worsening of weather conditions on the eve, brought on by a cold front that spawned high winds, thunderstorms, rain and snow forced its postponement. However, for those stations that did brave the elements on that day (and a few did go up the hills) the organization of the SOTA Portugal Day extends the offer of a participation diploma.
The electronic diploma will be provided to those who participated, both on the 7th and 21st of April. It can be request to the above emails by sending their activation and/or chase logs, as well as images or videos of their activity.
For further details and more information, the organizers can be reached, via email, at diasotaCT@gmail.com or ctsotaday@gmail.com
Next May 12th and 13th Portuguese SOTA enthusiasts, activators and chasers will meet in Lisbon for the annual gathering. The fifth edition of this meeting will last two days, with the first one (12th) to take place at the ARVM club headquarters, in Moscavide. This day is reserved for a series of presentations. On Sunday, there will be a group activation on a yet to be determined summit, somewhere near Lisbon.
73!
Paulo Teixeira, CT2IWW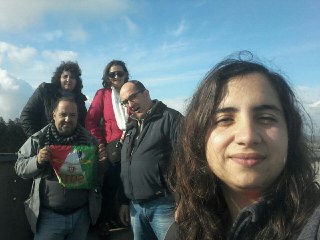 ========================================================
*********** SOTA NEWS PART 2 FOLLOWS BELOW ********