SOTA NEWS FEBRUARY 2016 - Part 1
Editorial - by Roy G4SSH
Welcome to the February 2016 edition of SOTA News. My thanks go to the following contributors:- Barry GM4TOE, Skip K6DGW, Mark G0VOF, Kevin G0NUP, Rob and Audrey G4RQJ, Geert PA7ZEE, Karl M3FEH, Don M0HCU, Marat RA9WIV, Jürg HB9BIN, Toru JH0CJH, Allen VK3ARH.
========================================================
The January 2016 edition of SOTA News was viewed more than 1400 times.
OBITUARY - ERIC JUNE - KU6J
Eric's obituary and latest status of the RBNGate are contained in the North American Report, in part 2 (below).
========================================================
SOTA AWARDS JANUARY 2016 from Barry GM4TOE - SOTA Awards Manager
Welcome to the first Awards report for 2016; may I wish everybody in the SOTA community a very Happy New Year. There must have been an incredible backlog of claims waiting for my attention as this January had many more than usual. OE6KYG is a new Mountain Goat while the Chaser scores grow ever higher with ON4FI and W0MNA on 50k, relative newcomer Amanda VK3FQSO is on 10k, DD0VE 5k and G0SLR on 2500. PA7RA is a new Shack Sloth. Worthy of mention is 4X4-2238 who makes a rare Chaser claim in the short wave listener category (and a Mountain Hunter too), his log makes interesting reading.
Although some folks are waiting on trophies I am unable to arrange for these to be engraved until I find the blanks and arrange for somebody to do the engraving. This should be all sorted sometime in February (but don't hold your breath as the xyl tells me I will be having a vacation!).
Certificates Issued
Activator
OE6KYG Klaus Koppendorfer 1000 points
HB9EIV Michael Rass 250 points
JS1UEH Takeshi Saiki 250 points
IW2NHE Alberto Vago 250 points
JS1UEH Takeshi Saiki 100 points
Activator Unique
OK2QA Rudolf Klvana 250 summits
Chaser
ON4FI Karel Naessens 50000 points
W0MNA Gary Auchard 50000 points
VK3FQSO Amanda Bauer 10000 points
DD0VE Ralf Mantyk 5000 points
G0SLR Roy Lisle 2500 points
PA7RA Rien Aarden 1000 points
VK2BFC Frank Scott 500 points
VK2VW Brett Churchyard 500 points
VK1VIC Anthony Vickers 500 points
HB9EIV Michael Rass 250 points
VK2VW Brett Churchyard 250 points
K9OSC Robert Brock 250 points
VK2VW Brett Churchyard 100 points
PA7RA Rien Aarden 100 points
NP3MR Alberic J Medina Ramirez 100 points
2E0EYT Jamie Melhuish 100 points
Chaser Unique
DD0VE Ralf Mantyk 500 summits
VK3FLCS Brett McAliece 100 summits
Chaser(SWL)
4X4-2238 Eyran Willis SWL 500 points
Summit to Summit
VK1AD Andrew Moseley Platinum
EA2WX Marcial Vecilla Gold
VK5PAS Paul Simmonds Silver
OK2QA Rudolf Klvana Silver
VK1VIC Anthony Vickers Bronze
HB9EIV Michael Rass Red
Mountain Hunter
OK2QA Rudolf Klvana Platinum
DK1WI Erhard Hauptmann Platinum
M0WBG Neil Challis Gold
DD0VE Ralf Mantyk Gold
4X4-2238 Eyran Willis (SWL) Silver
SOTA Complete
VK1DI Ian Sinclair 100 summits
VK1AD Andrew Moseley 100 summits
Thanks to everybody for their patience while I completed my house move and the construction of a new workshop (almost there, had to replace the roofing shingles after the winds just after Christmas!). I have found most of the merchandise, just need to find the T Shirts and Polo Shirts to fully return to normal.
I still have to rely on tethering my mobile phone to this computer to gain access to the internet which makes supply of pdf certificates problematic if I do not have sufficient data bandwidth remaining on my account. One day BT Openreach will connect a cable from my house to the pole across the road and I will have normal access to Broadband!
There have been several substantial donations in the last month towards the expenses of running SOTA and I am always surprised at the generosity of the community. Thank you one and all.
Please stay safe on the hills
73
Barry GM4TOE
SOTA Awards Manager
=========================================================
ZL TRIP IN FEBRUARY from Don M0HCU
For the last 3 weeks of February, I'll be in ZL Land. Although primarily a holiday, I do hope to be able to activate a few (very easy!) summits.
I'll be wandering around the top of the North island between Monday 8th February and Wednesday 17th February and will hopefully be able to fit in some summits in Auckland, Northland and Waikato/Coromandel. If security at BHX don't put a damper on everything.
I should have my 817 (with HF amp) but only 5W VHF (yet to decide if it'll be useful to take a 2M Moxon or not.)
Mainly, these activations will be local morning/afternoon although there may be the possibility of an evening one Friday/Saturday 19/20th (local) depending on weather and a proposed trip to a local observatory.
I'll alert whenever possible, I'd hate to go all that way and fail to contact anyone!
Thanks!
Don M0HCU
=======================================================
Juerg, DL/HB9BIN/p will activate summits in the DM/HE region until the 4th February.
=======================================================
THE MYSTERY OF THE X-RAYS - by Geert EA8/PA7ZEE
During my first activations on the island of Gran Canaria this year, we suffered from poor conditions on 20 m. On Pico de Las Nieves EA8/GC-001 I was QRV on the time that I had put in the Upcoming Alerts and sending for about an hour 'CQ DE EA8/PA7ZEE/p' without a reply. Then it was Saku OH9XX who put me on SotaWatch. A few minutes later I had made enough QSO's to qualify and when it dried up I went QRT and moved to Moriscos EA8/GC-003.
Again, no reaction there for 90 (!) minutes of code sending. I became a bit desperate till Lothar DL3HXX put me on SotaWatch and I could also qualify for this summit.
It must have to do with the suffix of these Chasers that they picked up the weak signals of the 3 W out of my KX1 into de W3EDP antenna system ! I like to thank both for their efforts to work me and put me on SotaWatch.
Hereunder a picture of some summits in this SOTA Paradise. I hope to activate more summits during my stay in the coming week, so please listen out for me and put me on SotaWatch.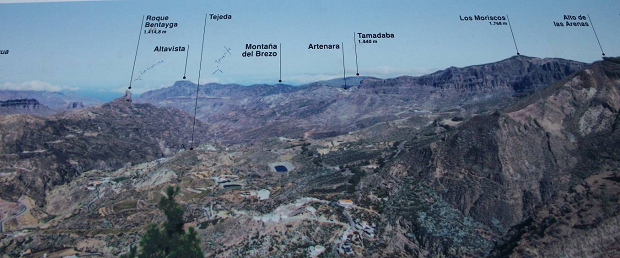 We have a fantastic stay on the Island. Every day the weather was between
22 and 26 C, no rain and a nice wind to cool you down with a good beer.
73 Geert
================================================================
SOTA REPORT UPDATE from EA8 by Geert EA8/PA7ZEE
Activations on 24th of January 2016
After a trip with friends from Gran Canaria, there was time on Sunday for two activations. First to de Arucas EA8/GC-026 on 407 m asl, where I found a nice place for my Shack in Nature in the shade.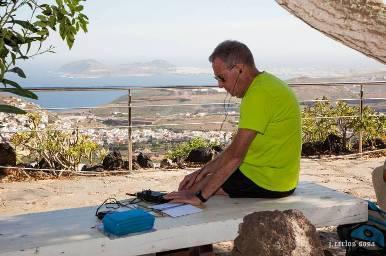 Antenna was a wire in a tree and I WAS QRV at 11:34. my First QSO at 11:36 followed with a QSO with Roy G4SSH who put a Spot; mni tnx Roy.
After the Spot the QSO's came easy in my log but, reports were typically 239, so I concluded that conditions were poor.
After QRT at 11:57, I went to the next summit, Pico de Gáldar EA8/GC-025 at 433 asl. My antenna mast was put on the concrete pole of the trig point and the wire was as a sloper antenna. QRV at 14:37 and a lot of QRM from the antenna masts of telephones. No QSO after 45 minutes calling so I went QRT. This was the first time since 2008 that I had not one QSO during an activation. Clearly the propagation became poorer in the afternoon.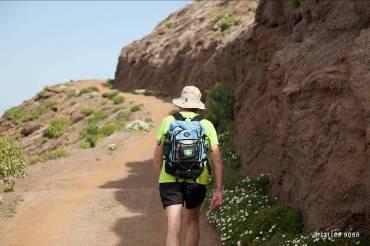 Maspalomas, 27/1/16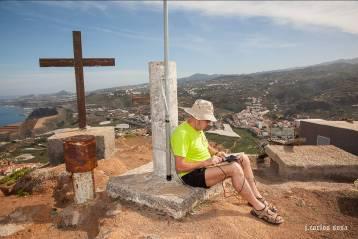 Geert, EA8/PA7ZEE
======================================================
SOTA REPORT FROM RUSSIA (Urals) from Marat RA9WJV
On February 1st it will be one year since association Russia Urals R9U has been organized and started its activities. It gives me a great pleasure to announce that during this time a small, but very active team of Summit Activators has been formed.
The participants of this group has successfully conducted 20 activations of Urals summits. At the same time, the first activation happened on the second highest mountain of Southern Urals, the Bolshoi Iremel (1582m) in winter bonus time.
Unfortunately, the cold and rainy summer of 2015 has somewhat slowed down the potential activity of programme enthusiasts. But currently even some new supporters of SOTA programme have decided to join in the coming season.
See you on the air! 73 !
Marat A. RA9WJV
==========================================================
SOTA UK REORT
THE VIEW FROM THE NORTH 97 - from Rob and Audrey G4RQJ.
A New Year but the same foul weather which makes New Years Eve
or Day activations a non starter so we aim for Sunday the 3rd but fortune has other
ideas. Those not interested in the car problems that can beset a SOTA operator can
safely miss the next few paragraphs.
Saturday evening while doing a family favour and fuelling the car, we pick up a
puncture, no problem, we have a spare, we insisted on this from the dealers when
buying the car in view of all the miles we do in awkward places (SOTA!). Tonight the
car is in a difficult position so we call the RAC. The chap arrives and gets the wheel
off while we proudly produce the untouched new spare from its hidey-hole. After
some struggling it transpires that we have a 5stud wheel and a 4stud hub!!!. Some
expletives later the only answer is to drag the car to the only tyre shop in town, now
shut but open on Sundays. (The next nearest open is in Kendal, 30 miles away, sadly
mostly under water from the recent floods and there a big call out fee).
Sunday is mostly spent at the tyre shop, the case is, of course, dead and fortunately they have a replacement, but when they get it on they cannot get the vehicle tyre pressure alarm to go out. Eventually it transpires that the pressure figures on their chart do not agree with the manufacturers ideas printed on the door pillar! No hill today!
All this leaves us with no spare and no RAC support as they have already sorted the problem once: this is not a good idea out here in the sticks. Words with the agency (30 miles away) they will order a replacement straight away and go off looking for a white car with a 4stud spare and 5 stud wheels that was on their lot at the time! Mid week the wheels arrives at the agents (still 30 miles away) but guess what, no tyre.
They order a tyre but it's Tuesday the 12th by the time it's on the rim and it's still 30 miles away. In desperation we drive through and collect it but of course we've missed another Sunday albeit the weather was awful, what else.
Sunday 17th and snow, but by now we have cabin fever as it's nearly two months since our last outing. As we drive out to Arnside the slopes are full of folks sledging etc, bear in mind that snow accumulation is rare so close to the sea. The Knott is no exception and the steep path across the field has been turned into a Cresta Run with a proliferation of snowmen. Once through the gate at the top of the field there are few people and it's nicely quiet. The latest theory of letting the woods run wild is well on the way and it's difficult to get to our usual fallen tree seat, soon it will not be possible. We start out on 5 MHz where the usual frequencies are now occupied with refugees from forty and their ailments and we are unable to raise any interest so we migrate to 7Mhz cw where a contest and the loss of auto spots results in zero response and we move up 10MHz.
Here we pick up a spot and the pile up starts but this reveals a serious flaw in planning, I (Rob) have left my glasses in the car, without them I cannot read the call sign I have written on the pad, neither can Audrey because my writing without them is unreadable. We shout the gen to each other but it's not 18wpm! We are now also wearing hoods as the snow has started again, not nice snow but nasty fine hail that does not make hearing easy, so if we worked you and you're wrong in the log, sorry and drop us a mail and we will correct it. We have now been here a couple of hours and it is getting cold so we miss out 20m Sorry again and go to 2 fm and where are the faithful? Somewhere else, we raise just three stations , Dave G6LKB offers to spot us but by this time we have had enough and beat a retreat musing on whether to start self spotting in the future. My glasses turn up in a pocket in my cold weather trousers that I didn't know I had, back at Walney the snow has gone!
Sunday 24th Jan and the forecast is a little better but we are not totally convinced so decide on Gummers How another local small one. As we drive out we notice that the Hoad Hill (Near Ulverston with a full size replica lighthouse on top, see web cam for full details) is in cloud, rather unusual. The parking spot for Gummers How is a reasonable car park about a mile along the fell road heading for Kendal that leaves the A592 just outside Newby Bridge. This car park can be very busy in good weather and the hill is a nice introduction for new walkers with super views over Windermere and a proper mountain feel about it. Today the cloud starts about twenty yards up the fell road and is quite thick at the car park with just a few cars of the more hardy there.
We decide to join them and slog up through the rain wind and cloud, not to mention the plentiful donations of our new environmental saviours the cows. On the top the views of the cloud are better, now it is only a few yards away in all directions but we set up and are soon in action on 5MHz, unfortunately no one else seems to be and we eventually leave for 7 MHz, 5 Mhz has been so poor for chasers lately we are considering dropping what was a guaranteed band. On 7 MHz we located our club station on Roa Island for the lifeboat charity event (we were in action there yesterday on the air from the Lifeboat house mechanic's office but elected for the pleasure of the hills today).
Forty was in a funny state again with sudden changes of skip and on cw we worked just three more stations before things dried up. Calling on 10 and 14 MHz produces just one more contact! Five contacts in over an hour is not good and we may be reduced to self spotting if it continues. Perhaps two metres will be better, not so, Roy near Nelson is our only SSB contact. He gives us 59 but can hear no one else, neither can we! On to FM always a winner and our first contact Dave LKB offers us a spot but as we have had nearly two hours of bleak we decline an just work those on frequency, two contacts later that's it no more callers.
Eight contacts from a normally popular summit in two hours is not good, but better than watching Sunday afternoon TV. hopefully things will perk up soon. Meanwhile
Take care out there
73
Rob and Audrey
G4RQJ
PS
The enclosed link may help people planning trips (we don't know where most of them are but they may be a minor road on your route). The road north beyond Dunmail Raise is reported to be closed until at least Easter
http://www.cumbria.gov.uk/floods2015/roadclosures.asp#
=============================================================
SOTA ON TOP BAND - Mark G0VOF
Hello everyone & welcome to this month's edition of SOTA on Top Band.
Two activators successfully activated on Top Band during January with both enjoying good conditions.
First this year was Miro OK1DVM/P who activated OK/ST-070 Horka for the first time on 160m during the evening of the 1st January. Propagation was good with Miro making a fine total of 10 CW Contacts with a variety of different countries.
On the 10th January, Tomek SQ9HT/P again ventured onto Top Band during an activation of SP/BZ-007 Radziejowa during the evening of 10st January. Tomek started his activation on 145MHz FM before moving to 160m where he made a total of 4 contacts, reaching as far as Finland using only SSB. Tomek became the first Polish Top Band activator when he activated SP/BS-008 Wielki Bukowiec (Pasika) on 5th June 2015.
Congratulations & well done Miro & Tomek.
At the time of writing, these were the only Top band activations during January that I am aware of, if I have missed any others please let me know.
On 1 January, Miro OK1DVM/P Activated OK/ST-070 Horka & made 10 QSO's (10 CW / 0 SSB)
On 10 January, Tomek SQ9HT/P Activated SP/BZ-007 Radziejowa & made 4 QSO's (0 CW / 4 SSB)
As always, If you do have any suggestions on things that you think should be included, or if you wish to contribute tips, ideas or anything else that you think may help others on the band please email them to me at mark@brownhill.demon.co.uk
Until next month,
Best 73,
Mark G0VOF
===========================================================
SOTA AUSTRALIA REPORT - from Allen VK3ARH
First congratulations go out to Amanda VK3FQSO and Nev VK5WG who gained Super Sloth status (10K chaser points) over the XMAS period. Both are consistent chasers and good operators who are a credit to the hobby.
Both regularly appear in my log and am surprised on the infrequent occasions that neither do. Look forward to many more from both in the future
There are 240 Supersloths internationally and VK has 8. Also there are 259 Mountain Goats internationally and VK has 10. On the topic of goats, Andrew VK1AD (ex VK1NAM) gained 5000 S2S points reflecting the effort he has put into chasing from a summit. VK has two activators (VK3PF & VK1AD) in the top 10 and six in the top 30 for Summit to Summit contacts. We are holding our own in VK.
The 6 and 10m SOTA challenge continues to encouraging the use of these bands. 6m Yagi antennas are proving neither too big nor heavy and with favourable propagation to provide impressive SOTA contacts. Several operators who participated in recent VHF field days did so from a SOTA summit. This combination proves a perfect match. Whilst some don't pursue contests they are interested in the SOTA contact. All contacts add to the activators score which help in the contest. Several VHF operators have made positive comments regarding the number of SOTA folk out and about and the increased contacts as a result.
UPCOMING
"VK3 2016 SOTA ANNUAL CONFERENCE"
Saturday February 13th
VENUE - Moorabbin and District Club Rooms, 33 Turner Road, Highett.
Conference runs 10 AM to 1:00 PM with BBQ to follow.
(Draft Program subject to revision and may start a little earlier).
Topics include, Introduction to SOTA, the Year in Review, Mapping for SOTA, Activating Overseas, What to Carry in your Pack, Home Brew Gear including Rockmites.
For more information, please email Ron VK3AFW on vk3afw@optusnet.com.au
"VK3 Show & Tell" Sunday April 17th.
Anyone seeking to get involved in portable activities be it WWFF or SOTA is encouraged to attend and see first hand the equipment and discuss techniques for operating portable with seasoned operators.
The location of this event will be to the west of Melbourne in the Brisbane Ranges National Park. Commencing at 1000hrs, followed by a free Sausage Sizzle for all attendees at 1200hrs.
The structure of the morning will involve experienced amateurs who will bring along and setup various items of equipment used in portable activities as well as being on hand to answer any questions raised.
There will be many variations of radios and antenna available, covering broad interest. This will show you don't need expensive gear or to spend all day travelling to operate portable.
For more information, please email Tony on showntell@parksnpeaks.org with your name and mobile contact details.
Looking forward to many more contacts with new and experienced operators through 2016.
Allen
VK3ARH
==========================================================
SOTA JAPAN NEWS from Toru JH0CJH
This winter is relatively warmer in the beginning but getting colder after mid January and we had lots of snow fall in middle of January. Even on Okinawa island we had snow fall and they are located in southern part of Japan. It is very rare to have a snow fall in this area. It has been 39 years since the last snow fall there. Even in such climate condition, SOTA lovers in Japan are very active and there was many expedition in January. This may be the reason that Japan appreciates the new year season very much with rather longer holidays. Also on 2nd and 3rd January, in every year, JARL (Japan Amateur Radio League) carries out a New Year Party event on air. It is not the type of contest but many stations are QRV and exchange the new year greetings to each other. Joining in from a summit generates a huge pile up of callers which gives very much fun for the summit activators.
SOTA operations January 2016 in Japan
Total number of Expedition 62 with 954 QSO as of 0900 JST, on 31st Jan 2016
JA: 55 expeditions with 889 QSO from Summits
JA5: 3 expeditions with 48 QSO from Summits
JA6: 4 expeditions with 17 QSO from Summits
JA8: 0 expeditions
73
Toru Kawauchi
JH0CJH
=========================================================
******* SOTA NEWS - PART 2 CONTINUES BELOW *******