SOTA NEWS DECEMBER 2017 - Part 1 of 2
Editorial - by Mark G0VOF
Welcome to the December 2017 edition of SOTA News.
My thanks go to the following contributors:- Barry GM4TOE, Skip K6DGW, Roy G4SSH, Kevin G0NUP, Gary K6YOA, Toru JH0CJH, Warren ZL2AJ.
73, Mark G0VOF
========================================================
The November 2017 edition of SOTA News was viewed more than 1,137 times.
SOTA AWARDS NOVEMBER 2017 from Barry GM4TOE - SOTA Awards Manager.
November, as is usual, was a quiet month for awards but that did give me some breathing space to sort out teething troubles with the revisions to the awards shopping site – see below. Congratulations to the new Mountain Goats – your trophies have already been despatched. Congratulations also to the six chasers reaching the 1000 point Shack sloth level and to YO6CFB on reaching 2500 Chaser points plus his other "catch-up" awards
The observant amongst you will also notice a new award in the Mountain Explorer category – more information below.
Trophies Issued
Mountain Goat
DF7FX Harry Esper
DL2FAZ Sigrid Esper
WA6MM Brad Bylund
N0PCL Nathaniel Lauterbach
Certificates Issued
Activator
N0PCL Nathaniel Lauterbach 1000 points
DK9JC Johnny Chocholaty 500 points
AE9Q David Dostie 500 points
K0DAJ Donald Jarvinen 250 points
YO8SFF Catalin Doroftei 100 points
JF8LPB Keiichi Kondo 100 points
JJ0TRY Jun Yamabe 100 points
IZ4VQS Alessandro Signori 100 points
OE5LXR Alexander Entinger 100 points
K7VK Vick Applegate 100 points
Chaser
YO6CFB Laszlo Bako-Szabo 2500 points
AF7MD Brian Dickman 1000 points
SV2HJW Konstantinos Vaitsopoulos 1000 points
VE2GT Pierre Jolin 1000 points
SV9RGI Giannis Kalouris 1000 points
VK2XXM Robert J Dean 1000 points
W4CCH Chris Caldwell 1000 points
DD2TC Clemens Muller 500 points
W0SEB Ken Kjar 500 points
JF8LPB Keiichi Kondo 250 points
GM0HUU Stephen Macdonald 100 points
Chaser Unique
YO6CFB Laszlo Bako-Szabo 500 summits
YO6CFB Laszlo Bako-Szabo 250 summits
LZ2OQ Georgi Aleksov 250 summits
YO6CFB Laszlo Bako-Szabo 100 summits
Summit to Summit
YO8SST Tatiana Done Red
K7VK Vick Applegate Red
Mountain Hunter
YO6CFB Laszlo Bako-Szabo Gold
YO6CFB Laszlo Bako-Szabo Silver
YO6CFB Laszlo Bako-Szabo Bronze
DD2TC Clemens Muller Bronze
K7EEX Mark Vickers Bronze
Mountain Explorer
K7VK Vick Applegate Bronze
ON6ZQ Christophe David Frequent Traveller
The revisions to the SOTA shopping site have been on-trial for most of November and I think most of the bugs have been ironed-out. I hope the new layout, with fly-out help notes, makes the site more user friendly. There are a couple of new products now available – a very heavyweight fleece with embroidered logo and personalised name badges - both seem to have met with approval by purchasers. The biggest change is the method for ordering trophies (and to a lesser extent, certificates) Trophies are now priced as the un-engraved blank which has just the SOTA logo sand blasted into the back side, you are now able to specify exactly what other information you would like to appear – date format and other information. Beware though, the charge for engraving is per character so the cost of engraving a full date such as "28 November 2017" is much more than the traditional "2017" and is a nightmare to fit onto the blank. I removed the fly-out calendar after several orders were made for the order date rather than the date that the award was achieved; if they are obviously wrong then I try to catch them before going out for engraving but once engraved you have to live with it – CHECK, then double Check please.
Another question I have been asked is "What does a product look like in another colour?" If you proceed through the order process choosing size (where you will find what is in stock in your size, if appropriate) then colour, the image will change to show you a photo of the actual product – clever yes!
Over the years I have had a few parcels get lost in the post and other folks have asked for a tracking number. The facility to pay for a tracked (and signed-for) service has been added to the shopping site and I would encourage people paying for high cost items to consider paying for a tracked, rather than un-tracked service. I can track an item within the UK but once it is on a plane to another country I am unable to track a parcel unless that service is paid for. In the past I have just refunded the cost of products lost in transit (because Royal Mail takes no responsibility once they leave the UK) but this is a direct hit on SOTA's limited income stream and I cannot justify the continued expense. There are a small number of countries where it seems that the local postal service (or customs) appear to loose merchandise with unfortunate regularity and I will remove these from the list of countries we automatically post to – please contact me directly if you have a problem at checkout.
Some months ago the MT were asked about recognising that SOTA is now a global organisation and issuing awards that recognised that summits are now located on all continents (not mainland Antarctica – yet). Many Activators now travel around the World taking their radio equipment with them so I have introduced categories to Mountain Explorer that recognises activations from more than one continent. Whether you are a Tourist or a Globetrotter you will be able to gain recognition that you have activated away from your home continent. Chasers are not left out as I have now extended the Mountain Hunter awards to allow for chasing more continents and other awards have been extended to recognise that many Chasers and Activators are acquiring scores beyond what was ever envisaged when the programme started. Andy (MM0FMF) has implemented some changes to the database which means you should be able to check your award dates a little more efficiently, including these new awards – please use it.
Finally, I leave on vacation to EA8 before this monthly report is published so no orders will be processed until my return on 18 December – too late for Christmas delivery in many countries. In addition, from my return until mid-March I have to undergo radiotherapy treatment every day which may mean that I will not be able to respond to orders quite as efficiently as I normally try to do; please bear with me if orders take a little longer to be despatched.
Please stay safe on the hills
73
Barry GM4TOE
SOTA Awards Manager
========================================================
NORTH AMERICAN REPORT from Skip K6DGW
Hi to all the Summiteers out there, here we are with "All the news from North America, Hawai'i, and Greenland that's fit to print," which would be everything I've received. First the numbers:
NA Statistics for Nov
Produced: 11/28/2017 at: 21:03:26 UTC
  Total Activations:    484  [594]
   Total Activators:    176  [189]
 Total Chaser QSO's:   7275  [8906]
      Total Chasers:    273  [289]
     Unique Summits:    354  [434]

BAND # LAST MONTH
3.5MHz: 42 ( 0.5%) [ 23 ( 0.2%)]
5MHz: 61 ( 0.8%) [ 57 ( 0.6%)]
7MHz: 1887 ( 26.5%) [ 2645 ( 29.9%)]
10MHz: 889 ( 12.4%) [ 1037 ( 11.7%)]
14MHz: 3524 ( 49.5%) [ 4291 ( 48.5%)]
18MHz: 356 ( 5.0%) [ 368 ( 4.1%)]
21MHz: 133 ( 1.8%) [ 147 ( 1.6%)]
28MHz: 28 ( 0.3%) [ 25 ( 0.2%)]
70MHz: 2 ( 0.0%) [ 0 ( 0%)]
144MHz: 188 ( 2.6%) [ 236 ( 2.6%)]
433MHz: 5 ( 0.0%) [ 6 ( 0.0%)]
1240MHz: 2 ( 0.0%) [ 3 ( 0.0%)]
MODE # LAST MONTH:
AM: 1 ( 0.0%) [ 1 ( 0.0%)]
CW: 4847 ( 67.8%) [ 6801 ( 76.8%)]
Data: 2 ( 0.0%) [ 2 ( 0.0%)]
FM: 194 ( 2.7%) [ 244 ( 2.7%)]
SSB: 2095 ( 29.3%) [ 1805 ( 20.3%)]
It's winter over here in the West Longitudes and SOTA activity always falls off but I was surprised by how little it had dropped since last month. CW took a sharp drop coupled with a sharp spike in SSB activity and, while I'm not too sure about 1 AM QSO, I won't deem it a mistake in data entry since Mike, KD5KC and company proved me wrong awhile back, and on 432 MHz as well.
AWARDS AND ACHIEVEMENTS:
Brad, WA6MM, joined the Herd in November, achieving Mountain Goat status with 100% unique W0C summits. His summary: "Many thanks for all the nice comments! It's been quite an adventure for over three years doing 100% unique Colorado (W0C) peaks. This forced me to go to many places I never would have visited. I drove and climbed countless miles that I don't think I'll ever calculate

. We have an amazing group of activators and chasers and I've made many friends – some face-to-face and many on the air.
Although I soloed most of my climbs, I had the pleasure of activating with WA2USA, N2GBR, N0MTN, KI6YMZ, KH7AL, K0JQZ, KC0YQF, and AE7AP. A great group of hams and mountaineers! I also had the pleasure of face-to-face dinners with K0NR, K0JJW, KX0R, N0TA, WG0AT, AD0KE, KC5CW, K7PX, N1OIE, W0CP, N0MTN, KH7AL, N7UN, W6PNG AND W7ODX. Many Mountain Goats in this group!"
"I also wanted to acknowledge my top 15 chasers. W7RV, NS7P, W0MNA, W0ERI, N4EX, NG6R, K6EL, WA2USA, KG3W, K4MF, K6HPX, N6PKT, K0LAF, KX0R, AND NE4TN. Most of this group contacted me on my Mountain Goat activation day. Of course, there are many other chasers and S2S activators that I've worked and that list is much longer!! SOTA would not exist without chasers and I really appreciate all of you looking out for me."
"One last comment…if I were to pick out a single SOTA activator who inspired me the most to keep activating and doing all the off-trail difficult peaks, that would be KX0R. George has an incredible SOTA resume here in Colorado. He also takes the time to document many of his climbs for those who follow. I took advantage of all his trip reports!!"
"Many thanks to all of you who helped me get to this goal. I plan on taking some time off to do some down-hill skiing and spend more time with my xyl. However, a local activator just suggested doing a peak next weekend so who knows!!! ;-)."
And from Mike, KD5KC: "Well, I am laughing my butt off! I just checked, and the 2017 Field Day results are in. KD5KC scored as the #1 station in West Texas, the #2 station in the West Gulf Division, and the #5 station in the United States in the 1C category. What makes it so amusing is that I was running QRP, and was Pedestrian Mobile."
[I put this in Awards and Achievements because Mike made 124 QSO's in 16+ hours of walking, an achievement in itself]
IDEAS: Bob, K0NR, pointed me to a thread on the SOTA Reflector about "Highest S2S." You add the elevations of the two activators. This could be a hands-down winner for those of us in North America since we have so many peaks over 4,000 meters.
NEWS:
Paul, W6PNG, reports 7 total QSO's from Wyoming and Colorado using the new FT8 mode. His description is at:
Having joined the herd, Brad, WA6MM, has decided to branch off with some new goals. He writes: "After finally getting to my initial goal of MG doing only 100% unique Colorado peaks worth more than 6 pts, I've started down another path. Last weekend I participated with N0MTN in an activation with five SOTA newbies. This was my first duplicate SOTA peak……and it felt a bit weird doing that

. However, it was very rewarding activating a peak with this group of hams that are interested in SOTA. I plan to do more of this!! Many thanks to NS7P and WA2USA for help spotting us!"
"This morning I noticed several Colorado guys were activating peaks as well as many others. At the last minute, I thought I'd go activate a peak five miles from my house. The trailhead was six miles away and the hike was under an hour. This was only a one point peak…that also felt weird!

. However, it was really nice being able to activate a summit with warm weather, no wind, and little effort to get there. I was able to work 37 stations over four bands and three modes. I also made four S2S contacts. I also made one DX contact in Finland. Great fun!!"
"I think I'm going to set a new goal to activate peaks from 1-4 points and make as many contacts as possible! I attached a picture of my operating position with the city of Denver far below. This is a great first peak to activate here if you live closer to sea level."
REPORT OF THE MONTH: This month, it comes from Kevin, K4KPK:
"I haven't been on a summit for a while, and I'm a marginally adequate CW op at best. Band conditions were bad when I checked them before leaving this morning, so I thought, 'I'll hang out on SSB for a while. Maybe I won't find enough chasers; maybe I'll pick up 2 or 3 on CW. I hope I can qualify the summit.' Since I was out of practice, it would be OK to work only a few contacts. And Rabun Bald has an observation deck, so there are usually 3-4 people there. But today was chilly and cloudy, and fall colors are long gone, so I had reason to hope that maybe I could work from the deck in peace and quiet."
"And it was quiet… until the 50K road race came through… just as I started working 40 minutes of CW. There was a guy at the base of the tower, wearing a yellow vest. The runners had been told, 'Check in with the guy in yellow. Make sure he writes down your number, to validate that you made it to the checkpoint.' Several of the runners blew past the guy at the base, on their way up the stairs. I was wearing a yellow jacket, so there were runners determined to check in with me (and they assumed my earbuds were for listening to my iPhone). And there were spectators who cheered, every time a runner made it to the top."
"So I sent QRM ('cause it was man-made noise) and QSB (because drowning out the signal is sort of like fading). Somebody's dog ran across my frequency cheat sheet. (I'm not kidding. Big muddy footprint right in the middle.) So I sent DOG."
That's going to do it for this month, lots of holidays coming up, I hope they're enjoyable for everyone. Activate safely,
73,
Skip, K6DGW
NA SOTA Reporter Dude
Sparks NV DM09dn
k6dgw@foothill.net
============================================================
SOTA NEWS FROM JAPAN by Toru JH0CJH
November 2017, weather in Japan became stable and fairly fine although
October was miserable. Accordingly the number of activations increased.
SOTA activities in November 2017 in Japan as of 30 November 2017.
Activation
Total 207 Activations with 2197 QSO have been made and reported.
Activation numbers are increased compare with last month because the weather
became stable. But suddenly cooled down in Japan then Northern region JA8
activities were nil. Till next spring time JA8 activations cannot expected to be many.
JA: 197 activations with 2124 QSO from Summits
JA5: 1 activations with 4 QSO from Summits
JA6: 9 activation with 69 QSO from Summits
JA8: no activation
Chasing
Total 450 Chasing QSO's have been made and reported. According to the increase in the number of activations, the number of chasing QSO's also increased and nearly doubled compare with October.
JA: 431 chasing QSO
JA5: 0
JA6: 19 chasing QSO
JA8: 0
Last month VK3ARR Andrew made all 4 JA region activation, and this month I made all 4 JA region activation. This is second to Andrew's record. It was JA5/KA-015 Mt. Kiyama activation and it was the summits that Andrew also activated last month. It was windy and crisp cold day but anyway I'm very happy that I made this award title following on after our Lord Andrew…hi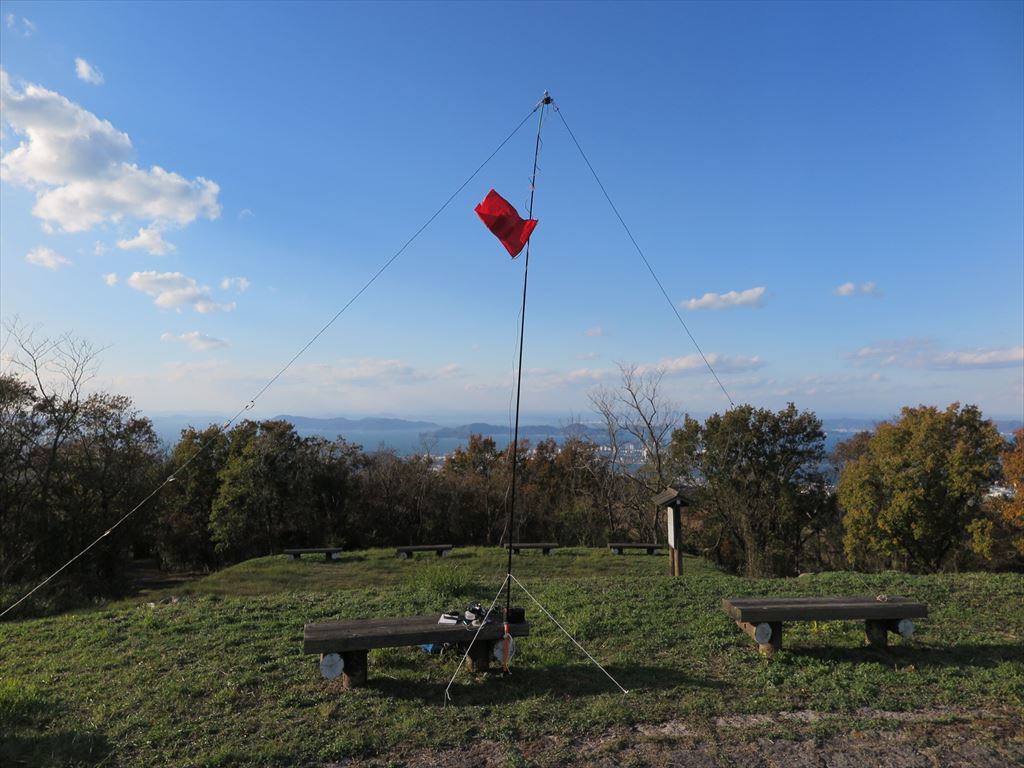 Mount Kiyama
---
============================================================
Epic Two-Day Angeles National Forest Activation - Facts and Figures
By Gary Hawkins (K6YOA)
At the beginning of November, I headed out to Angeles National Forest in Southern California for a couple of nights camping before the campgrounds in the area closed for the winter. My SOTA activations this year had been minimal - a two-year old will do this! I figured I'd get in one good weekend and bag a few points before the end of the year. Rather than describe what happened, I thought it might be fun to provide the essential facts and figures for what was an epic two days of hiking and activating:
Callsign while operating: K6YOA/P - I'm old-school, I like to sign /portable - goes back to my days in England in the 1980's working 2m contests and Worked All Britain.
Nights camping: One - I initially intended to stay two nights but plummeting temperatures and the chance of beating the Friday traffic put me off staying the second.
Distance travelled: Approximately 300 miles - I had no idea I was going to write this when I started otherwise I would have set the odometer on my Toyota 4Runner.
SOTA activations: Seven - Day #1 - W6/CT-004 (Mount Baden-Powell), W6/CT-005 (Throop Peak), W6/CT-067 (Table Mountain). Day #2 - W6/CT-071 (Circle Mountain), W6/CT-246 (Mount Lewis), W6/CT-014 (Kratka Ridge) & W6/CT-010 (Mount Islip).
Total distance hiked over two days: Approximately 17 miles; estimated off SPOT3 tracking plots.
Distance hitchhiked: 6.5 miles - having ascended Throop Peak, I then decided to take the Pacific Crest Trail along the connecting ridgeline to Mount Baden-Powell. This would save much climbing but meant I would come down to a different trailhead. Fortunately, some fellow hikers drove out of their way to get me back to my vehicle.
Total elevation gain overcame: Just 4,500ft - one of the reasons why it was possible to do so many peaks in two days.
Weight of pack: 24lbs – I carry a military-style pack; not built for lightness but great for comfort. Contains my radio stuff, plus water, food, extra clothing, two phones, SPOT3 satellite tracker, whistle/compass, medical pouch and mace (we have mountain lions and bears here!).
Lowest temperature while operating: 37F without the wind chill on Mount Islip. With the wind chill, ice was forming on my pack! Thank God, all the other peaks were pleasanter.
Gear: KX3 running 10W, 40/20/10m LNR Trail Friendly End-fed supported by 6m crappie pole (this is my go-to portable antenna). I pretty much exhausted 2 x 4200mAhr LiPo batteries.
Spotting: AT&T cellular and APRS; 3 of the 7 peaks required APRS spotting; APRS is essential for success in this area.
Operated bands: Predominately 40m and 20m, with a little 2M FM. I ventured onto 17m for one S2S contact when their spot came up on sotawatch.org. I always almost open on 40m; it's my favorite band for activation - 20m is a close second.
Operating modes: almost entirely SSB, and a couple of FM 2M contacts; I carry my FT HT primarily for APRS spotting and emergency access via a repeater.
Number of contacts: 120; most on a single peak 25, least on a peak 14.
Cumulative time operating: 190 minutes - that's a QSO approximately every 90 seconds.
Average site operating time: 27 minutes - when you're trying to activate multiple peaks you must keep moving. As soon as CQ's go unanswered, it's time to change band or pack-up and move into another peak.
Total activator points scored: 46 - I scored zero for Table Mountain (W6/CT-067) as I'd activated it earlier in the year directly after Field Day. Still, this was my best ever two-day operating total.
S2S points scored: 64 - a tidy score; helped considerably by the fact that WA9STI was operating on Mount Islip, while I operated Mount Lewis and Krakta Ridge;
Chasers: All my chasers were greatly appreciated and certainly made my job a lot easier. Special mention to W7RV (Tommy) who got me on all seven peaks and Gary (W0MHA) for getting me on six, and for responding to my very first CQ's TWICE on 20m, without even having to spot!
Screw-ups: One – I plugged a cable from ACC2 port to the Mic on KX3 - the ACC2 now no longer functions with external PPT switch! Note to self, "be more careful."
Number of fellow SOTA operators met face-to-face: One - great catching up with WA9STI again. Scott was coming down from Mount Islip as I was going up. He had worked 57 contacts, mainly on CW; I was hoping some of them would not be put off responding to my CQ calls for zero points! As it was, the chasers came through again and I could get off that cold, cold mountaintop.
Time away from home: 42hrs - my soon to be three-year old was thrilled to see me get home. On the phone, as I was driving back, she told me, "you should get home before it's dark." I did not manage this but she still gave me a massive hug when I walked through the door.
Best regards,
Gary (K6YOA)
========================================================
*********** SOTA NEWS PART 2 FOLLOWS BELOW ********