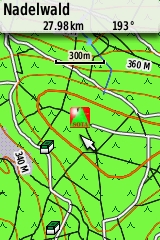 Save the bitmap file in the same directory as the summit gpx file you want to upload and name it the same as the gpx file, e.g.:
SOTA_DM.bmp
SOTA_DM.gpx
Then upload the gpx file to your GPS device using the Garmin POI Loader. The icon will be included automatically.
Download SOTA.bmp
The pic got a bit blurry. That happened when converting the GPSrx screenshot from bmp to jpg. It looks better on the device.
Ahoi
Pom
edit: download link.