Yes, I am (as I type this) working on push notifications for new spots for the next version.
Maybe a spot filter? So I can filter only CW spots. Just like In the old version.
Tnx 73.
Sure, I will look into that.
Rockwell,
I noticed an invalid summit code on an alert this morning (the association I manage, so know the region codes very well). it was just a typo, I'm sure. But when I touched the summit code, sotagoat reported that the summit was invalid, with explanation "This summit's designator expired on 1/1/70 and is no longer valid. You can no longer activate or spot this summit". Except that there would be no such summit code in the database under any date, and this is some kind of default message produced when the summit is not found by a search for the summit seeking validity by date. So rather than having expired on 1/1/70 this case is one where there is no such summit whatever the date. If this message could be a little more specific to the situation it would help avoid misunderstandings. It may require a two step process, first is the designator valid, second is it valid on the date of the activation.
Of course the alert should not have been able to be created at all. But that is another app's problem.
73 Andrew VK1DA
thanks for the new version 1.5.0 with the push notifications option. Vy useful.
Alerts spot on - Thanks Rockwell
The push notifications in v1.5.0 seem to work ok. Re the test notification button, it appeared to produce a popup with a pushbutton for the goat bleep. But no bleep heard. Actual notifications of spots are working though and the ability to build multiple conditions for the notifications is so neat.
I'm super impressed by the changes in the app and touched by the inclusion of sounds by Peanut and Rooster. What legends, it says a lot about SOTA and how much we treasure mascots like Steve's goats.
Very cool and thanks again.
Andrew VK1DA/VK2UH
Thanks Rockwell.
Like many I have enjoyed using your app.
BTW … your RHR app working with a Flex enabled station is quite stunning…great job!!
Paul
It was good to have "the Goat" back for my activations this week. Thanks!
I think my goat sounds are being suppressed by the phone due to having it connected via bluetooth to my apple watch, which dings when each new notification arrives and if I touch the watch screen, the details of the spot appear on the watch face. Need to work out how to export the proper goat sounds to the watch. I think that would impress anyone around me. But I'm practicing social distancing as it is Field day this weekend and no time to fiddle with this. One of the "social distances" today was a cw contact into TN on 14 cw, I was happy with that, the only signal I could really hear on 20m cw at the time.
73 Andrew VK1DA/VK2UH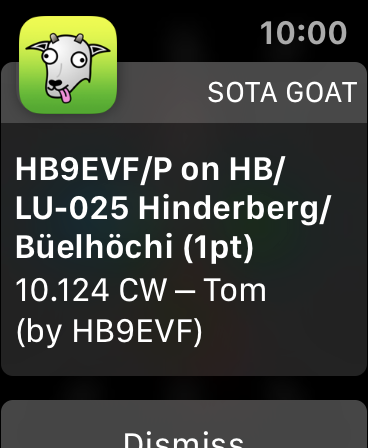 The alert does appear fine, like a regular push notification. I'm not sure if it's possible to get the goat sounds working on the watch.
Yes!! Thank you so much for your work to renew this app. I was just able to see the summit name on the map and post an alert. AWESOME!
Played with the new tracking feature on SotaGoat last weekend. Works very well, lets you know when you are in the AZ, and at a minimum how much further you'd need to walk/climb and, general direction to the summit proper.
Great addition!
73 N6JFD
I love Sota Goat… But lately when I try to post a spot or alert it gives me an error message "unable to spot sorry." How can I fix? Thx.
Scott kw4jm
I got that error too. I found it was because my user id and password had not been updated. Go to settings in Sotagoat and refresh your sotawatch login details. It uses the user details common to most SOTA websites now. Aka SSO, single sign on.
After refreshing my user id and password in sotagoat once, it now does it all perfectly.
Andrew VK1DA/VK2UH
Hi Rockwell
The former versions had highlighted my own callsign with a yellow background what has been omitted with the present versions.
Is it possible to re-introduce that to improve the visibility of my own callsign among the other spots and alerts?
Tnx in advance and vy 73 de Markus, HB9DIZ
Thanks Andrew. It worked!
Scott
That might be the same problem that was raised by Scott KW4JM above. Ie. the credentials in sotagoat were out of date with sotawatch. I think I saw that too, until I corrected my login details in the settings screen. I suggest you try that.
Edit: adding that I knew something was wrong because I did not get an Edit link on my own posts of alerts and spots. This is a sure sign that I'm not actually logged in correctly.
GL 73 Andrew VK1DA/VK2UH