This was the first time this year I'd visited Seat Sandal, G/LD-022, and in fact when I think about it the year before I was here I didn't activate it because it was too early in the morning, I only had one QSO at about 6:30.
After a touch of man-flu had knocked me out on Saturday I was really glad the weather had turned from Saturdays 'almost dark at 2pm' to a very promising, if bracing, outlook on Sunday. Alex and the girls were down in Blackpool so I threw a few bricks in the rucksack and headed off on the motorbike. Someone had helpfully dropped a continuous trail of oil right from Troutbeck Bridge to the top of Dunmail Raise so I took it easy.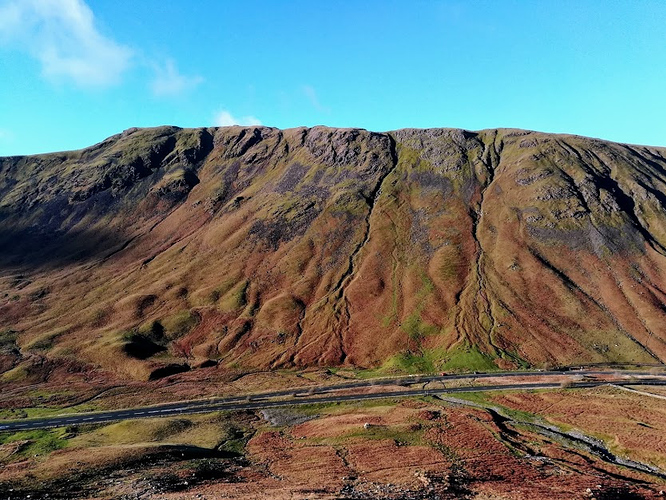 Parking at the lay-by next to the AA call-box I headed up the track following the road, but then deviated off up the ascent of Seat Sandal, way too soon to hit the track that ascends the westerly side. Last time I'd been up here I'd actually come up by mistake - it's amazing what a year does to your sense of geography!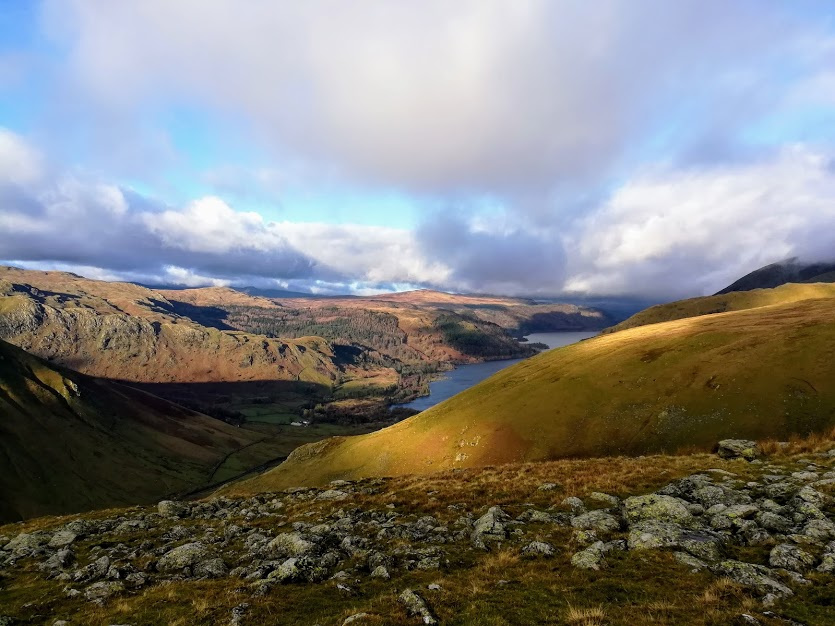 This is no easy ascent, but then I'm not sure there is one for Seat Sandal, it is pretty punishing from all sides! There was a stretch when I was on hands and knees and could have done with my trail running shoes in preference to the walking boots. This is the angle of slope at one point: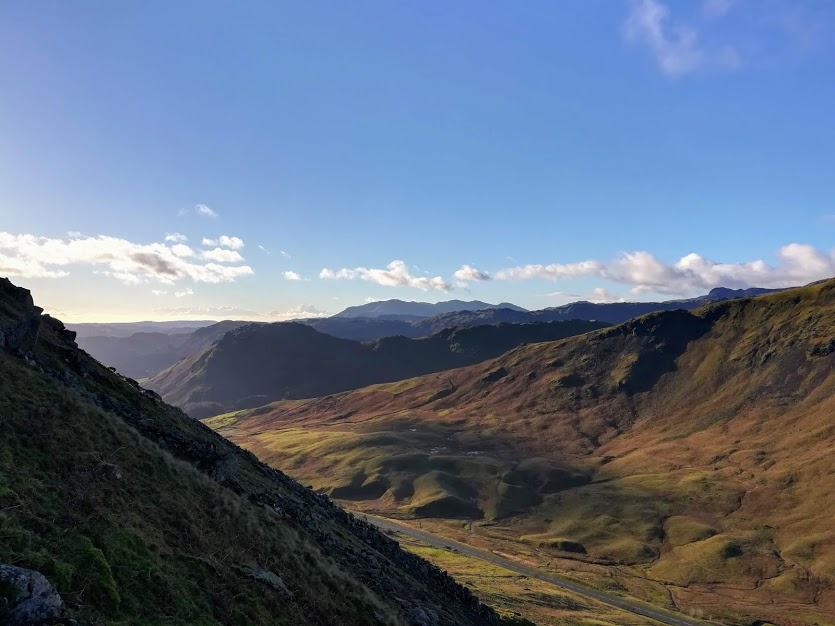 Anyway… I do this to myself, clearly. Early on in my SOTA career I'd had a catalogue of approaching a summit from the most direct and punishing route, clearly I'm not learning! To add insult to injury Seat Sandal is one of those summits which keeps the view rolling off nicely so you think you're there, and then there is more, and then there is more! Anyway I got there eventually!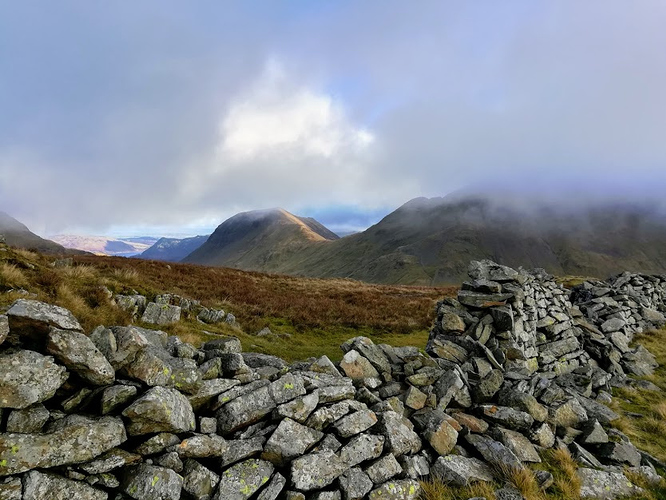 The SOTABeams QuadBander was setup at reduced height due to the biting North-Westerly wind, and having linked for 80m I immediately went back to 20m for a potential S2S. That didn't pan out but I did work several stations and then a spot came up for TF3EK/P on TF/SL-190 in Iceland. I listened for several minutes and he was coming and going with QSB. I decided I probably wouldn't be able to work him and went to reclip the antenna just as there was a lift. Just after Manuel I managed to log a S2S which is my first Iceland contact!
I then got an unexpected local S2S contact with G7HEM/P who was on the Old Man of Coniston and this was truly line of sight - the benchmark was clearly visible silhouetted against a white sky!
Having finally linked for 80m I got an amazing run of contacts, with some stations maxing out the FT-857's S-meter. One interesting contact was with OZ1NJL, reports were 58 & 59+10 - he was using a 15.2m wire antenna via a 9:1 balun at 1cm height off the ground!
I then moved to 2m and decided to use my new homebrew 8 element coaxial colinear which I had tested for SWR but not much else. I taped this to the 10m mast and apart from one complete collapse of the mast at one point stayed up and worked well. With nothing to attach the mast to I resorted to holding it in the crook of my arm - and in anticipation of this 'needing to operate standing' scenario I had purchased a camera strap from eBay to hang the FT-857 off which worked beautifully, the clips on it sit either side of the plastic section on the fold out foot and it didn't swing away from me when bending down to pick up the numerous dropped items, so well worth the £8.54 it cost!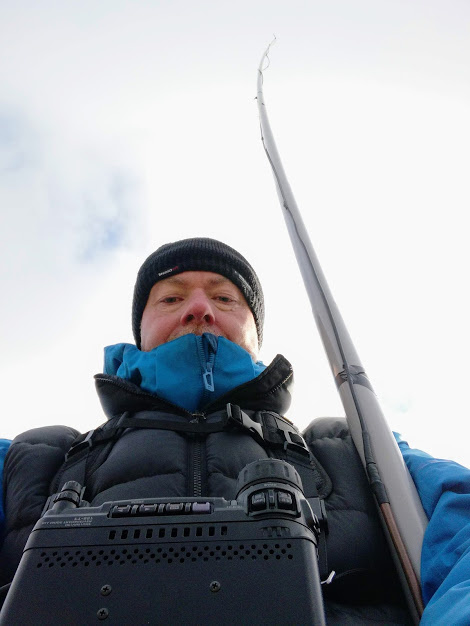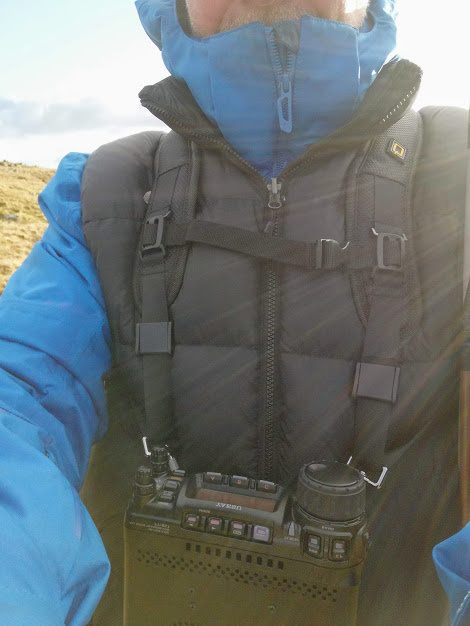 The antenna seemed to work really well but it is a big one - maybe best left to summits where the pole can be strapped to something, but I was itching to try it!
By this time the views had come out nicely so the descent (via the path this time!) was filled with magnificent scenery - just don't walk and look at the same time.
Off down to London now on the train - I have a training course for two days. This follows on from a previous one and no doubt I will be educating some of the attendees on the magnificence of the Lake District. Last time I talked to folk who didn't even know it existed. North of the Watford Gap syndrome.
Thanks to all Chasers, hopefully I will be able to make good use of the +3 point winter bonus over the next couple of months. Some more photos here.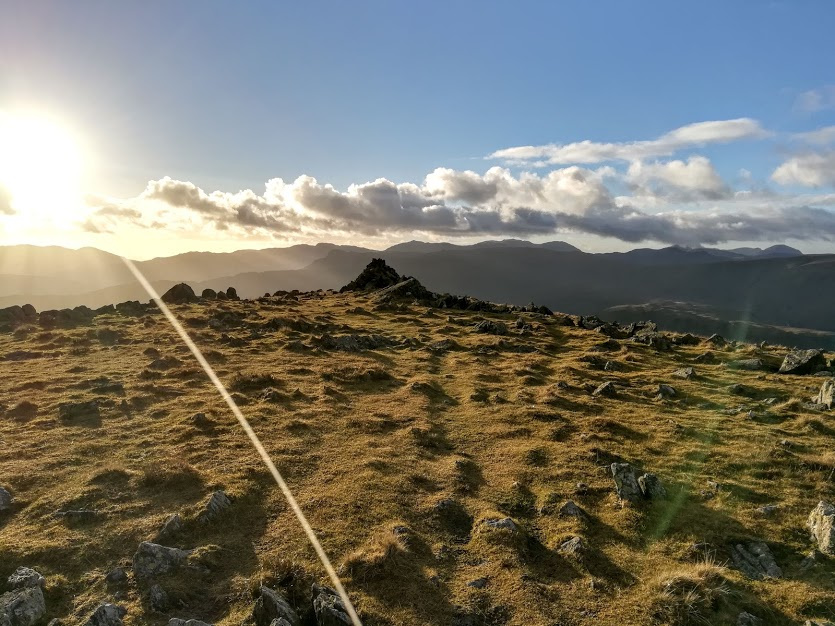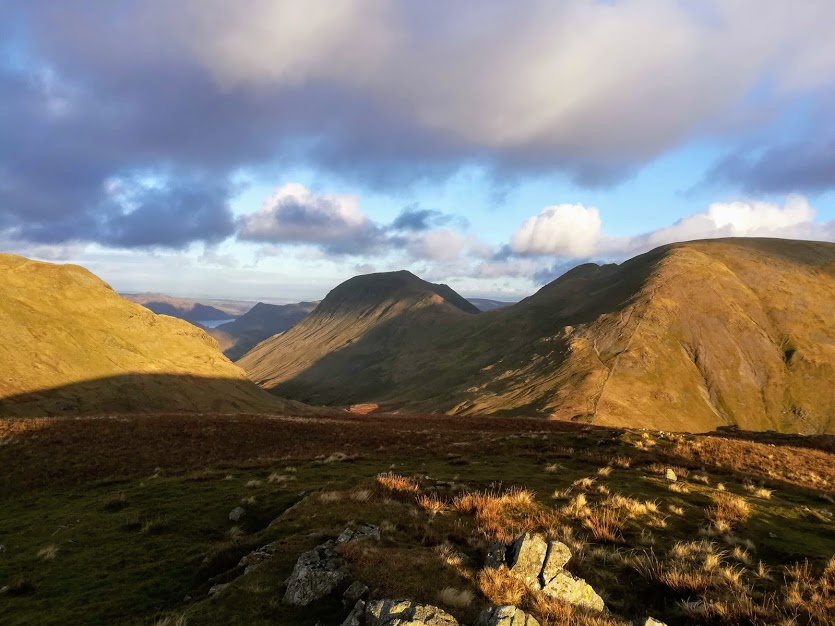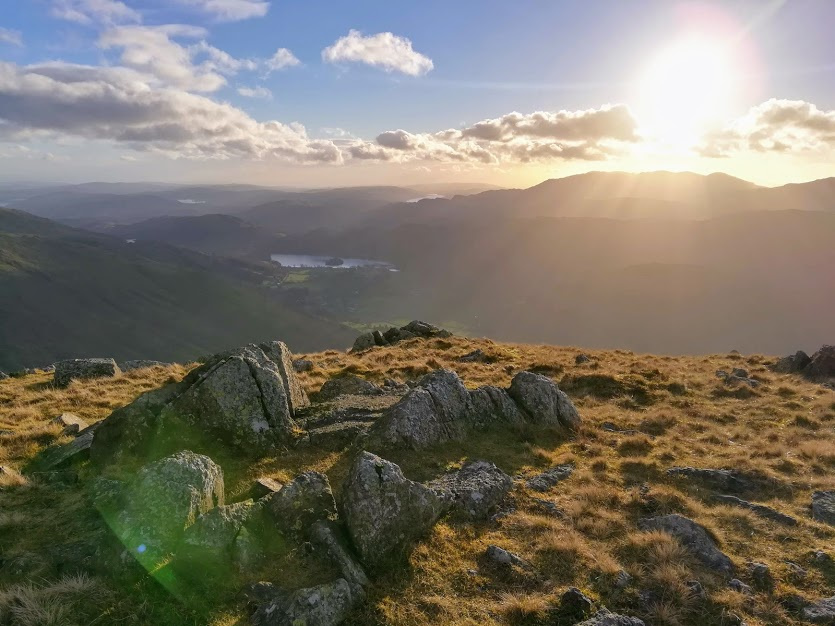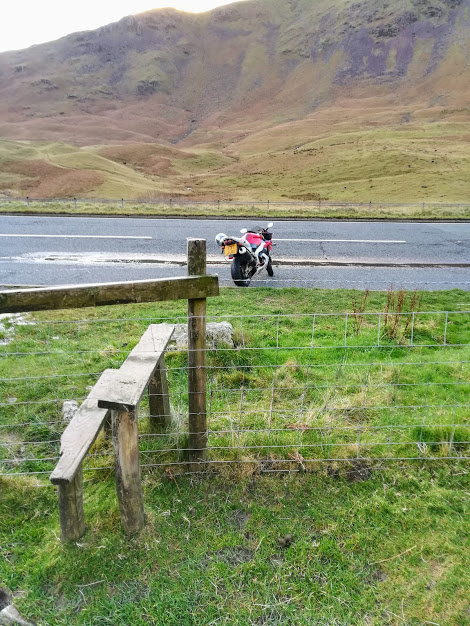 Date: 09/Dec/2018 Summit: G/LD-022 (Seat Sandal) Call Used: M0NOM/P Points: 6 Bonus: 3
| Time | Call | Band | Mode | Notes |
| --- | --- | --- | --- | --- |
| 11:48z | EA3HXT | 14MHz | SSB | David Girona |
| 11:50z | OK2APY | 14MHz | SSB | |
| 11:51z | SP9AMH | 14MHz | SSB | |
| 11:52z | SV2HSY | 14MHz | SSB | |
| 11:53z | S57ET | 14MHz | SSB | |
| 11:54z | 9A1AA | 14MHz | SSB | |
| 11:54z | S52CU | 14MHz | SSB | |
| 11:55z | EA2DT | 14MHz | SSB | |
| 11:57z | EA3KT | 14MHz | SSB | |
| 11:58z | OE5HDN | 14MHz | SSB | |
| 12:05z | TF3EK/P | 14MHz | SSB | Iceland! |
| 12:15z | G7HEM/P | 144MHz | FM | |
| 12:17z | G0RQL | 3.5MHz | SSB | |
| 12:19z | MM0XPZ | 3.5MHz | SSB | Steve |
| 12:20z | G4OOE | 3.5MHz | SSB | |
| 12:20z | G6NHW/P | 3.5MHz | SSB | Pete Morecambe |
| 12:21z | M0JJA | 3.5MHz | SSB | QRP 5W |
| 12:22z | DG1NPM | 3.5MHz | SSB | |
| 12:22z | G0FEX | 3.5MHz | SSB | |
| 12:23z | GI0AZA | 3.5MHz | SSB | |
| 12:23z | M0MDA | 3.5MHz | SSB | |
| 12:24z | G0TDM | 3.5MHz | SSB | |
| 12:25z | G3TQQ | 3.5MHz | SSB | |
| 12:26z | GM4WHA | 3.5MHz | SSB | |
| 12:27z | G8ADD | 3.5MHz | SSB | |
| 12:27z | GI0AZB | 3.5MHz | SSB | |
| 12:28z | G0GWY | 3.5MHz | SSB | |
| 12:28z | G3RDQ | 3.5MHz | SSB | David |
| 12:30z | G0BFJ | 3.5MHz | SSB | |
| 12:31z | G3KIP | 3.5MHz | SSB | |
| 12:31z | M6PKF | 3.5MHz | SSB | |
| 12:32z | G7LMF | 3.5MHz | SSB | WAB: SJ61 |
| 12:33z | M0GQC | 3.5MHz | SSB | |
| 12:34z | G4AFI | 3.5MHz | SSB | Fleet |
| 12:35z | 2E0TUE | 3.5MHz | SSB | |
| 12:38z | M0GDX | 3.5MHz | SSB | |
| 12:40z | G3SED | 3.5MHz | SSB | Mike |
| 12:43z | G7SSE | 3.5MHz | SSB | John Nottingham |
| 12:44z | G1SWX | 3.5MHz | SSB | Chris double 1m magloop Bristol |
| 12:47z | G3YZY | 3.5MHz | SSB | Howard 6m n. Portsmouth |
| 12:49z | G0KNK | 3.5MHz | SSB | Wigan |
| 12:51z | G4PDF | 3.5MHz | SSB | Bob Lincoln |
| 12:53z | M0JLA | 3.5MHz | SSB | Rod |
| 12:54z | MW0TTF | 3.5MHz | SSB | Welsh Valleys |
| 12:55z | OZ1NJL | 3.5MHz | SSB | Niels 15.2m antenna @ 1cm 9:1 Balun 100w |
| 12:58z | G8YAE | 3.5MHz | SSB | Chris Chigwell FT-991A |
| 13:01z | GW3XHG | 3.5MHz | SSB | Dave |
| 13:04z | M1EUZ | 3.5MHz | SSB | Dudley |
| 13:22z | M6NZX | 144MHz | FM | Rivington Pike NP |
| 13:27z | G0TDM | 144MHz | FM | |
| 13:28z | GM4WHA | 144MHz | FM | |
| 13:30z | 2E0LDI | 144MHz | FM | |
| 13:31z | 2E0LDF | 144MHz | FM | |
| 13:32z | G3VVT | 144MHz | FM | |
| 13:35z | 2E0TUE | 144MHz | FM | Nigel 1w |
| 13:43z | M7RAC | 144MHz | FM | Reg Bootle |
| 13:46z | G0TVB | 144MHz | FM | Paul Hebdon Bridge KX3 2m TV |
| 13:53z | G4WGN | 144MHz | FM | Ken Mellin 10k E. Liverpool |
| 14:07z | G1GDB | 144MHz | FM | Bothel Carlisle W. Binsey |
| 14:10z | 2EODIJ | 144MHz | FM | |
| 14:11z | M0LKB | 144MHz | FM | |
| | | | | |