Hello SOTA friends
The video of the SOTA F/PO-235 - Ibanteli is online
Best 73
Andre – f5ukl
Thanks Andre for the video very nicely put together.
Also thank you for visiting SSB


Very best wishes.
Mike
Thanks Mike for the message and glad to hear you on SOTA.
I'm often on SSB but if there is no network on the summit, it is really difficult to be hear.
Best 73 and I hope that we'll meet on the next activity.
André f5ukl
Hi André,
Thanks for another great video!
What a very nice landscape.
You were the only S2S I worked on S&P mode.
It was a very nice surprise when I heard you CQing on 20m CW. After having been working S2S in Findland, UK and Northamerica, I didn't expect copying you at all. From such close distance, it obviously was ground wave. Distance between our summits was 70 Km.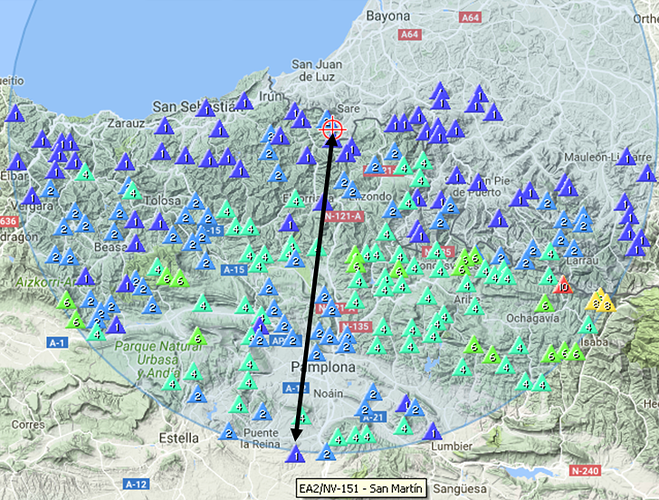 I enjoyed the great views in your video and also listenning my transmision at the very end of your activation.
Thank you and best 73,
Guru
Bonjour André
Pour une fois que l'heure de ton activation (tardive pour toi) concordait avec le début de la matinée ici,c'était une bonne occasion,le contact aurait pu etre possible car j'ai vu que tu as fait qso avec quelques stations NA tout pres.
J'ai bien essayé de trouver et de capter des activateurs Européens en tournant le vfo sur 20-15-17m, hélas sans succès… pas facile sans internet a portée de main pour voir les spots. Mais ce n'était pas par manque de propag.
De plus il y avait contest…
A une prochaine !
Merci pour la vidéo.
73
Eric
VA2MO.
Holà Guru
Thanks a lot for your message.
I was also very surprised to hear you at the end of the end of the SOTA. As you can hear, you were very strong despite the fact that we were so close.
Now the weather is rain on my side and no sota in the short future.
Thanks again for your call.
Best 73 and i hope that we'll meet soon again.
André f5ukl
Bonjour Eric.
Merci pour le message.
Malgré mon attente, je ne t'ai jamais entendu. La propagation n'était pas très bonne et j'ai peu entendu NA. J'ai eu la grande surprise d'être appelé par VE2JCW, il y avait longtemps que nous ne nous étions pas contacté. Je n'ai réussi à contacter N1UE que sur 17m. Lorsqu'il se trouvait sur 20m, il y avait un pile-up sur ses appels.
Les journées sont courtes en cette période et la nuit arrive vite. Commencer le trafic à 1300z élimine la possibilité d'aller sur des sommets plus haut car il faut penser au retour.
Cordiales 73 et au plaisir de s'entendre.
André f5ukl
Nice video; brings back found memories of crossing the Pyrenees in 2003. I climbed Ibanteli from the other side having come from Hendaye and got scratched all over in the undergrowth; it's a lot steeper. Thanks for posting.
Matt
Hello Matt
Thanks for the message and nice words.
I often evoked the beauty of the Basque Country.
But all along the Pirenean mountains the landscape is different and beautiful.
See you soon from the east part of the Pyrenean Mountains.
André f5ukl
Salut Andre.
Thanks for the QSO from the F/PO-235!
I passed there in the seventies from the return from San Sebastian (D-406), hi.
Meilleur 73 de Manfred – DL9MDI
P.S.: J'aime toujours les chansons de Basque !
Bonjour Manfred.
I'm glad to show you some old souvenirs.
Best 73 and see you again soon.
André
Sounds more like something said to naughty children.
Jim.
Hi again André,
After having showed you where it was located the summit I was on when we had our S2S QSO with respect to your location, I thought you may also like seeing this picture of Mt. San Martín EA2/NV-151 that I took last September 15th when I was walking around my QTH with my dog Lucho.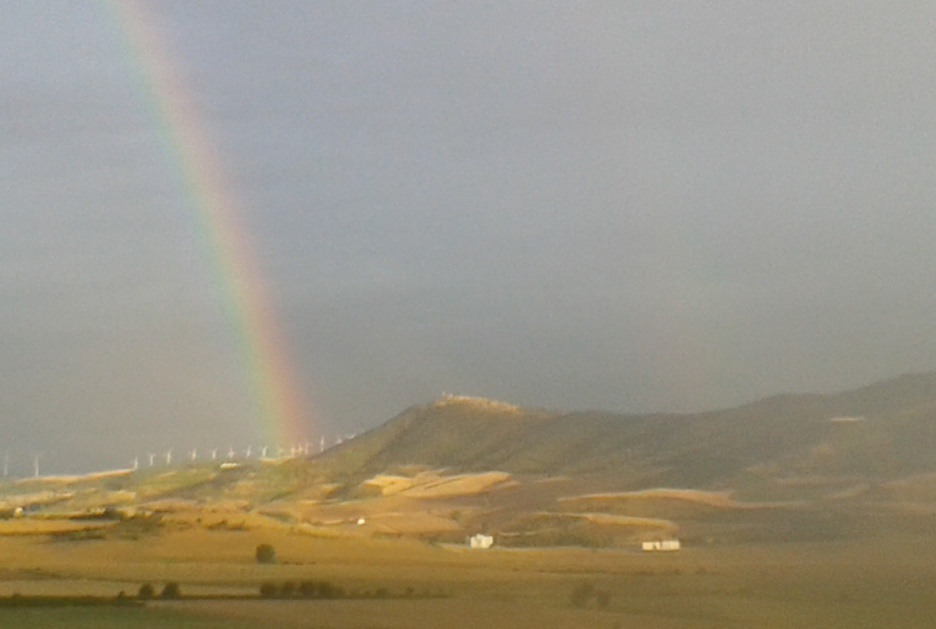 Best 73,
Guru
Holà Guru
Thanks for this nice photo. Rainbow over "windmill".
Next week I'll hike on the east part of Pyrenean mountains.
I hope that we'll meet.
Best 73
André
Hi Andre,
nice video and many thanks for 20m ssb QSO.
Good luck and good next activations.
73 & 72 de David OK4KOP
Hello David
Thanks for your message and nice words.
Thanks to you for your call and always the pleasure to hear chaser.
I hope that we'll meet soon
Best 73
André