Auction: ATS-4B CW Transceiver - proceeds to SOTA Funds
Donated by Paul HB9DST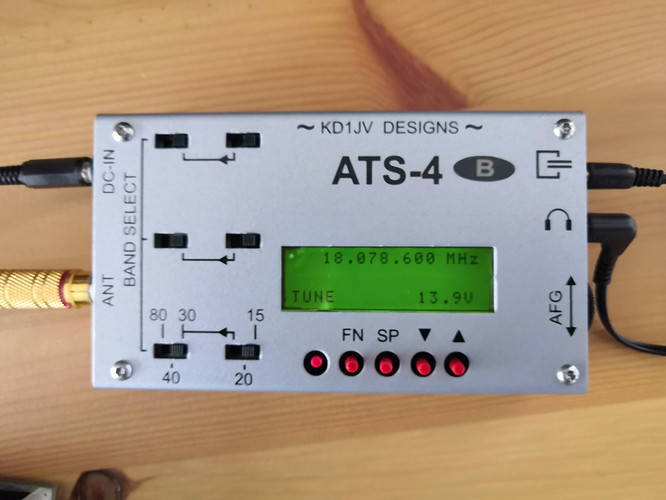 A buddy recently won an ATS-4B in a raffle as part of the HB-OCWA 2020 activity and has no need for it. The two of us decided a good thing to do would be to auction it off with proceeds going to SOTA.
I do not have a serial number for this unit, and I do not know who the builder was. It comes with a power cable, an RCA/BNC male adapter and an RCA/BNC female coax cable. The unit itself has 5 bands: 80 / 40 / 30 / 20 / 17. Note that the pre-supplied case says 15, but the device was built for 17m. Unlike many KD1JV designs, this one has a knob to control the audio level. It also has a 3-line display that is considerably easier to read than ATS models with the 4-line display.
The rig is being sold "as is". I did put the unit on a dummy load with my 13.8V bench supply in Tune mode and got these output readings:
80m 8.1W; 40m 8.0W; 30m 6.7W; 20m 4.5W; 17m, 6.0W
Of course, output levels will be lower at reduced supply voltages.
It's rare to see a working ATS-4 come on the market, and not many were kitted by Steve, so if you're a collector, or a SOTA enthusiast, here's an opportunity to treat yourself and also help finance the SOTA organization.
This transceiver is being sold by HB9DST with the proceeds going to SOTA funds. Sale will be by blind auction with the winning bidder being invoiced, via Paypal, for the final auction amount (which includes International postage). Bids should be made by email to sotaspecial@hotmail.com and should include your bid amount, callsign and your single sign-on (SSO) username . Bidding will commence immediately and end at 09.00 hrs UTC on 8 February 2021 when the winning bidder will be announced. Edit: Now closing 14 Feb 1700 UTC (see below)
In making your bid, keep in mind that postage costs from Switzerland are included to any international destination, the buyer is responsible for any import duties, taxes and fees. If the successful bidder wishes to use another courier, that must be arranged individually.
Guideline exchange rates: £100 is equivalent to €110, $134, AUD175 and shipping to USA (the most expensive) £15.