Pretty interesting stuff. Especially since you were able to change frequencies…even though you were Rock Bound! 73's Dean ~ K2JB
AC1Z-Thanks George for sharing your SOTA adventure. You sure are dedicated! Rock wind shelters are quite common in NH this picture was on Mt. Moosilaukee, NH W1/HA-003 December 27, 2018. It offered some wind protection but most of it was filled with snow.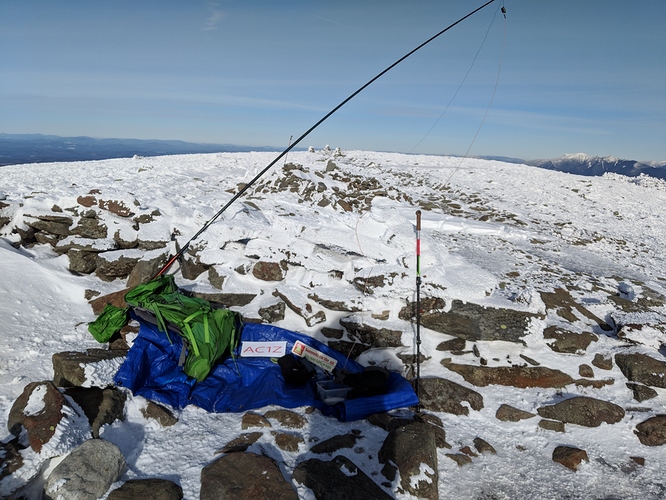 !
For Tthe peaks I do in the Rocky Mountains, I have not noticed the height of my antenna to significantly change antenna performance. Like Carey, I have deployed wires almost on the ground. There will be peaks that aren't so forgiving, however. - Fred kt5x (aka WS0TA)
Photo: on Clara peak at about 9,000 ft elevation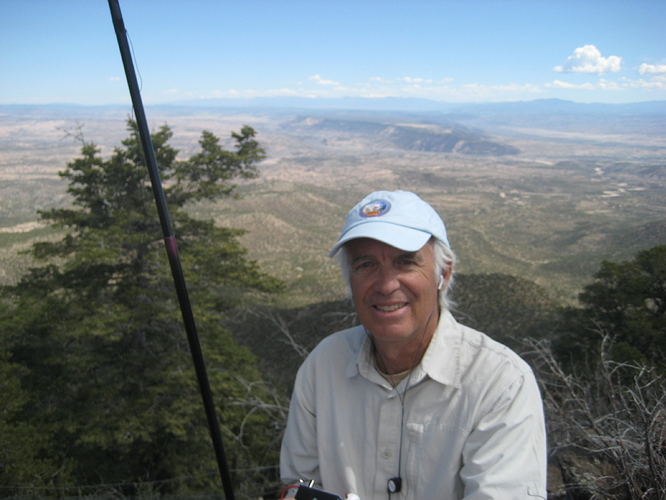 Good stuff, folks!
Yes, on those large piles of sharp, heavy insulators, height above effective local earth might be quite surprising!
Best, Ken
I've run a buddipole vertical on their short shockcord mast in winds in the 30-40mph (48-64KM/H) with zero issue It was well guyed down but the antenna experiences very low wind loading.
I have found that my trusty Avi-probe works great on rock summits along with a dipole made from Field phone wire for 20 meters. Always keep it handy at the trail head where I decide if I'm using it or not.
Malen
VE6VID
Hey George,
Your windy activation story reminds me of a few i struggled through out in the Mojave when I was W6AH a few years back.Nice job with the ground mounted antenna. It is amazing how well we can get out with sub-optimal conditions. Will look for you on the bands again!
73
Mike
Yes, wind is a very serious deterent when atop a Sota qth. Fortunately my 20m 1/4w vertical has served me well, but I never thought of a wire on the "ground" . Thanks for the tip. Hope I don't need to use it hihi.
73 Mark n6iv
My most windy summit (W7M/CL-023) was nothing like what you guys are describing, but it was enough that I had to take of my glasses & could only stand in a crouch. My XYL (AE7AQ ) had to crawl. At least it was sunny & warm!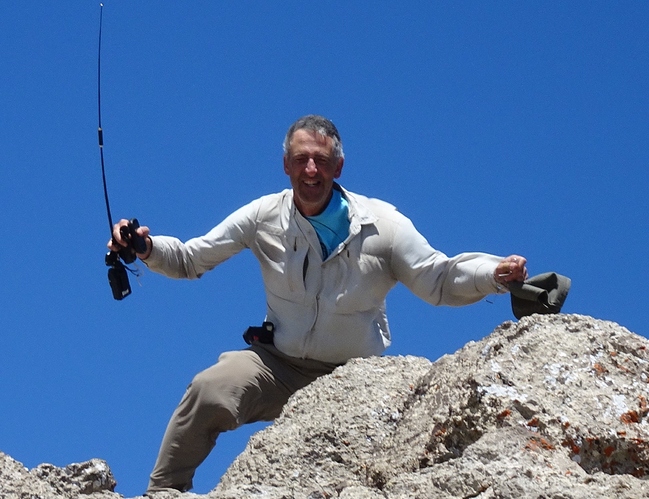 Awesome report, George! Thanks for sharing it! I once had my antenna pole shaken by the wind until it came completely down on the ground, and I could still hear people calling and made a contact that way before getting it back in the air. Those radio waves are truly amazing!
73,
Mike AC0PR